Net Talk: Wimbledon A-Z review
In his latest Net Talk column, our Andy Schooler reflects on Wimbledon with an A-Z look back on events in SW19.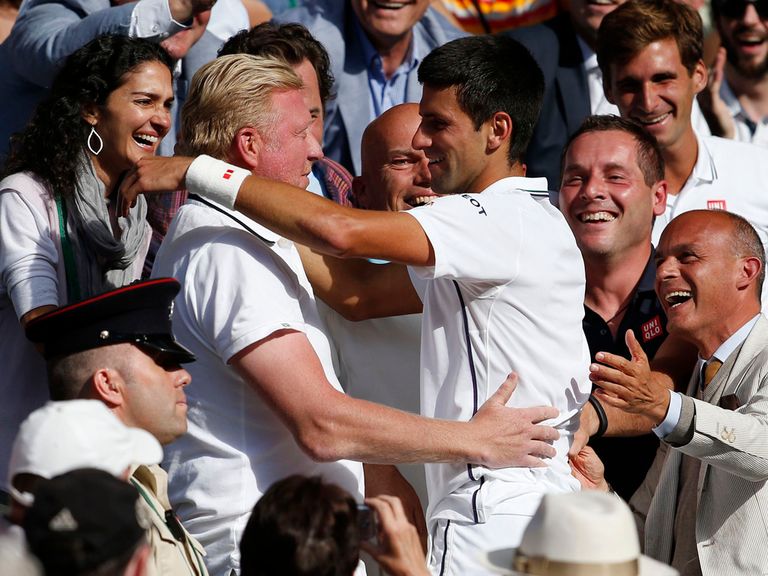 Aces – Milos Raonic served the most aces at this year's Wimbledon – 164 in his six matches. However, he didn't hit the fastest serve. That honour went to youngster Jiri Vesely, who banged one down at 143mph. In the ladies' singles, Petra Kvitova hit the highest number (42 in seven matches) with the fastest serve being recorded by Madison Keys at 123mph. Serena Williams was only joint fifth at 117mph – the same top speed Briton Naomi Broady managed.
Big Four – To steal a famous misquote: "Reports of our death have been greatly exaggerated." It was another Grand Slam final between two of the quartet and the Big Four have now won 36 of the last 38 Slam titles. The new generation got a little closer, managing to topple Nadal and Murray in SW19, but going all the way remains elusive for them. Who really sees someone outside the status quo winning the US Open or, for that matter, at Wimbledon in 12 months' time?
Come on Tim – Are people really still shouting this on Centre Court? Seriously?
Djokovic – Novak once again proved his mental toughness in the final, having to put the fact he had championship point in the fourth set aside once the match went into a fifth. In what was a high-quality title decider, perhaps the most admirable part of Djokovic's performance was not getting frustrated by the fact that Federer came up with an ace on that match point. With the Serb renowned for his resolve, it is perhaps a little surprising that the main reason for the surprise appointment of Boris Becker as his coach was to improve his mental approach. Becker played the big points well and so on Sunday - in the main - did Djokovic. The hiring of Becker, derided in many quarters only six months ago, now looks fully justified. The move has paid dividends in almost exactly the same amount of time it took Ivan Lendl to push Andy Murray to a new level. Djokovic will hope he can now keep on winning, just as Murray did between 2012 and 2013.
Empty – For a brief period on the first Saturday, the Royal Box had just one person in it. Maria Sharapova was on court. Is it time to hand out ear plugs like they do sweets in there? Then again, maybe they were just hungry.
Federer – The general feeling seems to be that this year's Wimbledon was Federer's last big chance to add to his record Grand Slam title tally of 17 – the bookies certainly think so and he's now 7/2 with Sky Bet never to win another. However, writing him off is something I'm certainly not prepared to do. Federer played better over the last two weeks than he's done in years. His serve was in supreme working order and the backhand looked improved which was a main reason he won a surprisingly high number of the long rallies against Djokovic. Physically things weren't a problem either – at no stage of the four-hour final did the Swiss flag. Maybe one of the reasons for that was the way he had eased through the draw but when you play well, that's an advantage you earn. The US Open will be his next big target and given it is played on one of the tour's fastest surfaces, Federer may well be able to keep the points (and matches) short in New York too. The slice will be used less there on the higher-bouncing court but, to me, Federer is playing well enough to feature there too.
Genie – I'm convinced Bouchard will win a Grand Slam within the next 12 months. Wimbledon was another step towards that goal – a final appearance coming after semis in both Australia and France. She did not freeze in the final but was simply outplayed. A reluctance to try something different can be worked upon with coach Nick Saviano but for a player still improving there is so much to like right now about the Canadian. The marketing men already love her. And you can see why.
Henman Hill – Can someone please explain the attraction of paying to enter the grounds only to sit here and watch something you could do in the comfort of your own home on a big screen?
Increase - John Inverdale ended the BBC's excellent coverage on a low note on Sunday night. "We'll do it all again in 50 weeks' time," he told viewers in his final address. Only he was wrong. It will be 51 weeks with the tournament being put back a week in the calendar in 2015 as – at long last – the grasscourt season is being increased in length. There will now be three weeks between the French Open and Wimbledon, a move which has been almost universally welcomed. If you want more details, I explained exactly what will happen in a previous Net Talk column.
Jelena Ostapenko – Is the new girls' singles champion from Latvia, in case you didn't know. Two years ago Genie Bouchard won the junior title; this year she was playing in the final of the real thing. No pressure then, Jelena.
Kyrgios – The young Australian, Nick, showed his talent, albeit briefly, on the big stage in Australia at the start of the year but taking out the world number one in Nadal in SW19 was something else. This is a guy going places. He halved his ranking with his quarter-final run – he's now into the top 70 which will get him into plenty of ATP tournaments as of right. But now the hard work starts. There's no longer a surprise element. It will be interesting to see how much higher he is by the time Wimbledon 2015 arrives. Don't rule out a spectacular climb.
Late – Marin Cilic wrapped up victory over Tomas Berdych in the third round at 9.38pm – the tournament's latest ever finish outside the floodlit Centre Court. The Czech was rightly fuming at the conditions come the end – it simply looked like organisers wanted to protect their schedule by doing everything they could to ensure Cilic had the chance to wrap up a straight-sets win.
Murray – A worringly familiar pattern unfolded in SW19 for last year's champion. Just as in the French Open, the Scot impressed in the early rounds only to falter when the going got tough with Grigor Dimitrov dominating their quarter-final. It is now more than a year since Murray beat a player ranked inside the world's top 10 and now his own position in that elite group is under threat. His ranking has slipped to 10th – its lowest since the summer of 2008 at which time he had not even played in a Grand Slam final. That has major implications for forthcoming tournaments. He could now be running into the likes of Djokovic, Nadal and Federer in the last 16 of the Masters events in Toronto and Cincinnati, not to mention the US Open. Tennis can be a slippery slope. Murray needs to halt the slide.
Nine – The number of match points saved by Nick Kyrgios during his second-round victory over Richard Gasquet. A fine effort.
Open – Already missing top-class tennis? Fear not, the US Open is less than seven weeks' way! It all gets under way on August 25. Sky Sports and British Eurosport will provide TV coverage in the UK.
Perfection – You'll never get a perfect tennis performance. There will always be a shot missed, something which could have been done better. But Petra Kvitova came about as close as you can get to perfection in her Wimbledon final victory. It may be sometime before you see someone play at such a high level; serves, returns, sensational angled winners – her performance had the lot. Sadly it only resulted in a dismally one-sided match which will quickly be forgotten. Do not make the mistake of forgetting how good the Czech was though. It reminded me of a match from 10 years ago – the US Open men's final of 2004 in which Roger Federer destroyed Lleyton Hewitt with what I regard as one of his best-ever performances. Again, it was no contest but it will live long in the memory.
Qualifier – Beware the man who comes through qualifying. Or rather the boy. Noah Rubin had to do so to play in the junior event. But once in the main draw he made the most of his chance. He's now a Wimbledon champion. Sadly for him he's already now being labelled as the bright young hope of American tennis, a tag, I'd suggest, most can do without.
Roof – Limited use again for the multi-million-pound structure on Centre Court and no epic 11pm finishes this year. Remember that in 2019 there will also be a retractable roof on Court One.
Serena/shock – The two words don't tend to be far apart these days and they certainly were not at Wimbledon. First came her third-round singles defeat to Alize Cornet, the Frenchwoman joining a frankly odd club of players to have beaten her at Grand Slams in recent years, one which includes Virginie Razzano, Sloane Stephens, Sabine Lisicki and Gabrine Muguruza. It's getting to the stage where we simply should not be shocked by an early-round defeat for the world number one. However, what unfolded a couple of days later certainly had the shock factor. Shocked was indeed a word chosen by many who saw Serena take to the court in doubles. Unable to catch the ball or serve properly, it made for uncomfortable viewing. There was certainly some problem with her hand-eye co-ordination which immediately made me worry it could be something serious. The root of the problem was quickly described as a "viral illness" but few have felt that adequate to explain what happened. Just like Serena's cut foot of 2010, a shroud of mystery still surrounds the incident. What followed had added intrigue. Her coach Patrick Mouratoglou revealed he had not seen Serena for two days, something which seemed odd given the two have had a personal relationship which some now believe is over. If that's the case, whether they can survive as player and coach remains to be seen. There is plenty more to be written about Serena in the coming weeks, of that there is no doubt. She's due back in action in Sweden next week. There could be an interesting press conference or two - if she turns up. Watch this space.
Tweener – Nick Kyrgios produced the shot of the championships with his inbetween-the-legs winner against Nadal. If you've not seen it, it's all over YouTube.
Umbrellas – Not needed too often this year. Rain more welcome in SW19 than at Roland Garros though. Cost of an official umbrella at Wimbledon - £25; at Roland Garros - £52!
Venus – It should not go unnoticed that Venus Williams was the only player to lay a glove on eventual champion Petra Kvitova during the tournament. Their third-round meeting was arguably the match of the ladies' tournament and showed that even at 34, the five-time winner is capable of troubling the best on the grass. Who knows what would have happened had it been Venus who had won 7-5 in the third?
White – Players must wear white at Wimbledon. You may have heard. It's only been this way forever. With officials doing their job and ensuring the rule was imposed properly, this was suddenly whipped up as a story at this year's tournament. With tennis god Federer having his say, things went up to a new level. The bottom line is this is a non-story. Players will keep wearing white at Wimbledon. It's one of the many things which makes the tournament unique.
X-rated – When it comes to swearing on court, Andy Murray has been up there with the best over the years. But his latest rant, which came in his quarter-final defeat, continues to attract plenty of media attention. But did he swear? What was said? No-one seems to really know. Was it something about five minutes before the match? Or 45? Information seems to be as reliable as the infamous 45-minute Iraq dossier. The suggestion is Murray was given tactical advice shortly before the match rather than the day before out on the practice court, something which implicates an unhappiness with coach Amelie Mauresmo. With their 'trial period' now at an end, Murray must decide whether there is a future in their relationship. A crucial training block lies ahead before the North American hardcourt season begins. If the British number one's results are to pick up, the coaching situation needs stability and fast.
Yawn – The number of tie-breaks was at its highest for many years as serve played a bigger part than it has done in recent years in SW19. While there's a sound argument for ensuring significant differences between surfaces, lets not go back to the days of Sampras and Ivanisevic when rallies also become extinct on the grass. It was boring and not what people want to see.
Zimonjic – Nenad Zimonjic has been one of the greatest doubles players of his generation, his achievements sadly overshadowed by the remarkable story of the Bryan twins. But the Serb, now 38, completed a notable feat at this year's Wimbledon – a career Grand Slam of mixed doubles titles when he and Sam Stosur won the final match of this year's championships. A fine way to bring down the curtain on the tournament. And this column.
Betting
Novak Djokovic is already chalked up as favourite to make a successful defence of his Wimbledon title. Our betting partners Sky Bet make him a 15/8 shot, ahead of Andy Murray at 100/30.
Interestingly this year's runner-up Roger Federer is the same price – 6/1 - as new kid on the block Grigor Dimitrov, who was beaten in the last four by Djokovic this time around. Rafael Nadal is a 13/2 shot.
Djokovic is also favourite for next month's US Open at 7/4 with Federer a 7/1 chance.
Sky Bet also have some Federer specials up and make him 7/2 to win another Grand Slam title in his career. He's 6/1 to win in SW19 again.
Petra Kvitova is 4/1 to defend her crown, a price which makes her second favourite behind Serena Williams, who, at 5/2, is beginning to be priced up at a level which reflects her disappointing Grand Slam results of late.
Kvitova is out at 10/1 for the US Open title – a point bigger than the player she beat in the Wimbledon final, Genie Bouchard. Williams is the 7/4 jolly.
All these prices and more can be found on the Sky Bet website.
My betting preview of this week's ATP tournaments picks out a couple of big-priced outsiders.
And for the record, I had eight winners from 13 daily bets at Wimbledon - a level-stakes profit of more than 23 units. Happy days!
Stats of the week
Murray has now won 130 Grand Slam matches, equalling the British record owned by Virginia Wade.
No two players have met at Grand Slam level more than Djokovic and Federer following their Wimbledon final. Djokovic and Nadal have also played each other 12 times in a major.
What you may have missed
Novak Djokovic and Petra Kvitova won the singles titles at Wimbledon.
Djokovic returned to world number one following his victory at Wimbledon
American teenager Vicky Duval was diagnosed with cancer.
This week in tennis
All week – The ATP World Tour heads to Bastad in Sweden – where David Ferrer headlines - Stuttgart in Germany and Newport in Rhode Island, USA. Meanwhile, WTA tournaments take place in Bucharest and Bad Gastein. The former sees world number three Simona Halep looking to win on home soil.
Saturday – Former world number one Lindsay Davenport, legendary coach Nick Bollettieri and Briton John Barrett will be among those inducted into the International Tennis Hall of Fame at a special ceremony in Newport.
Twitter
Andy Roddick (@andyroddick) was back a his self-depricating best during the Wimbledon final, tweeting: "Best I've seen Roger serve since ....... Damn it", a reference to his 2009 showdown with the Swiss.
Meanwhile, a bizarre marriage proposal made it all the way from Brazil and onto Maria Sharapova's feed (@MariaSharapova).
As ever, please follow me - @NetTalkTennis – and the website's feed - @SportingLife – if you don't already.
You can also contact us via email – tennisfeedback@sportinglife.com.
---