Alize in wonderland
Top seed Serena Williams crashed out of Wimbledon at the hands of Frenchwoman Alize Cornet in a tense three-set battle.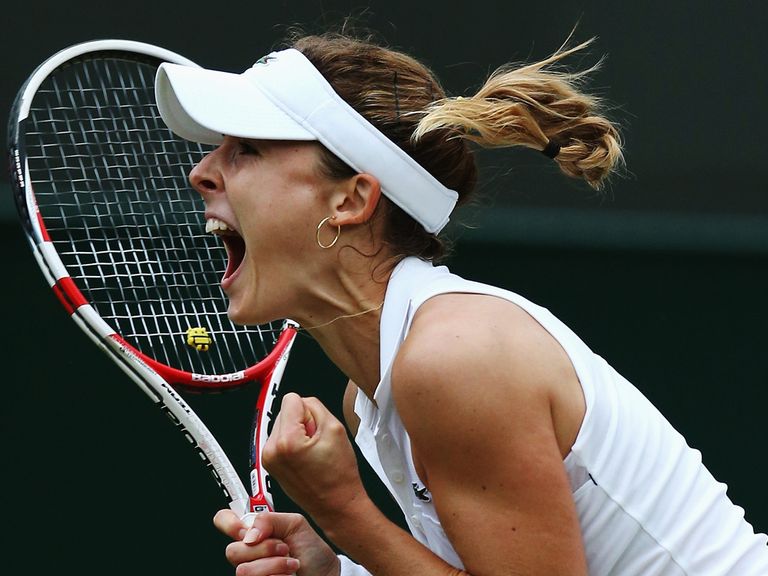 The five-time champion lost to the French 25th seed for the second time in 2014, slipping out in the third-round clash 1-6 6-3 6-4.
For the first time since 2006, neither Serena nor Venus Williams will appear in the second week of the Wimbledon ladies' singles competition.
Williams has once again lost the chance to vie for an 18th grand slam title, the 32-year-old's last major victory remaining the 2013 US Open.
After Venus Williams bombed out to Petra Kvitova, now her sister has fallen by the wayside in the third round to boot.
Cornet reached Wimbledon's fourth round for the first time, scalping Williams again after beating the world number one in Dubai in February.
"I just cannot believe it," said a stunned Cornet.
"A few years ago I couldn't even play on grass, and now I have beaten Serena, the world number one, for the second time in a row.
"I tried to fight on every point, and follow the tactic I had in Dubai.
"I don't know how I did it, just with heart.
"She played very well, but I tried to focus and make sure I had nothing to regret.
"She helped me a bit because she made two big mistakes, she is human like everyone else and that's what I was thinking about.
"The biggest upset of the tournament because she is number one and has won so many titles at Wimbledon.
"I cannot believe that it was me that did it, I'm going to have to celebrate with my team."
Williams zipped through a rain-affected first set 6-1 on Saturday, only to watch the tide turn before her eyes as Cornet stormed home.
Nice native Cornet will now have the chance to reach uncharted grand slam territory, having never progressed beyond the fourth round of tennis' big four tournaments.
Once the 24-year-old Frenchwoman wrestled the third-round momentum, Williams' approach frayed steadily.
The match's vital moment came when Cornet converted her fourth break point in the fifth game of the final set.
No amount of fist pumping or court stalking could save Williams once Cornet imposed her superior all-round craft.
With the pivotal break secure, Cornet somehow summoned the nerve to serve out the set - and the match.
Williams said: "I know that I can do better. I know that I have potential to continue to be on top.
"So hopefully that's what keeps me motivated, I guess."
For Williams it was a second consecutive defeat to the 24-year-old this year, and she could not pinpoint why it occurred.
"I don't know if I will keep it in mind," said Williams when asked if the loss would fuel future motivation.
"I think this defeat is important to study. Right now I don't really know what I did wrong.
"Usually I do. Usually I know I did this, that or that.
"I have a few ideas, but this will be a really good one for me to assess and figure out what I can do, to do better next time.
"That's happened to me a few times, but it's fun: it kind of gives you a mission to work on, gives you goals to work towards to see what you can do better."
Williams confirmed the majors continue to drive her career forward, at the age of 32.
"I think it's definitely pretty significant, it's something I'm obviously going to keep going for," she said.
"But it's definitely something in my mind, pretty important."
Even the thought of doubles action with her sister next week could not ease Williams' clear frustrations in defeat.
"I suck right now at doubles - I told Venus the other day, I don't even want to play because I'm so bad right now," she said, jokingly. "She should get a new partner!"