Net Talk: Growing the grass
In his latest Net Talk column, our Andy Schooler looks at the changes to the grasscourt season which will be introduced next year.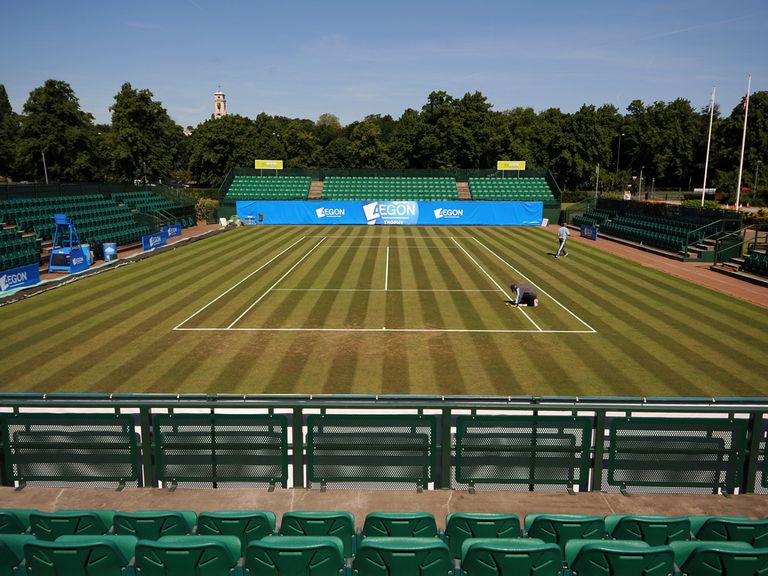 As I child I was always baffled by the brevity of the grasscourt season.
Why did Wimbledon begin just two weeks after the final of the French Open? It didn't make sense.
The bemusement didn't alter with age but finally something has been done about it - thanks largely to the All England Club, Wimbledon's host, which has instigated change.
You may well have heard about it already but from next season, there will be a three-week gap between Europe's Grand Slam tournaments - and that means more grasscourt tennis.
So what exactly is happening?
Below I publish the full grasscourt schedule for 2015 and, as you will see, there are several key changes.
First up, take a look at the men's calendar.
The two main warm-up tournaments - Queen's Club and Halle - no longer back up against the French Open. They will both be staged in the second week of the grasscourt season, with Wimbledon starting in the fourth. This should reduce the chance of high-profile withdrawals. Both Roger Federer and Rafael Nadal have pulled out of these events in the past having played two hard weeks in Paris.
Both also get an ATP 'upgrade', becoming '500' tournaments, up from their current 250 status. In layman's terms, this means more prize money and more points (double) on offer.
In week one of the grasscourt season, the Den Bosch tournament, which currently takes place the week before Wimbledon, will be staged, as will a new event in Stuttgart - the Mercedes Cup having moved off the clay and onto the grass.
This is a double-edged sword for the organisers. Leading players wanting plenty of grasscourt practice under their belt before Wimbledon could well opt to play in Holland or Germany as they are unlikely to want to compete in the week prior to a Grand Slam. However, on the flip side, lengthy runs in Paris could result in withdrawals and many players will be keen to rest after a draining clay campaign.
The third week - the week prior to Wimbledon - sees Nottingham return as an ATP venue. It last played host to the full tour back in 2008 but has staged successful Challenger tournaments in the run-up to Wimbledon since. It will hope to attract players desperate for grasscourt practice, although how many of the leading names they will be able to sign up given the event's proximity to the big one remains to be seen.
Nottingham will also stage a WTA tournament in the opening week of the grasscourt season, one which will run alongside the action in Den Bosch.
Birmingham (week two) and Eastbourne (week three) remain the WTA's showpiece warm-up events - both are now Premier-level tournaments so should continue to attract good fields.
It is also worth noting that the WTA recently announced that another grasscourt event will be added to the calendar in 2016 when Mallorca will stage an International-level tournament in the same week as Birmingham.
Wimbledon will begin on June 29 next year with the finals now being staged on the second weekend in July - it has basically moved back a week in the calendar.
Full 2015 grasscourt season:
Week one (June 8-14):
ATP Topshelf Open, 's-Hertogenbosch (250)
ATP Mercedes Cup, Stuttgart (250)
WTA, Nottingham (International)
WTA Topshelf Open, 's-Hertogenbosch (International)
Week two (June 15-21):
ATP Aegon Championships, Queen's Club, London (500)
ATP Gerry Weber Open, Halle (500)
WTA Aegon Classic, Edgbaston (Premier)
Week three (June 22-28):
ATP, Nottingham (250)
WTA Aegon International, Eastbourne (Premier)
Weeks four and five (Jun 29-Jul 12):
The Championships, Wimbledon (Grand Slam)
Week six (Jul 13-19):
ATP Hall of Fame Championships, Newport, Rhode Island (250)
Betting
I wasn't on tipping duty at the weekend but my colleague Tim Clement looked at the ATP Aegon International taking place at Eastbourne.
Stat of the week
Roger Federer's victory in Halle was his seventh at the tournament. Only at Wimbledon has he won as many titles.
What you may have missed
There were wins on the ATP World Tour for Grigor Dimitrov at Queen's Club and Roger Federer in Halle. Ana Ivanovic won the WTA's event in Birmingham.
The 'Rally for Bally' charity event proved a success in raising money in memory of former British number one Elena Baltacha.
Tommy Haas will miss the rest of the season due to a shoulder injury.
Marcos Baghdatis and a host of British players were awarded wild cards for Wimbledon.
The LTA appointed Boris Becker's former coach Bob Brett as its new player development director.
This week in tennis
Monday to Saturday - The final Wimbledon warm-up events take place in Eastbourne and Den Bosch.
Monday to Thursday - Wimbledon qualifying is staged at Roehampton with players needing to win three matches to reach the main draw.
Tuesday to Saturday - The Boodles exhibition event takes place at Stoke Park. Novak Djokovic is among those putting the final preparations to their Wimbledon bid in Buckinghamshire.
Tuesday to Saturday - The BNP Paribas Tennis Classic is The Boodles' rival when it comes to exhibition tennis and it has arguably won the battle this year, attracting both Andy Murray and Rafael Nadal to play at the Hurlingham Club in Fulham.
Wednesday to Sunday - The Liverpool Hope International is held at Liverpool Cricket Club this year and has attracted mainly legends with Greg Rusedski and Virginia Wade among those who will be there.
Wednesday - The seedings for Wimbledon will be announced. The formula used means defending champion Andy Murray will be the third seed, up from his world ranking of fifth, while Novak Djokovic, not world number one Rafael Nadal, will be the top seed.
Friday - The draw for Wimbledon will take place at 1000 GMT.
Saturday and Sunday - The second Great British Tennis Weekend is held with clubs offering free courts and lessons up and down the country.
Twitter
I've not been on Twitter much this week so not much to report but please follow me - @NetTalkTennis - and the website's feed - @SportingLife - if you don't already.
You can also contact us via email - tennisfeedback@sportinglife.com.
---
---