Djokovic books final spot
Novak Djokovic is confident his 42nd clash with Rafael Nadal can end with him lifting the Coupe des Mousquetaires for the first time.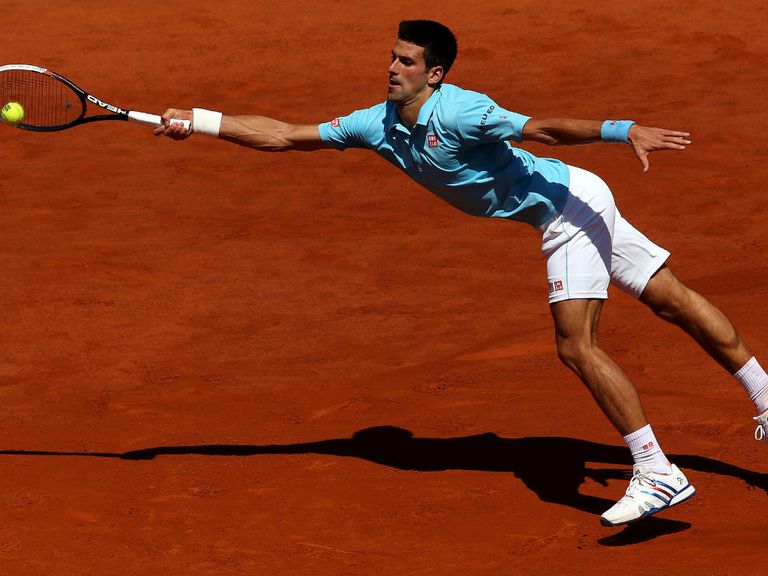 The French Open is the title Djokovic wants more than any other, the one that would see him emulate Nadal in completing his set of grand slam trophies.
The Serbian arrived in Paris as the bookmakers' favourite to win the Roland Garros crown after beating Nadal in the final of the Rome Masters.
But it is hard to see it that way after Friday's semi-finals, with Nadal brushing aside Andy Murray for the loss of just six games while Djokovic struggled to a 6-3 6-3 3-6 6-3 victory over Ernests Gulbis.
Nadal will bid for an unprecedented ninth title at Roland Garros after extending his win-loss record to a scarcely believable 65-1.
Five of those wins have come against Djokovic, but the world number two has been getting closer.
In his only previous final in 2012 he won a set while last year he pushed Nadal all the way to 9-7 in the fifth set in the semi-finals having been a break ahead in the decider.
Djokovic said: "I'm going to try to be aggressive, because that is the only way I can win against him.
"I know that of course this is the court he's most dominant on. He has only lost one time in his career. This is where he plays his best.
"But we played some really close and good matches here, especially the one last year serving at 4-3 in the fifth set to go 5-3. It was a very close one.
"And knowing that I was that close to winning against him the past two years gives me that reason to believe that I can make it this time.
"I know what I need to do in order to win. It's easier said than done, of course. But he's not unbeatable."
Djokovic was certainly not at his best against first-time slam semi-finalist Gulbis and was thankful for his opponent's mistakes in the first, second and fourth sets.
Gulbis found the form that had taken him past Roger Federer and Tomas Berdych in the third set, but it was not nearly enough.
Djokovic said: "The first two sets went well. I thought I played well, very solid, putting a lot of returns back in the court, serving at the high percentage.
"Then suddenly, midway through the third set, I started to feel physically fatigued a little bit. You could see that both me and him, we struggled on the court.
"It happens, and the important thing for me is that I realise what's going on. It's nothing serious. I'm going to have now two days of recovery and get ready for the final."
Djokovic appeared as if he might be a little under the weather, but he said: "There is nothing bothering me. Just the general fatigue that probably was influenced by conditions or other things that I felt today.
"I'm glad I won in four sets, because if it went to a fifth, God knows in which direction the match could go."
It was a disappointing end to a phenomenal tournament for Gulbis, who first met Djokovic at Niki Pilic's academy in Munich when they were teenagers.
The Latvian had described his belated dedication to tennis as "jumping on the last train".
At 25, time was running out for Gulbis, who had come to the realisation that, for all he enjoyed the good life, true happiness would only come from being the best tennis player he could.
He admitted the occasion got to him, saying: "I'm not used to playing these kind of big matches. It's just normal I felt extra nervous and extra tense.
"I can take one positive side out of the match: that I could still win a third set feeling like that, and I saw that he was feeling the same.
"The more I play these kind of matches, the more I'm going to get used to these situations."
Gulbis, who was ranked 136th at the start of last season, will break into the top 10 for the first time on Monday.
He has his sights set much higher, though, and said: "I'm not going to celebrate. It's not enough. I need to reach more now. Now I'm addicted to success."
Asked how high he thought he could go, Gulbis said: "All the way to number one."