Net Talk: Farewell to a fighter
Following her death last week, our Andy Schooler pays tribute to Elena Baltacha in his latest Net Talk column.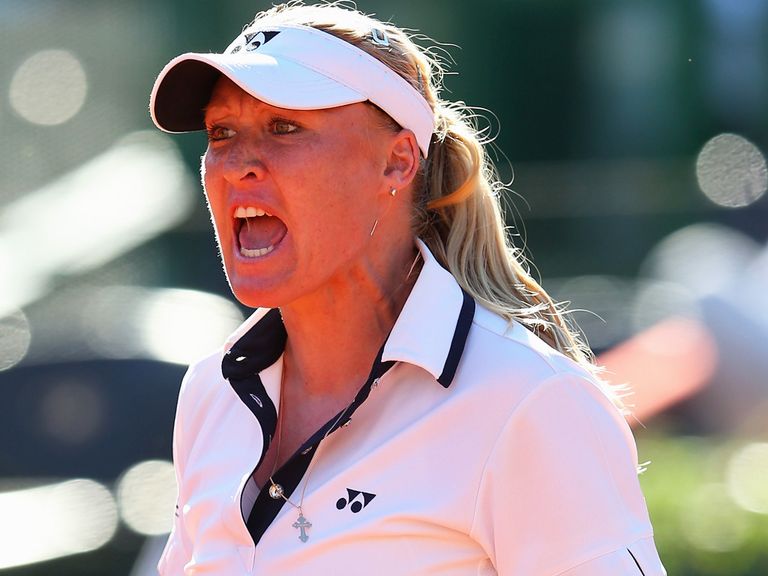 The tennis world has spent the past week mourning the death of Elena Baltacha, the former British number one whose life was claimed by cancer at the tragically young age of 30.
As those who knew her well and less so commented on her passing, one word kept appearing among the tributes - one which the friends and family of Baltacha left behind should be particularly proud.
That word? Fighter.
Baltacha, the Kiev-born daughter of Soviet Union international footballer Sergei, had to fight more than most during her short life, but fight she did, both on the off the court.
Like many, my first memory of Baltacha, who could often be spotted at Ipswich's Portman Road ground as a fan, was her run to the third round of Wimbledon in 2002 when she was just 18.
With a beefy serve, Baltacha beat seed Amanda Coetzer en route to the last 32 and in doing so breathed new life into the women's game in Britain. In an era when it was easy to get carried away with one good week, this was a British player who appeared to have a real chance of making an impact.
Yet the health problem which would eventually lead to her death surfaced soon after – the road towards the top of the game would be a longer than most could possibly have imagined.
A liver condition which left her struggling to get out of bed at times severely hit Baltacha's tennis career. Many would have folded but the Scot – Baltacha moved north of the border when her father signed for St Johnstone – simply showed how determined she was to succeed in her chosen field.
Still, the cruel nature of her career continued in 2006 when she needed surgery for a slipped disc in her back – another huge setback, just at a time when most female players would be approaching their peak.
Again she was unbowed and the rewards for 'battling Bally' followed. In 2009 she cracked the world's top 100 and the following season she would reach the top 50.
To the armchair critics, her achievement was nothing spectacular but it was one few Britons have managed in the past 20 years and, given the obstacles put in her path, nothing sort of outstanding.
Sadly more hurdles soon appeared in Baltacha's path. A foot problem in 2012 saw her slip down the rankings and although she proudly represented Team GB at the Olympics – not to mention carrying the torch in the days leading up to the Games – it required surgery and despite a determination to return to the top 100, it was not to be.
Baltacha called time on her career last November. Two months later she was diagnosed with liver cancer. And then last week she passed away.
The speed of her demise was simply frightening.
Less than a year ago she was holding the trophy aloft at Nottingham's AEGON Challenge and playing at Wimbledon. Upon hearing about her death I simply had to check that this woman who had always been happy to talk to the media whenever called upon, had still been playing tennis as recently as August – a typically dogged performance in losing in the final round of US Open qualifying.
Her death drew comments aplenty from the tennis world. I've listed some of those which appeared on social media network Twitter below. For me, the best is the last from Todd Woodbridge.
Baltacha's name will live on and her legacy will last much longer than this summer's 'Rally For Bally' fundraiser which will see stars of past and present taking part in a series of doubles matches at Queen's Club, in Eastbourne and in Birmingham on June 16.
It will raise money for both the Royal Marsden Cancer Charity but also the Elena Baltacha Academy of Tennis, set up by the player in Ipswich back in 2010 and which has grown rapidly since.
How fitting it would be for this to unearth the next British star to burst onto the scene with a upset win at Wimbledon.
You would imagine if that does happen, that player's character trait will be an ability to fight. Hard. To the end.
Twitter reaction to Baltacha's death
Laura Robson (@laurarobson5), Fed Cup team-mate: Impossibly sad. Forever a teammate. Sweet dreams Bally.
Anne Keothavong (@annekeothavong), Fed Cup team-mate and Olympic doubles partner: Words cannot express how much I'll miss Bally. I feel so lucky to have shared so much with her and to have had her as my friend.
Heather Watson (@HeatherWatson92), Fed Cup team-mate : We've lost our lovely Bally, too young. Rest in peace. My thought are with Nino and all of her family xx
Tracy Austin (@thetracyaustin), former world number one: Deeply saddened by the tragic loss of Elena Baltacha. A wonderful woman and great fighter. Thoughts with her husband and family. R.I.P.
Serena Williams (@serenawilliams), current world number one: My deepest prayers, thoughts, concern and love goes out to Elena Baltacha's family. I am deeply sorry for your loss. Revelation 21:4
Martina Navratilova (@Martina), nine-time Wimbledon champion: So sad to hear of Elena Baltacha's passing- my thoughts are with her family and loved ones, gone much much too soon...
Rafael Nadal (@RafaelNadal), world number one: Very sad to hear that Elena Baltacha passed away. RIP.
Todd Woodbridge (@toddwoodbridge), former Wimbledon doubles champion: #ElenaBaltacha would be so proud to know how well respected she was and how she has brought our tennis community together.
Betting
I've previewed this week's Rome Masters. Rafael Nadal looks a worth favourite after his Madrid victory but there would appear to be some value in the bottom half where I've gone for 100/1 and 80/1 shots.
Check out who they are by clicking here.
Stat of the week
Roger Federer has played in the last 57 Grand Slam tournaments, a record. With his twins born, a 58th now beckons.
What you may have missed
British star Dan Evans hit out after it was revealed Slovenia's Aljaz Bedene is looking into switching his allegiance to Great Britain.
Roger Federer and wife Mirka became parents to a second set of twins.
This week in tennis
All week - Both the ATP and WTA are in Rome for the Interazionali d'Italia at the famous Foro Italico venue.
At some point (no set day) - Wimbledon entries will be announced at some point this week
Saturday - the USTA's US Open national play-offs get under way with those entering able to play their way into the qualifying draw for August's Grand Slam tournament. A true Open.