10 French Open classics
There have been plenty of classic claycourt matches contested at the French Open over the years.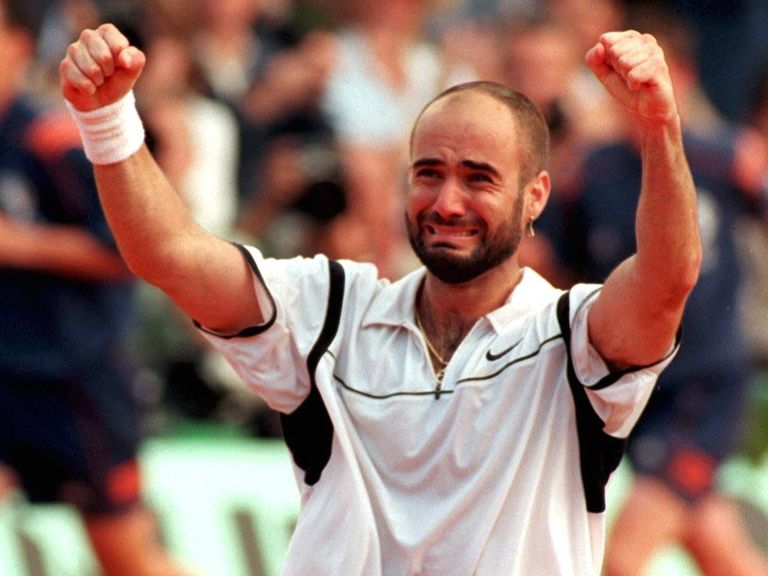 Here, in no particular order, our Andy Schooler remembers some of the best.
Gaston Gaudio beat Guillermo Coria 0-6 3-6 6-4 6-1 8-6, final, 2004
This is possibly the most bizarre tennis match I've ever seen. Rewind to the pre-Nadal era and Coria was widely regarded as the top dog on clay - now all he had to do was prove it at Roland Garros. The Argentine seemed nailed on for the title for months but, after cruising through the early rounds, it all went wrong in the final. Having raced through the first two sets for the loss of just three games, Coria began to struggle. It soon became clear there was a physical problem - cramping was being brought on by nerves as he approached the winning line and what should have been the pinnacle of his career. The fourth set was bizarre in the extreme, Coria barely able to run and playing at walking pace. He managed to regroup to an extent in the final set but serving was still a problem and he could get little power into his delivery. Yet with Gaudio also looking nervy, Coria actually created two championship points only to miss his chance. He would never get another like it.
Michael Chang beat Ivan Lendl 4-6 4-6 6-3 6-3 6-3, fourth round, 1989
Chang famously became the youngest-ever male Grand Slam winner at Roland Garros in 1989, but the match most often recalled from his incredible run that year is his last-16 clash, one which lasted more than four-and-a-half hours. Three-time champion Lendl led by two sets and a break but couldn't finish off the scampering 17-year-old who went down with cramp but still forced a decider. It was then that Chang produced one of the most famous images in tennis - his underarm serve. "I was trying to break his concentration. I would do anything to stay out there," the American later explained. The robot-like Lendl was rarely fazed but on this occasion he certainly was. On match point Chang stepped up almost to the service line to return. Lendl complained bitterly before finally serving - a double fault.
Roger Federer beat Tommy Haas 6-7 5-7 6-4 6-0 6-2, fourth round, 2009
Perhaps not up there with some of the other matches on this list, this contest is one which will go down in the history books nonetheless. The day before had seen hot favourite Rafael Nadal crash out of the tournament, leaving Federer odds-on to claim the one title which had proved so elusive in his phenomenal career. However, the pressure of favouritism appeared to weigh heavily on the Swiss. He must have thought something odd was going on when he lost the first set despite serving six love service games. Soon he was two sets down and when Haas moved to break point at 3-4 in the third, the dream appeared to be dying. It was at that point Federer pulled off a majestic shot, crunching an off-forehand just inside the sideline. He lost just two more games. The match - indeed that wonderful shot - will go down as a moment which helped shape tennis history, for a few days later Federer became only the sixth player to complete the career Grand Slam.
Jennifer Capriati beat Kim Clijsters 1-6 6-3 12-10, final, 2001
The recently-retired Clijsters is a household name these days but rewind 12 years and few knew of the young Belgian who had battled her way through to the final at Roland Garros. She came up against Australian Open champion Capriati, enjoying a huge resurgence in her career, and the two produced a memorable encounter. Clijsters certainly showed she meant business by winning six straight games to win the first set but errors crept into her game in the second, indeed many will argue the quality of the tennis was not enough for this to go down as a true classic. However, the marathon decider elevates it to such status. The duo traded early breaks before the tension rose and rose as the set progressed. Twice Capriati broke Clijsters to leave herself serving for the set, only for the tenacious 18-year-old to break straight back. Those watching wondered when it would all end. They soon found out - it was a case of third time lucky for the American, who broke again in game 21 and then finally served it out. The agonising nature of her defeat may explain why Clijsters went on to lose another three Slam finals before finally breaking her duck in 2005.
Rafael Nadal beat Novak Djokovic 6-4 3-6 6-1 6-7 9-7, semi-final, 2013
In what was Nadal's first Grand Slam tournament since a seven-month injury absence, the King of Clay edged a dramatic see-saw encounter. The Spaniard was the front-runner but failed to serve out in the fourth set before finding himself 4-2 down in the decider. However, his fighting spirit was firmly on display as he levelled and, in temperatures which topped 30C, it was Djokovic who cracked first. The cracks were mental ones it appeared, the Serb complaining to the umpire about the slippery nature of the dry courts which, come the end of the match, had not been watered for almost 90 minutes. After his protestations fell on deaf ears, Nadal duly went in for the kill to reach an eighth Roland Garros final. As many expected, David Ferrer put up less resistance two days later. This was the real final.
Fabrice Santoro beat Arnaud Clement 6-4 6-3 6-7 3-6 16-14, 1st rd, 2004
At six hours and 33 minutes, this was the longest-ever match in Open era history until John Isner and Nicolas Mahut really got in the swing of things at Wimbledon in 2010. Two days were needed, the first day's play being halted with the score at 5-5 in the final set. The French duo returned the following morning and managed to play for almost two more hours, Santoro saving a second match point before prevailing. Clement had his name in the history books, but he didn't care. "Frankly I don't give a damn, what world record?" he said afterwards. "Do I get a medal? If I'm not getting anything, frankly I'm not interested." It remains the tournament's longest-ever contest.
Justine Henin beat Serena Williams 6-2 4-6 7-5, semi-final, 2003
This was a classic David v Goliath clash with the pint-sized Henin emerging victorious from a pulsating encounter. However, the match is best remembered for the bitter after-taste it left following a controversial incident in the final set. Williams, who had won her previous 35 Grand Slam matches, led 4-2 30-0 when Henin held her hand up as her opponent served. Williams, however, wasn't allowed another first serve - as tennis etiquette usually allows - and went on to lose the game. It proved a pivotal moment, with Henin digging in for a memorable victory, leaving Williams accusing her of "lying and fabricating" over the incident. A few days later the Belgian lifted her first Grand Slam trophy and would go on to win six more. We'll never know if that would have happened had she not toughed this one out, by fair means or foul.
Andre Agassi beat Andrei Medvedev 1-6 2-6 6-4 6-3 6-4, final, 1999
If ever you need evidence of how a tennis contest can completely change momentum mid-match, cite the 1999 men's final as a prime example. The fact it came on such an historic occasion - Agassi became only the fifth man in history to complete the career Grand Slam with his comeback triumph - only adds to the match's legend. Agassi was totally outplayed in the first two sets, winning just three games. Errors flowed from his racquet, while Medvedev could do little wrong - he did not lose a point on his own first serve in those opening sets. Yet somehow Agassi found a way to win, turning things around by finally earning a break point midway through the third set - and taking it. As Agassi turned the pressure up, Medvedev melted away, leaving the American in tears of joy at the end. The gracious Ukrainian said afterwards: "I lost to a great player today. I cannot say that losing to him is an honour, but it's an honour to stand here with him because he made history."
Fabio Fognini beat Gael Monfils 2-6 4-6 7-5 6-4 9-7, second round, 2010
Drive past the local courts and every now again you'll find people playing in the dark, desperate to finish a deciding set. That's not supposed to happen at a Grand Slam, but someone forgot to tell French Open officials in 2010 when Fognini and Monfils were still slugging it out at 9.56pm local time. It had already been a thrilling contest, home favourite Monfils, ever the entertainer, blowing a two-set lead against his Italian foe, who simply refused to go away. At 4-4 in the final set, Fognini felt it was so dark he argued for five minutes for the match to be stopped - and was docked a point for his protestations. With the typically raucous Philippe Chatrier crowd creating a hot atmosphere in the ever-cooling conditions, the pair were actually made to play two more games - Monfils saving three match points - before it was decided enough was enough. Most present agreed professional tennis had never before been played in such conditions. Sadly for Monfils, he was beaten on his return to the court the following day. Few will forget what had gone before though.
Ivan Lendl beat John McEnroe 3-6 2-6 6-4 7-5 7-5, final, 1984
Many of the characteristics of the matches we've already touched upon can be pulled together for this match. A terrific comeback, a moment of madness and the spectre of history all feature in what was a classic Roland Garros final. McEnroe came it into having won all 39 matches he had played that season and seemed destined for the title as he opened a two-set lead with some super tennis. But one of his renowned rants followed at the start of the third when he screamed at a TV cameraman, bemoaning noise coming from his headset. His focus disrupted, McEnroe's level slipped and Lendl stepped in to take full advantage. With the French crowd never a fan of such rants, they got firmly behind the Czech and although McEnroe battled hard and certainly created chances - he was once just two games from victory - it was not to be. McEnroe would never win the French Open. He could not have got a great deal closer.
---
New Sky Bet customers: Free matched bet up to £30
---