Net Talk: Stuck in the death zone
In his latest Net Talk column, our Andy Schooler looks at the Fed Cup handicap Great Britain are constantly fighting against.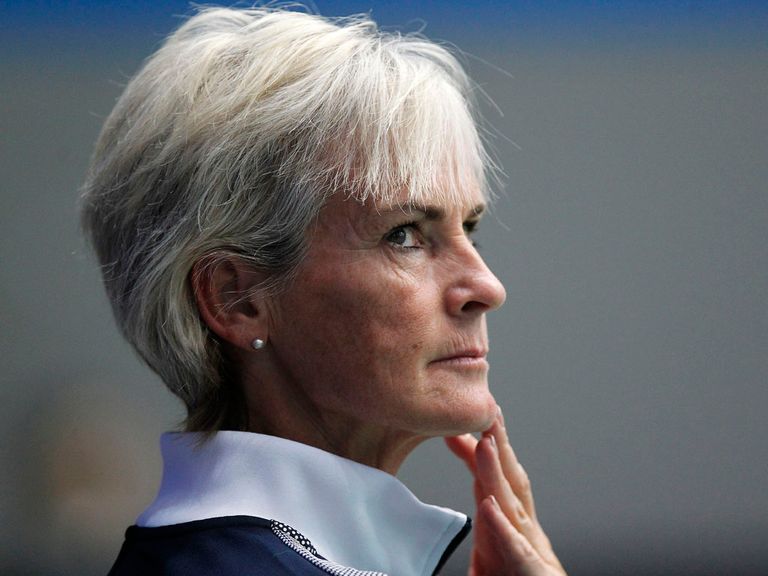 Last week there was team joy for Great Britain in the Davis Cup; this week it's the opposite emotion with team woe in the Fed Cup.
GB have now been stuck in Europe/Africa Zone I, the awkwardly-named division of the competition which is effectively the third tier, for 10 years - and counting.
While Britain have not had world beaters during that time, they've had some decent enough players.
Elena Baltacha and Anne Keothavong, both recently retired, were top-50 players at their best. And when Judy Murray took over as captain ahead of the 2012 season it co-incided with the arrival on the scene of Laura Robson and Heather Watson. Both have since been inside the top 40 before slipping back slightly.
Yet still they've been unable to breakthrough into the promised land of the World Group, two play-off defeats being the closest they've got.
The matches of the past week in Budapest, where GB could finish only third in their four-team pool, showed once again that team tennis is about strength in depth. Watson won all four singles matches she played, including against world number 26 Sorana Cirstea, but had little back-up with Robson absent due to injury.
The harsh critics of the social media world were quick to tear into GB, saying the results simply showed they weren't good enough and deserved to be stuck where they are.
However, there was another, certainly more interesting viewpoint that was taken by others - that the regional zonal system of the competition was weighted heavily against the European teams.
It needed looking into to see if it had any merit, so that's what I did.
First of all the thing not to do would be to compare the teams' Fed Cup rankings - with points awarded for progress in the competition, that's like asking if the chicken or the egg came first.
Instead I looked into the WTA rankings of each nation's leading two singles players. Yes, doubles is also a part of Fed Cup but it's one rubber in a tie of five and is also often played by those who play singles. For my quick analysis, it has been ignored.
Using my chosen system, Great Britain's top two singles players in last week's list had rankings of 58 and 118, making a combined 'rating' of 176.
Taken across the entire Europe/Africa Zone I, that rating averaged out at 304 for the 16 teams.
The equivalent Asia/Oceania zone averaged 499 and the Americas zone more than 1000. I actually had to generate that figure myself by giving some players the lowest-possible ranking as some of those involved be not even have an official world ranking.
Essentially the theory holds - the Europe/Africa teams are at a notable disadvantage when compared to their geographical rivals whose quality is, on average, lower.
Europe has long been the heartland of tennis so it's no real surprise to see how the stats have borne out.
The problem for GB and many other European teams is that there are few, if any, signs that the zonal system will be changed in the lower echelons of the competition.
This year the Fed Cup has begun to brand itself as 'the World Cup of tennis'. The last thing it will want to do is become totally dominated by European teams rather than a truly global event.
So, sadly for Murray, Watson et al, things aren't going to get easier any time soon. In fact, with five of the eight teams who will contest April's World Group II play-offs being European, they could be about to get even tougher.
The losers of those ties will be back in with GB in 'division three' this time next year and they could include Serbia, for whom Ana Ivanovic and Jelena Jankovic are eligible to play, rising power Switzerland and those Romanians.
In addition, Croatia are also still stuck in the Europe/Africa zone despite a crop of young stars, world number two Victoria Azarenka will turn out for Belarus again one day, while Austria, Belgium and Ukraine are no mugs either.
The good news is Robson may well be available again in 12 months' time. The bad news is even that might not be enough in the 'zone of death'.
Betting
Fabio Fognini was a welcome winner at 7/2 in Vina del Mar for my good self at the weekend. After a strong start from my Davis Cup tips and a 66/1 winner at the Australian Open, things are going well at present.
My colleague Tim Clement provides this week's tips, looking at the action in Rotterdam.
Stat of the week
Ivo Karlovic slammed down 44 aces in beating Daniel Brands in Zagreb last week, equalling the record for most aces served in a best-of-three-sets match. Mark Philippoussis also hit 44 in a match in Kuala Lumpur in 1995. John Isner holds the five-set record with 113 in his Wimbledon marathon with Nicolas Mahut in 2010.
What you may have missed
The ATP World Tour announced it will return to Nottingham next season as part of the expansion of the grasscourt season.
Rafael Nadal withdrew from this week's tournament in Buenos Aires, saying a stomach virus has prevented him from practising for the first time since hurting his back in the Australian Open final.
Victoria Azarenka and Serena Williams also withdrew from this week's action - in Doha. The latter also announced she won't playing in Indian Wells either.
Marin Cilic, Gael Monfils and Fabio Fognini won titles on the ATP World Tour.
This week in tennis
All week: Andy Murray makes his return to the ATP World Tour in Rotterdam. There are also tournaments in Buenos Aires and Memphis. The WTA stages one of its big events of the season in Doha, although none of Williams, Azarenka and Sharapova will be playing.
Tuesday: The draw for the Fed Cup World Group play-offs takes place in London.
Twitter
There are few tennis correspondents left in the national press these days but of those Neil Harman - @NeilHarmanTimes - is a prolific tweeter.
The freelance tennis writers are, inevitably, less known by two worth a follow are Simon Cambers - @scambers73 - and Stuart Fraser - @stu_fraser.
And, as ever, make sure you are following us - @SportingLife and @NetTalkTennis
You can contact us via email - tennisfeedback@sportinglife.com.
There will be no Net Talk column next week.
---
New Sky Bet customers: Free £30 matched bet
---