Net Talk: Melbourne musings
Our Andy Schooler brings you his thoughts on the Australian Open - the demise of the Big Four, gentleman Rafa and more.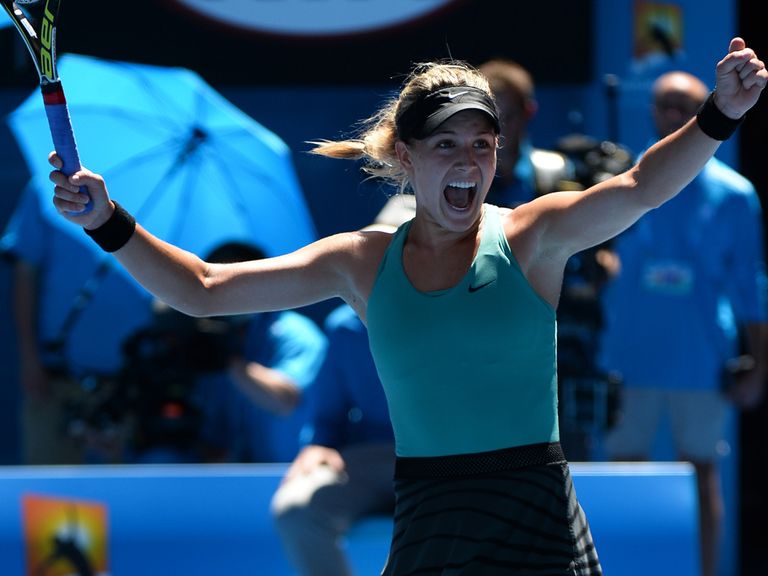 Big Four is no more: Last season there was plenty of evidence that the Big Four was in the process of being dismantled, none more so than the fact that Roger Federer had slipped outside the top four of the world rankings. Now Stanislas Wawrinka's victory in Melbourne seems to have smashed the quadopoly apart. His victory was the first time that one of Rafael Nadal, Novak Djokovic, Andy Murray and Federer had not won a Grand Slam tournament since Juan Martin Del Potro's 2009 US Open triumph. It will surely give a lift to the ATP's 'nearly men', although I'm sure the same was said in the glow of Delpo's New York triumph almost five years ago. The difference this time is the four we're talking about are all (almost) five years older and no longer have the peak of their careers ahead of them. With both Murray and Federer now ranked outside the top four, it seems unlikely we'll ever see the quartet all reach the semi-finals of the same Slam again. That in itself shows the dominance is over.
Gaining in defeat: Rafael Nadal's stock in the eyes of the tennis public was already high prior to Sunday's final defeat to Stanislas Wawrinka. It deserves to be even higher now. With his movement clearly restricted, something which turned the second set into an unwatchable affair, few could have argued had he offered his hand. But the Spaniard is nothing if not a fighter. Importantly he also knew that to throw in the towel, not matter what the reason, would have immediately put an asterisk next to Wawrinka's name on the roll of honour. Justine Henin's decision to quit her Melbourne final with Amelie Mauresmo back in 2006 certainly had that effect - with many turning on the Belgian as a result. Quite frankly the asterisk will inevitably remain in many eyes. We can only speculate what would have happened had Nadal not suffered the back problem. While it's easy to say he was already a set and a break down, it's also worth remembering the line about how tough it is to beat Nadal over five sets. While entering the 'what if' debate is all rather pointless, what can be said is Nadal handled himself, as ever, with good grace, with his acceptance speech another example of what the game will be missing when he's gone.
Never to old to learn new tricks: Roger Federer's link-up with Stefan Edberg brought plenty of headlines in the run-up to the tournament with plenty wondering what the Swede could bring to the game of one of the all-time greats. We now have the answer. While Federer ultimately failed in his Melbourne quest, losing to Nadal in the last four, the attacking tennis he produced to dominate both Jo-Wilfried Tsonga and Andy Murray in the previous rounds must give the Swiss and his army of fans hope for the rest of the season, even at the age of 32. Federer's volleying skills would have served him well in the Edberg era of faster courts but the Swede appears to have convinced his man that such skills are not redundant in today's game. Whether they can be as useful on slower surfaces remains to be seen but Edberg certainly seems to have a future and further developments in the Federer game - he's never been afraid to try out new things - can be expected. In contrast, as the players leave Melbourne it's harder to see exactly what Boris Becker has brought to Team Djokovic. Having ended 2013 superbly, Djokovic started the event as the man to beat but his unexpected quarter-final loss to Wawrinka saw him immediately facing questions about the relationship with Becker. Djokovic has stood by his man and the pair will be together again next month in Dubai. However, more questions are set to follow with Becker not due to travel with the Serb to Indian Wells where Marian Vajda will again head up the coaching team. It all still seems a little strange.
Stupid or what? After Andy Murray lost to Federer he duly claimed it was "stupid" for anyone to have expected him to win the title so soon after back surgery. Maybe he's right; it was certainly asking a lot. What his performance in reaching he last eight did do, however, was make Nadal's effort upon his return last season all the more noteworthy. Having spent twice the time out with his knee problem, Nadal was winning titles, albeit at lower than Slam level, from the second week of his return. Indian Wells, a top-class tournament Nadal also won just weeks into his return, will tell us more about Murray.
A glimpse of the future: Li Na has been a consistent performer in Melbourne over the past few years and this time she went all the way to the title. With her legendary humourous post-match interviews, there could have been fewer more popular winners. Enjoy it while you can though for what she does not represent is the future of women's tennis. At 31, Li was the oldest winner of the Australian Open women's title since the Open era began. What we did see though was the arrival at the top table of a young player who does hold legitimate claims of being the future of the sport, namely Eugenie Bouchard. The Canadian was rightly chosen as the WTA's newcomer of the year for 2013 when her spectacular rise up the rankings suggested she was ready to make her Grand Slam breakthrough. She duly has done. Much more awaits this talented star.
Reliable or not? Ask most people who the best female player in the world is and most will still answer, Serena Williams. However, the American has now won 'just' four of the last nine Grand Slams, something which doesn't quite fit in with her dominant record on the WTA circuit over the past two years. She certainly remains prone to an upset out of nowhere and those of you who bet on tennis should take notice. She's gone off odds-on for the last five Slams but won only two. That's not a route to profit in anyone's book.
Raise your game: Juan Martin Del Potro remains an enigma and if he's not careful he'll finish his career with plenty of regrets. His latest early exit at a Grand Slam came at the hands of the little-known Spaniard Roberto Bautista Agut. The Argentine has the game to have won more Grand Slams than his solitary 2009 US Open crown yet time and again he's failed deliver. I don't understand why. Every now and then you watch him play - Indian Wells last season, Wimbledon - and you wonder how he ever loses, so crisply does he strike the ball. But in that very sentence lies the problem. While excellent at times in those tournaments, Del Potro failed to win either. In fact, aside from that one US Open tiitle, the biggest event he's won is at 500 level. With consistency a problem perhaps changes are needed away from the court - sports psychologiy maybe, or a change of coach with seems so en vogue. He has been with Franco Davin for some time. One player who has changed coach recently is Laura Robson. She is also another failing to make the most of her talent right now. Sadly for her the start of the season has been disrupted by a wrist injury - she probably shouldn't have played in Australia and will now miss next month's Fed Cup action - so she shouldn't be judged just yet. However, like Delpo, everyone is still waiting to see her produce on a consistent level. Having shown she can beat the best on the big stage, performances at the regular tour events are what people want to see in the coming months. Perhaps the efforts of her close friend Bouchard will prove inspirational.
Hot and bothered: I'll end on a hot topic. Literally. On Sunday. Rafa Nadal was hailing Craig Tiley as "the best tournament director in the world". It's fair to say such compliments weren't being paid 10 days earlier. The 40C-plus heat in Melbourne was the talk of the tournament in the first week. Being a cold Briton typing away while the rain falls outside, I struggle to understand how anyone can play high-level tennis in such conditions for hours on end. Clearly it's possible but I don't think anyone will disagree that doing so is probably ill advised, no matter how much the tournament doctor talks about how the human species was "brought up on the plains of Africa". In the era of health and safety gone mad, some will view the 'get on with it' approach as refreshing. I just see it as potentially dangerous. The other factor that wasn't really talked about much - and sadly that's often the case in sport these days - is the heat from the fans' perspective. I know people who struggle when it's warm at Wimbledon. The Aussie fans certainly felt conditions were too hot as very few bothered to watch the supposedly top-quality tennis on offer when the sun was blazing down in the early rounds. That can't be good for any tournament, let alone one of the biggest in the world. Much of the mess could easily be cleared up by a coherent heat policy, one which both players and fans understand. For all the plaudits being handed out on finals weekend, this wasn't the Australian Open's finest year.
Betting
Landing a 66/1 winner in the form of Eugenie Bouchard to win her quarter at the Australian Open was a good way to start the Grand Slam year.
However, the less said about my daily tips for the event the better. For the record, to level stakes, the daily selections ended down 2.9pts. Hardly a disaster, but not good.
Next in the production will be a look at the outright Davis Cup - my preview will be published on Thursday when hopefully I can dig out another big-priced winner. I did land the Czech Republic at 40/1 in 2012, while last year 80/1 picks Canada fell agonisingly short by losing their semi-final from 2-1 up.
Meanwhile, Stanislas Wawrinka is the subject of many Sky Bet specials following his Australian Open win.
The new world number three is now 8/11 to finish in the world's top four and evens not to, while Wawrinka is 4/9 to finish ahead of fellow Swiss Roger Federer (13/8) in the rankings.
'Stanimal' is also up at 18/1 to win the next Grand Slam, the French Open.
Women's champion Li Na is already up at 14/1 to defend her title next season. She'll now look to become the first player since Jennifer Capriati in 2002 to win the Australian and French Opens back-to- back and is currently 8/1 to do so. The Grand Slam is a 125/1 shot.
Check out the Sky Bet website for a full look at what's available.
Stat of the week
Roger Federer held the Swiss number one ranking for 680 weeks before he lost it to Stanislas Wawrinka on Monday. Federer hit top spot on January 15 2001, taking over from Marc Rosset. Remember him?
What you may have missed
Stanislas Wawrinka beat an ailing Rafael Nadal in four sets to claim his maiden Grand Slam title.
Two-time runner-up Li Na was finally crowned Australian Open champion be defeating surprise finalist Dominika Cibulkova 7-6 6-0 in the final.
Laura Robson has been ruled out of Great Britain's Fed Cup Europe/Africa Zone I matches in Budapest next month due to a wrist injury.
Serena Williams has entered the BNP Paribas Open at Indian Wells, meaning she could end her 12-year boycott of the event in March.
Teenager Kyle Edmund was named in Great Britain's four-man team for their forthcoming Davis Cup tie with the USA.
This week in tennis
All week: The WTA action resumes with tournaments in Paris - where Maria Sharapova is the top seed - and Pattaya City, Thailand, where the field is led by Wimbledon finalist Sabine Lisicki.
Wednesday: It's the deadline for team nominations for next month's Fed Cup World Group matches.
Thursday: The draws will be made for the weekend's Davis Cup World Group ties, which included USA v Great Britain in San Diego.
Friday to Sunday: Those eight Davis Cup World Group first-round ties take place across the globe with plenty of eyes on USA v GB which looks too close to call. Holders Czech Republic begin their title defence at home to the Netherlands.
Twitter
The official feed of the Davis Cup is, unsurprisingly, @DavisCup, while a new feed launched this week for the WTA Championships which this year will take place in Singapore is @WTACSingapore.
And, as ever, make sure you are following us - @SportingLife and @NetTalkTennis
If you prefer to email, tennisfeedback@sportinglife.com is the address.
---
New Sky Bet customers: Free £30 matched bet
---