Andy Murray storms past Soeda
Andy Murray's form matched the weather as he scorched into the second round of the Australian Open with victory over Japan's Go Soeda.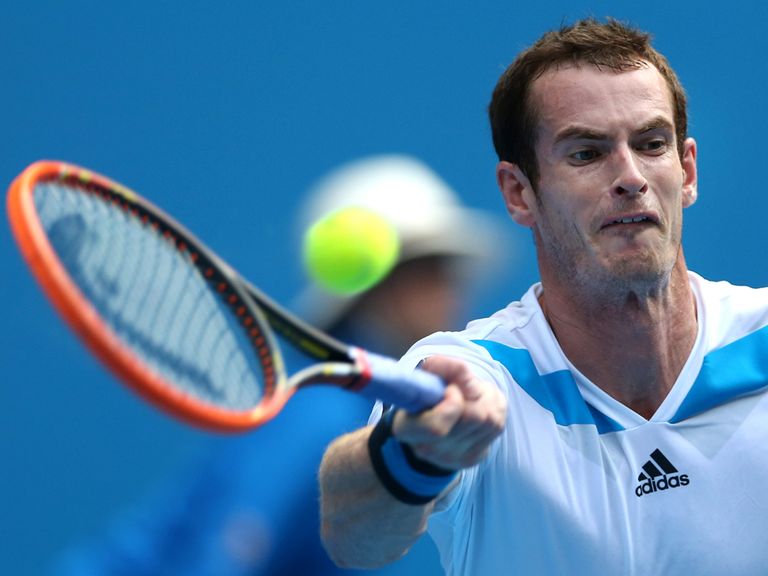 It was just the fourth seed's third competitive match following back surgery in September but he took only an hour and 27 minutes to win 6-1 6-1 6-3.
The soaring temperature had been the main talking point on day two at Melbourne Park so to win so quickly was a major positive for the three-time runner-up.
The temperature was still above 40C when play began on Hisense Arena just after 5.30pm.
The full extreme heat policy had not been implemented despite the conditions, meaning the roof was open.
Given Murray's lack of match play following back surgery, the energy-sapping heat was certainly something he could have done without.
The Scot has seemed unsure himself how he will fare during best-of-five-set matches, but this was at least a gentle-looking opener.
Soeda, 29, is ranked only 112th in the world - down from a high of 47 in 2012 - and has no grand slam pedigree.
Murray received a huge cheer when he walked onto the court and was even treated to a rendition of Flower of Scotland.
Soeda served two aces in the opening game but from there he began to make errors in the face of consistent play from his opponent.
Murray reeled off five successive games despite playing within himself, although there was nothing wrong with the way he was hitting the ball, as he proved with one rasping forehand winner.
And when Soeda's serve came under pressure again, a double fault handed the set to the Scot.
The good news for both players was the court was completely in shade, which meant they were spared the full heat that had seen one player collapse and another be sick on court.
Murray was clearly a man in a hurry, and he upped the aggression in his play to lead 3-0 in the second, making it nine games in a row.
Soeda stopped the rot with a service hold but Murray broke again with his latest backhand winner and then won his service game to love to take the second set 6-1 after only 49 minutes.
Maintaining a consistent level is likely to be the area of Murray's game that takes the longest to come back following his lengthy lay-off.
The 26-year-old certainly did not play as well at the start of the third set but Soeda could not exert any real pressure on the Murray serve.
And it was no surprise when the Scot broke to lead 4-3, putting aside frustration at missing two break points by taking the third.
That proved the decisive moment as a limp attempted drop shot from Soeda that barely reached the net gave Murray victory on his first match point.
The world number four gave a small leap and punched the air, no doubt delighted to have passed the first test with such flying colours.





Regarding the heat, Murray said: "It's definitely something that you maybe have to look at a little bit. As much as it's easy to say the conditions are safe - a few people said there's doctors saying it's fine - it only takes one bad thing to happen.
"And it looks terrible for the whole sport when people are collapsing, ball kids are collapsing, people in the stands are collapsing. That's obviously not great.
"I know when I went out to hit before the match, the conditions at 2.30 or 3pm were very, very tough. Anyone's going to struggle in that heat.
"There's been some issues in other sports with players having heart attacks. I don't know exactly why that is. In this heat, that's when you're really pushing it to your limits. You don't want to see anything bad happen to anyone."
When to stop matches is at the discretion of referee Wayne McKewen after a rule change this year, and based on readings not just of temperature but also humidity and wind.
Murray said: "Apparently it wasn't that humid today. That's why it wasn't implemented. There's different rules for the men and women, I don't know why.
"I didn't sit down and discuss whether the guys are happy with the rules or not. But every singles person that I saw coming in from practice or going out to play a match or coming back from a match, everyone just said, 'It's really hot today'."
In a statement, chief medical officer Tim Wood said: "The majority of matches were completed without any court calls from the medical team.
"Of course there were a few players who experienced heat-related illness or discomfort, but none required significant medical intervention after they had completed their match. Generally the playing group coped extremely well."Murray was happy with his performance and added: " I played well today. Practice the last week or so was very good. I played with a lot of good players and hit the balls very well on the courts here.
"I maybe didn't expect to play as well as I did today, but the signs have been good in practice. I started the match off very well and did everything solid."
In the second round Murray will play French qualifier Vincent Millot, who saw off American Wayne Odesnik in five sets for his first grand slam win.