Wade backs Djokovic despite change
Former Australian Open champion Virginia Wade admits she is "mystified" by Novak Djokovic adding Boris Becker to his coaching team - but still expects the Serb to win a fourth straight title in Melbourne.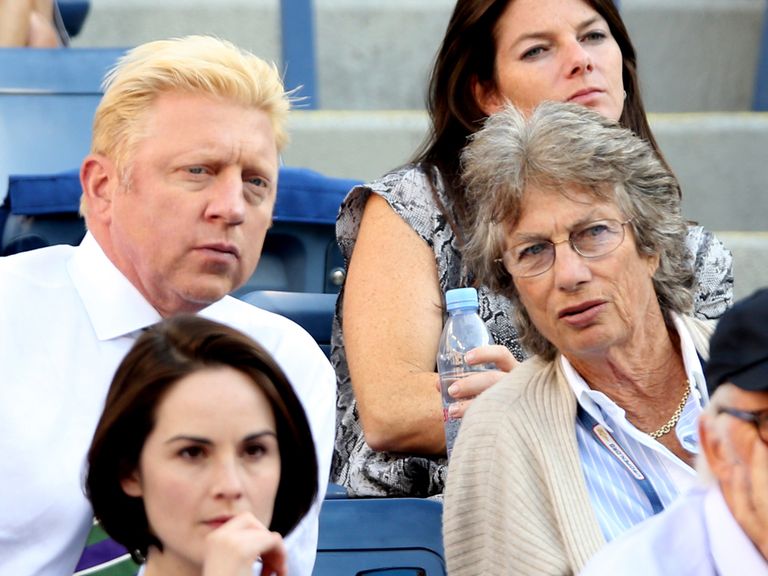 Djokovic shocked the tennis world last month by naming the six-time Grand Slam champion as his new head coach.
Wade, who will be a pundit on British Eurosport's coverage of the Australian Open this year, feels Becker, who has no experience of coaching at this level, may struggle to add to Djokovic's already highly-successful game.
"You can add me to the list of surprised people when it comes to Djokovic and Becker," she told sportinglife.com.
"Boris Becker was such a champion. He knew how to win matches but I'm still mystified.
"No matter how good you've been it's really hard to give something to someone as good as Novak Djokovic. What are you going to bring to his game? It's really hard."
She added: "As a top player you look to other top players but when it comes to being told what to do...
"He will look to him, they'll hit together and generally innovate but being told what to do is very difficult.
"I know Paul Annacone, when he was working with Sampras, was dictated to. When the player wanted a break, he took a break; the coach was told when they would hit."
However, Wade feels if the chemistry is right, Becker's arrival could lead to the world number two developing a more attacking style - the German was well known for his aggressive, serve-volley game back in the 80s and 90s.
"I don't know what he's actually looking for, something to keep him stimulated maybe," Wade continued.
"He's stuttered a little bit in the last two years. Maybe there's something in the service area, maybe at the net, where Becker can help.
"His game is very attritional, perhaps he's looking to be a little bit more aggressive."
Despite the upheaval in the Djokovic camp, Wade still expects Djokovic to emerge as champion in Melbourne for the fourth time in as many years - and the fifth in total.
"Yes, I definitely do," she replied when asked if she expected Djokovic to win, "even though (Rafael) Nadal had such an amazing year last year.
"After his US Open loss, Djokovic was scarily good. He looked relaxed and was hitting the ball really well.
"On these courts, he's the person to beat."
As for Briton Andy Murray, Wade feels he is mentally now in the right place to go one better than his three runner-up spots in Melbourne, but maybe not physically as he has only recently returned to action following back surgery.
Last season Murray added the Wimbledon title to the US Open crown he won in 2012 and arriving as a Grand Slam champion will be beneficial, says Wade, herself a former Wimbledon winner.
"It makes a huge difference, finally getting it done - what you set out to do - gives you so much more confidence. You know that you can do it," she said.
"That's what tennis is all about in the end. The technical stuff, the training, all the players do that. In the end it's confidence and self belief that makes the difference.
"Winning two Grand Slams and the Olympics will have boosted his confidence no end.
"However, it will be a little bit harder for him not having played matches for a while."
Wade feels a good draw will be "key" if Murray is to go all the way - he is short on match practice following an early exit at last week's Qatar Open and will surely want to play his way into the tournament.
She added: "For me, Grand Slams are all about the draw. You've got seven matches if you are going all the way and you want them to get progressively tough. That for me is the key.
"To start you want to play someone who hits a lot of balls in but who is never going to threaten you. But then at some point you need to be tested - you don't want to get all the way through without a test.
"Certainly in the first round you don't want one of the danger men. Lleyton Hewitt will be one of those - it was ridiculous how well he played against Roger Federer in Brisbane.
"Others you don't want to play are the big servers, people like Ivo Karlovic who are 10ft tall with massive serves. You won't get any rhythm against them, especially if the courts play fast as they did in Brisbane."
British Eurosport HD will broadcast over 300 hours of LIVE coverage from the Australian Open between January 13 and 26. Live multi-court coverage is also available online and on mobile via Eurosport Player - www.eurosportplayer.com.
---
New Sky Bet customers: Free £30 matched bet
---