Net Talk: The story so far
Our Andy Schooler looks at what's been learned from the opening week of the season and also ahead to the Australian Open.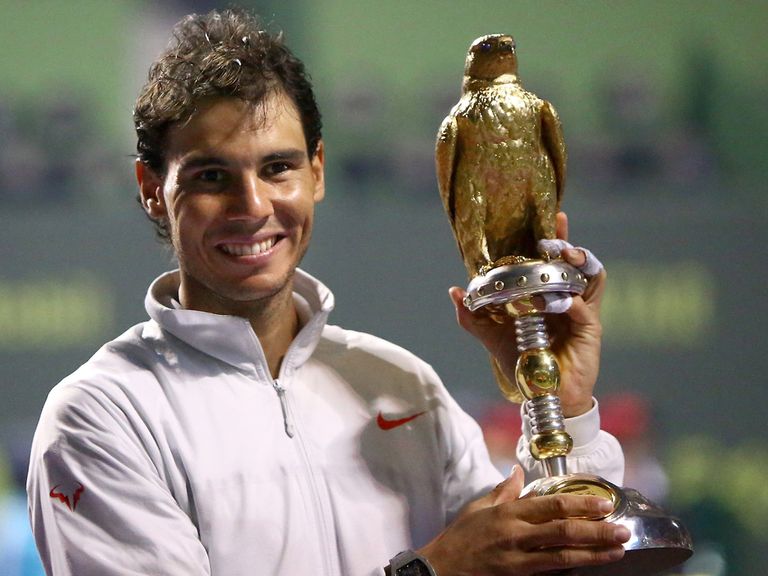 I've said it before and I'll say it again - it's a stupid situation which sees the first major tournament of the season come so soon in the new campaign.
It's now just seven days until the Australian Open gets under way but what that does mean is that it's important to find some early-season form.
With that in mind, I've taken a look at what's been learned from the opening week of the season and how it's affecting things ahead of Melbourne.
Those thoughts and all the usual Net Talk features can be found below. If you want to let me know your thoughts, you can contact me via email - tennisfeedback@sportinglife.com - or Twitter - @NetTalkTennis.
---
Rafael Nadal (odds with Sky Bet: 9/4): Is it possible for a player to win a title in the opening week of the season yet still seem less likely to win the upcoming big one at the end of it? The answer to that question would appear to be, yes. The world number one justified favouritism in Doha but the manner in which he did so failed to convince. Sets were dropped in three of his five matches and he didn't play against anyone ranked inside the top 20. There's plenty in the theory that winning when not at your best is a key skill to have but I'd suggest Nadal will need to improve once he gets in Melbourne if he is to win the Australian Open for a second time.
Andy Murray (6/1): Plenty of eyes were on Murray in Doha as he returned to competitive action for the first time since September. It all started well enough as the Briton won 21 of his first 24 games in Qatar but then it went badly wrong. Florian Mayer struck back for a fine win, the worrying thing for Murray fans being that he was unable to stem the tide once it turned against him. Given the length of time he'd been out, it was a perfectly understandable defeat but one which leaves him very short on match practice heading to Melbourne. Match sharpness has to be at least a slight worry given the quality which will be on show there.
Roger Federer (12/1): Federer cruised through the early rounds in Brisbane but when things got tougher in the closing stages he struggled, eventually falling short against Lleyton Hewitt in the final. The courts played fast in Queensland, a factor supposed to suit Federer. Reports from those already on site in Melbourne suggest those in Victoria will be noticeably slower which has to be a worry for Fed fans. Frankly Federer could have won every match 0&0 in Brisbane but he still wouldn't be fancied ahead of his contemporaries on this list.
Novak Djokovic (6/5): The defending Australian Open champion sat out the opening week of the season - and won't play this week either - yet he would actually seem to have strengthened his position as favourite for a fifth Melbourne crown. While main rivals Nadal and Murray failed to show their best form in Doha, Djokovic was busily getting used to the Melbourne Park courts. The amount of practice he's had on them will ensure he's fully aware of any changes to the court speed from last year. Having won the exhibition in Abu Dhabi just after Christmas, the Serb is looking well primed for another title bid.
Serena Williams (10/11): Williams did what was expected of her in Brisbane and duly beat a high-quality field. She was already a hot favourite for the Australian Open and the only thing that could possibly have changed that would have been an injury setback. But those have been few and far between in the last couple of years. Williams simply picked up where she left off last season and will be the one to beat in Melbourne where she will be seeking a sixth title.
Victoria Azarenka (7/2): Like Williams, Azarenka did what people expected in Brisbane - she made the final and then lost. She'll go to Melbourne as the second favourite and rightly so. She played well enough in her final defeat to Williams to show that the Australian Open title shouldn't just be handed to the American. Remember, Azarenka is the two-time defending champion in Melbourne and also that she's been the one player able to push Williams consistently over the past two years. Azarenka beat Williams twice on a hardcourt last season and took her to a final set at the US Open. While clearly Azarenka seems less likely than Williams to win in Melbourne, for me, the price difference between the two players is a little too big right now.
Maria Sharapova (8/1): Like Murray on the men's tour, Sharapova had fitness to prove in the opening week of the season. She did just that and few could have expected her to do more than she managed - reaching the semis before losing to Serena. She showed enough in that defeat to suggest she can be competitive in Melbourne but whether she can challenge the two players already mentioned remains in some doubt.
Li Na (10/11): If men's tennis has a Big Four, the women's game currently has a Big Three. But the current 'best of the rest' certainly deserves a mention; particularly given she has made the final in Melbourne in two of the last three years. While the leading trio were fighting it out in Brisbane in week one, Li could do no more than win in her home country at Shenzhen. And win she did, losing only one set. At the price, she has to be considered in any bet being placed right now.
More betting
Here's my preview of this week's ATP events in Sydney and Auckland.
I was rather gutted that last week's 16/1 each-way shot Vasek Pospisil had to retire injured in the Chennai semi-finals just when he was starting to truly push Stanislas Wawrinka. Here's to improved fortunes this week!
What's coming up?
The week leading up to a Grand Slam tournament is always a big one.
I'll be speaking to former Wimbledon champion Virginia Wade to get her view on how things will unfold in Melbourne.
In terms of betting, I'll be previewing both the men's and women's singles on Friday, bringing you my best bets for the tournament. Before that I'll get the views of some of the leading bookmakers in a Q&A session.
I'll also recall some of my favourite Australian Open matches of the past, while there also be a feature on the surprise packages which have lit up previous tournaments in Melbourne.
Make sure to stay logged onto sportinglife.com to catch all that in the coming days.
What you may have missed
Jurgen Melzer and Janko Tipsarevic have both been ruled out of the Australian Open.
Roger Federer feels his best chance of winning a Grand Slam in 2014 will come at Wimbledon.
As touched on above, Rafael Nadal, Lleyton Hewitt and Stanislas Wawrinka were winners on the ATP World Tour, Serena Williams, Ana Ivanovic and Li Na were WTA champions and France lifted the Hopman Cup.
This week in tennis
Monday to Saturday: With this week being the last chance to get matches under the belt ahead of the Australian Open there are several tournament taking place. The ATP have events in Auckland (where David Ferrer plays) and Sydney (Juan Martin Del Potro headlines). The WTA circuit travels to Sydney, where Agnieszka Radwanska heads a strong field, and Hobart, where Laura Robson is beginning her season.
Monday: Great Britain Fed Cup captain Judy Murray will name her team for next month's Europe/Africa Zone I matches in Hungary. With Elena Baltacha and Anne Keothavong both having retired since the last tie, I'd expect Tara Moore to be picked alongside Laura Robson, Heather Watson and Johanna Konta.
Monday: Recently-appointed LTA chief executive Michael Downey starts his new job. Plenty to work on there.
Wednesday to Saturday: Qualifying for the Australian Open takes place with Britons Watson, Konta, Dan Evans and James Ward among those looking to win their way into the main draw in Melbourne.
Wednesday to Saturday: The AAMI Classic exhibition event takes place at former Australian Open venue, Kooyong. Given its proximity to the first Grand Slam of the season, it's usually a competitive affair. Tomas Berdych, Stanislas Wawrinka and Richard Gasquet feature in this year's eight-man field.
Wednesday: 'A Night With Roger Federer and Friends' is staged at Melbourne Park's Rod Laver Arena. Federer will play Jo-Wilfried Tsonga in an exhibition match as part of an entertainment event which will also feature musical acts. It's all in aid of charity. A practice match on Laver will hardly hurt Federer either.
Friday: The Australian Open draw takes place in Melbourne.
Twitter
I'm going you give a shout out to @HobartTennis this week - the official feed of this week's Hobart International. They have only 2,000 followers, tragically low for a tournament of such beauty. It will be worth a follow just to see some of the pictures taken at the stunning Tasmanian venue which overlooks the sea.
A former ATP star turned up on Twitter this week, namely Jan-Michael Gambill (@JanmikeGambill)
And, as ever, @SportingLife and @NetTalkTennis are the feeds you need to stay in touch with us.
---
New Sky Bet customers: Free £30 matched bet
---