Net Talk: End of the off-season?
Our tennis man Andy Schooler brings you his second new-look Net Talk column, looking at the latest events in the world of tennis.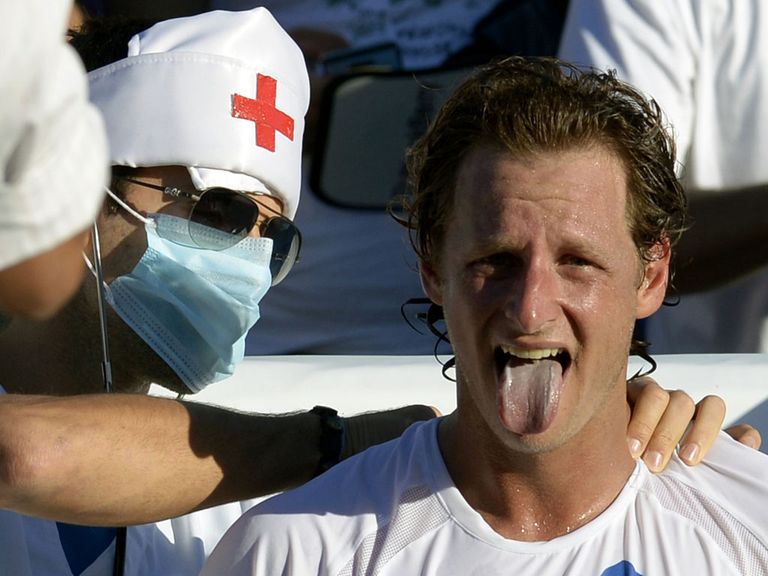 Comment, betting tips, news, future events will all feature on this page in the coming weeks.
Any feedback you have, including things you'd like to see, can be sent via email to tennisfeedback@sportinglife.com or via Twitter to @NetTalkTennis.
---
It was a busy week off the court (more on that below) but on it, attention was very much focused on the ever-controversial exhibition matches.
Rafael Nadal and Novak Djokovic were both strutting their stuff in South America, taking in Chile and Argentina. Nadal also managed to squeeze Peru into his schedule.
It was all very entertaining for those who had paid the money to be among the packed crowds. The fans got to see the world's best players give a fine send-off to their retiring local heroes, Nicolas Massu and David Nalbandian, and were also given a good laugh with Djokovic living up to his 'Djoker' nickname by appearing on court in Buenos Aires dressed as a medic to 'treat' Nalbandian.
The fooling around is what you expect at such exhibition matches, the results of which should never be taken particularly seriously. The light-hearted nature always gives the players involved a good argument against those who suggest that such clashes seriously undermine claims that tennis' schedule is too tough, too demanding on the body. As one of the biggest critics of the schedule in the past, Nadal has been particularly open to criticism this past week.
While the argument may have been brushed aside for now, it will return with one event in particular now looming large on the horizon.
If all goes to plan, this time next year the International Tennis Premier League, featuring many top players representing cities across Asia and the Middle East, will be about to begin and the organisers won't want the players to project an image that this is just an off-season knock-around.
If the event is to make the money its backers want it to, some level of competitiveness has to be created. Nadal and Djokovic have agreed to play, as have Andy Murray and most of the big names on the WTA circuit.
The fear of burn-out is currently the elephant in the room and both the ATP and WTA will, at least privately, be a little concerned. Their moves to shorten the season - so welcomed by the players just a couple of years ago - may be about to look a waste of time.
Expect further developments on this front in the coming weeks with organisers of the IPTL expected to garner further publicity for their new event by staging a player auction, similar to that of cricket's Indian Premier League, probably during the Australian Open when attention on the sport is at its peak.
It will certainly be interesting to see if the likes of Nadal and Djokovic adjust their schedules in any way knowing the IPTL is planned for the very time they usually have their feet up or just starting their pre-season training.
What you may have missed
Andy Murray has been forced to delay his return to match action with the Dream Cup exhibition event in Barbados, which had been due to be staged this week, being cancelled.
Laura Robson has confirmed her new coaching team will be the Americans Nick Saviano and Jesse Witten.
Maria Sharapova has also sorted out her coaching situation, hiring the experienced figure of Sven Groeneveld. Hope that goes better than her one-match stint with Jimmy Connors!
And a Briton, Chris Kermode, has been appointed the head of the ATP World Tour. No-one seems to know why he wasn't a serious contender for the LTA's chief executive post. The move is seen as a boost to London's chances of keeping the World Tour Finals beyond 2015.
This week in tennis
Tuesday - Tickets for the World Tennis Day event being held at London's Earls Court go sale. Pete Sampras will play Andre Agassi on the night on March 3.
Wednesday - Fields for Auckland (men), Sydney and Hobart should be confirmed, meaning the leading players' pre-Australian Open schedule will be known. We'll look at that in more detail next week.
Stat of the week
Rafael Nadal has won 42 claycourt titles in his career, leaving him four short of Guillermo Vilas' record. Nadal currently has five clay events scheduled next season - Monte Carlo, Barcelona, Madrid, Rome and Roland Garros - so could better Vilas' mark in 2014.
Twitter
Pictures of Rafael Nadal and Novak Djokovic playing tennis in view of the Perito Moreno glacier went down a storm on Twitter this week but Laura Robson was proud to say she got their first - she had posted a picture of herself at the Argentine beauty spot a couple of weeks before.
This week, @WorldTennisDay should have plenty of info on the aforementioned Earls Court event.
Of course, @SportingLife and @NetTalkTennis are worth a follow too!
---
New Sky Bet customers: Claim free £5 bet every week
---