Haas enjoying his Indian summer
Steffi Graf has been talking up his title chances and Tommy Haas, fed up of being portrayed as a tennis pensioner, is showing Wimbledon what the fuss over his latest renaissance is all about.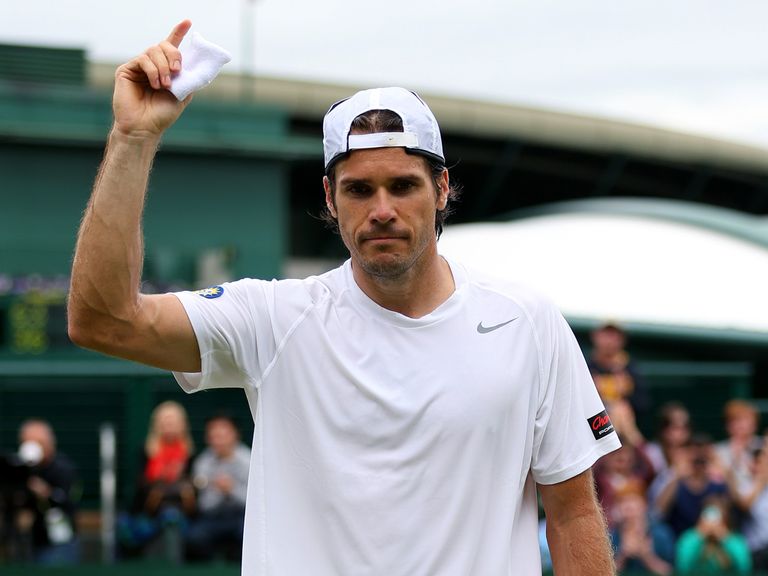 The 35-year-old German fell off the rankings completely in May 2011 after hip and shoulder surgery that kept him off tour for over a year.
But Haas, who reached number two in the world in 2002, refused to be beaten by the latest in a long line of injuries to have blighted his career, and he has come back to rediscover prime form at an age when many players have kissed the game goodbye.
Friday saw 13th-ranked Haas race through to Wimbledon's third round with a brisk 6-3 6-2 7-5 win against Jimmy Wang of Chinese Taipei, after which he let off steam when asked to describe the impact of the physical setbacks that have arguably cost him his best chance of grand slam glory.
Seven-time Wimbledon champion Graf has told German media that Haas had "huge potential" for this fortnight, and he likes to think so too.
What Haas likes substantially less is to revisit those memories of months of treatment, rehabilitation and mental torment caused by a career interrupted.
"I'm so tired of talking about my injuries," he said. "I'm healthy right now. I'm playing good tennis right now.
"Yes, I'm 35. There's nothing I can do about it. I'm later in my career. These are all things that don't matter once you get out there.
"I don't get 15-love or 30-love every game because I'm 35. You have to win games, sets, and matches.
"I don't get a handout just because I've had five surgeries in my career. It's not like that. You have to earn everything.
"You can't buy ATP points to buy your ranking. It's not possible; otherwise Ernests Gulbis would be number one in the world."
Latvian Gulbis, 39th in the world rankings, has a wealthy family and is widely portrayed as a playboy of the men's tour.
Few in tennis are as dedicated, or as unfortunate, as Haas, who added: "It's been a struggle at times. It's part of life. But overall I'm healthy. I'm competing. I'm playing the sport I love to play. Everything is good."
So good, in fact, that the Americans at Wimbledon are claiming him as one of their own.
Haas moved in 1991 to live in the United States, joining the Bollettieri academy in Florida, to which he remains closely associated.
He even thought about trading in the German flag for the Stars and Stripes at one stage, and holds joint citizenship.
Asked if he considered playing for the United States, whose 11 men in the Wimbledon draw have all fallen in the first two rounds, Haas said: "I have, yeah.
"I considered it for a brief second. I actually did change it when I was injured just for fun to sort of have a picture of that.
"If you had a German/American flag, I would represent that flag but it doesn't exist.
"In the long run, you know, I played for Germany for too long. I can't do that."
Haas faces Feliciano Lopez next, and then potentially top seed Novak Djokovic in the fourth round.
Djokovic and Haas played at the recent French Open and Haas could not prise a set from the Serbian, but it might be closer on grass, a surface more to the veteran's liking.
For now, Haas is just satisfied to be gracing Wimbledon's courts again. And banish the thought of him stepping away from the tennis circuit any time soon.
"I hope I can continue as long as I can, as long as my body allows me to, as long as I'm mentally capable of giving it a lot of extra effort off the court as well," he said.
"All the preparations, the hard work, as long as all that is there, I'll continue."
---
Click here for completely free £10 bet on Wimbledon!
---