'Money needs to filter further down'
The world's best players are gathering in Melbourne this week ahead of the Australian Open where even the first-round losers will receive record 'prize' money.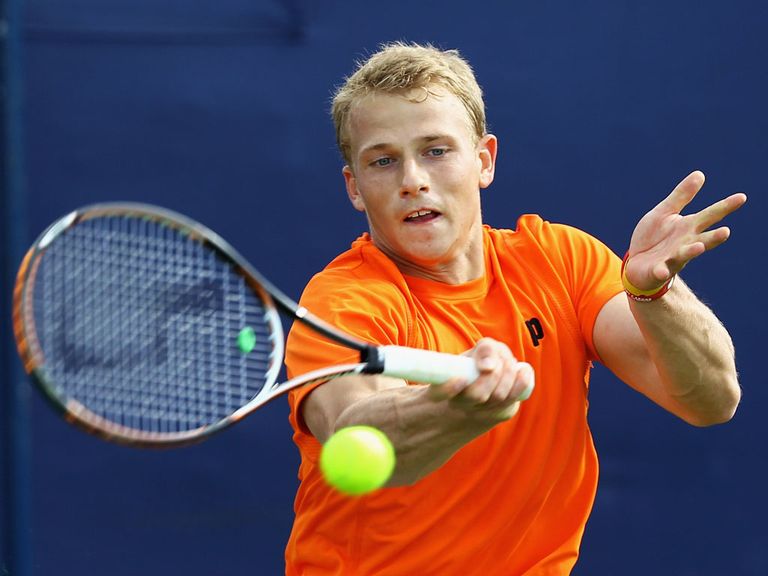 But, at least for now, the glamour of Melbourne Park is but a distant dream for British number 13 Andrew Fitzpatrick, ranked 509th in the world.
The 23-year-old, who last year hit the headlines when he was the victim of both an assault and a theft while playing in Vietnam, has joined us for the first in a series of columns to take a closer look at what life as a lower-ranked professional is really like.
A lot has been said about prize money ahead of the Australian Open [organisers have announced big increases for players losing in the early rounds so their large expenses of playing on a global tour can be met] but that's not the lowest standard of tennis.
I play in a lot of Futures tournaments [effectively tennis' third division] where the prize money is often US$10,000 per tournament. That figure hasn't gone up in years. When I've spoken to the ITF about it, their explanation is that the tournaments are called $10,000 tournaments but changing the name is not that hard to do!
In terms of prize money, it's absolutely woeful. If you lose in the first round, you get about £70-80. You don't want to be losing regularly early in Futures - if you are you probably don't have much chance of making it. To make any money you have to be winning every single week.
Last season my prize money totalled just over $12,000. It's not much. The LTA do have a bonus scheme but that's effectively prize money which any UK player can get - I don't get standard funding from them. I recently had to sell my car as I couldn't get through December without doing it which is not good. Now for anything within the UK in 2013 I'm relying on public transport.
Luckily I've got a reputation in England as someone who never pays for accommodation. If I lose first round, I'm the only person to make money doing so! I use the Couchsurfing website and find people who will put me up for nothing - it's all free and I get to stay in their spare room or on their couch. With the level I was at last year, it's fine. In terms of where I want to go to next - 250/300 in the rankings - I'm cutting corners that can't be cut. You need a decent night's sleep, get your hydration right etc. My preparation is not great. That's why I want to secure sponsorship. I'm not saying I would immediately go out and blow it all on hotels but I wouldn't have to cut as many corners. The more professional you are, the better the results will be.
"I'm cutting corners that can't be cut."

Tennis is a job, whether other people view it like that or not. Other wages go up but prize money at our level hasn't and that doesn't seem to make sense. If I were an official within the ITF/ATP, I'd want more money filtering down to the Challenger and Futures level. I don't think the players at my level are well represented on bodies like the ATP Player Council. The players at the top were at the bottom at one stage, at least some of them, but they've not had to grind it out - many of them sailed through to a high ranking.
At the moment, I play 60-70 per cent in the UK. For the new season I'm starting in Birmingham this week then play my first Futures event of the year in Glasgow. After that it's Preston, then Sheffield. As and when I build up some money then I have a chance of heading overseas.
Last year I borrowed money from a friend to get a flight to Israel and it just so happens it was my best decision of 2012 as I won a Futures event and collected as many points there than in the whole of the previous year.
The way the tour works, if you have money you can have flexibility about where you are going to play, so if you know a load of good players are playing one tournament, you can go to another and have a better chance of winning money and ranking points. However, players in my situation just have to go with it.
I spent much of the recent off-season trying to make as much money as possible. I was working as a temp at Foxtons, the estate agents. I've also been speaking to potential sponsors in London where I've been living with my girlfriend.
The highlight was definitely being a hitting partner for the players at the ATP World Tour Finals at the O2 in November. I networked with the tournament director the previous year and it paid off. I was the only official hitting partner and got to hit with [Novak] Djokovic, in fact every player except [Roger] Federer and [Andy] Murray.
As for practice, it's been minimal - a couple of times a week. It's been difficult to fit it in. Money has been more important - and I've certainly not practised as much as I wanted to. Thankfully, fitness has always been one of my strongest points so that's not really been a problem. I've practised with anyone who's been around. I've been in London for the last month or so and I'm good friends with one of the reps from the racquet firm Prince who's a decent player so I hit with him a lot. I haven't had a coach for around two years but this year I'm planning to link up with my old coach, Dan Kiernan, in Spain - at the Soto Tennis Academy that you may have heard of - so I'll see where that leads. Ideally I'd get someone to travel with me but that's not cheap!
Andrew Fitzpatrick was talking to Andy Schooler.