Beaten Tomic breaks silence on dad
Bernard Tomic talked about the controversy surrounding his father for the first time, saying: "He's still my dad, he's still my coach, and I love him a lot."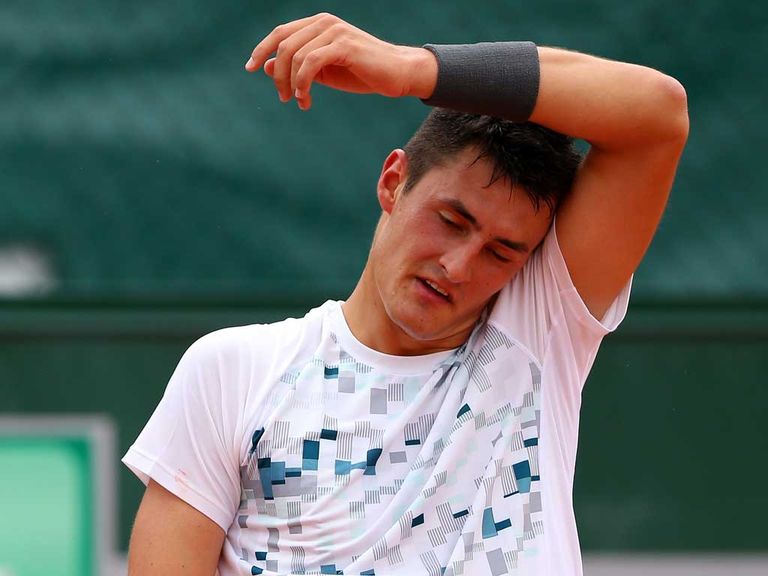 John Tomic is awaiting trial in Madrid for the alleged assault of his son's hitting partner, Thomas Drouet, in the Spanish capital earlier this month.
Tomic Sr has been suspended from all ATP tournaments and barred from the French Open, with reports he could be allowed in as a spectator for his son's first-round match against Victor Hanescu in Paris on Tuesday also dismissed.
Tomic will be heading home to Monte Carlo with his father on Wednesday after going out of the tournament, but the result had more to do with a hamstring injury than any effects of his off-court troubles.
The 20-year-old felt a tear in his right leg on only the second point and eventually withdrew trailing 7-5 7-6 (10/8) 2-1.
Tomic addressed the media prior to his press conference, saying: "I'd like to say some things before you guys ask me about them obviously involving my father.
"He's here right now in Paris, so he's still working with me, he's still my dad, he's still my coach, and I love him a lot.
"Involving the incidents that happened, I don't want to talk about it a lot, or at all, I should say. And it's a very difficult thing for me to put my words into that."
Tomic insisted the furore had not affected his build-up to the tournament, saying: "I'm the type of guy where I can sort of let these things go.
"I was feeling fine. The last two weeks, I was training well, playing well, I didn't think a lot about it, was not worried. To be honest, I didn't think about it the last week.
"But then that happened in the match today, and it's unlucky. But that's tennis.
"Nothing's changed between my dad and I. It's still the same. He's still with me, he's in Paris in my hotel."
Tomic Sr's ban means he will not be able to accompany his son to any tournaments, assuming Wimbledon follow the French Open in preventing him entering the grounds.
Tomic revealed he is looking to appoint someone to work with him and his father who would be able to sit courtside during matches.
He said: "I've thought about it. I probably have a choice of two or three people now. I will decide that with my dad over the next week. I'd like to get someone in before the grass that can help me and my dad."
Tomic began the season well, winning his first ATP World Tour title in Sydney and reaching the third round of the Australian Open, but since then he has won just five tour matches and his ranking has slipped to 61.
Tipped as a potential future world number one from a young age, he said: "I have experienced a lot the last few years.
"I've experienced where I didn't have to defend anything and when I got up there it was very easy and comfortable, I was very relaxed.
"But then it became difficult to defend (ranking points). I got nervous, a little bit of pressure and I didn't quite handle it well.
"The time came again where I turned it around and I played well and I showed that I can play, but this is the problem at a young age, you're up and down.
"So I've got to just keep working hard, keep trying, because once I get there and get to where I want to be, then there's no stopping me."
---
Click here for completely free £10 bet with Sky Bet
---