Net Talk: Cup boost for GB
Andy Schooler's latest Net Talk column shows how the weekend's Fed Cup results were good news for Great Britain.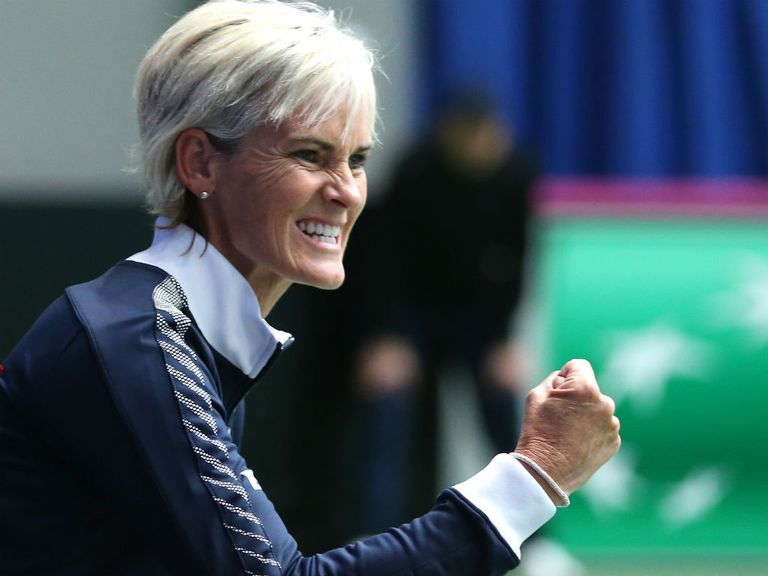 While most eyes were on Monte Carlo last week, a tournament which collected as many headlines about players who didn't reach the final than it did for those who did, numerous Fed Cup ties were ataking place around the globe.
Much has already been written about Novak Djokovic's wrist injury and Rafael Nadal's concerns about his own form and health, so I decided in this week's column to take a look at the women's side of the game where a mouthwatering final is now set up between the Czech Republic and Germany.
In a competition which some of the big names of the game continue to snub - think Davis Cup replication - it's great to see that two nations who have taken things very seriously have been rewarded with places in the final.
Regardless of the line-ups other nations have produced, it's hard to argue these two are not the strongest in the competition.
Yes, USA, Russia and Serbia could, on paper, field players with a higher ranking but the Czechs have proved for some time that can cope, their talisman Petra Kvitova having been at her best when representing her country. Germany, meanwhile, have depth in their squad which virtually every country must envy.
Great Britain are one of those envious nations but the weekend brought good news for them.
Following a series of play-offs, in which they weren't involved, the Brits now know their potential opponents in 2015 and Judy Murray's team look set to be among the top seeds for their Europe/Africa Zone I bid.
Netherlands, Sweden, Switzerland and this year's conquerors Romania could all have lost at the weekend and thus joined Britain in Zone I next year.
Instead all won and as a result GB are ranked second of the 15 teams due to contest next year's Zone I matches, meaning they will be in the top pot of seeds when the draw is made at the start of 2015.
There will be three groups of four and one of three with GB's potential foes being, in ranking order: Serbia, Belarus, Belgium, Ukraine, Hungary, Portugal, Croatia, Israel, Austria, Bulgaria, Turkey, Georgia, Liechtenstein, Latvia
The winners of the four groups will play-off for promotion spots and Serbia, finalists as recently as 2012, look ones to avoid at that stage.
Since that 2012 defeat to the Czech Republic they've not fielded their two top players together - Jelena Jankovic and Ana Ivanovic - and have subsequently suffered four successive defeats to be relegated to the third tier of the competition.
They still have two top-40 players in Ivanovic and Bojana Jovanovski though.
Murray will hope, with plenty of optimism, that her leading pair of Laura Robson and Heather Watson - both former top-40 players themselves - will be back to their best by the time those matches are played early next year.
If so, then perhaps the GB women can start thinking of the sort of run their male compatriots have been on of late in the Davis Cup.
Betting
I have to say I suffered a slice of bad luck on the betting front last week. Having backed Novak Djokovic at 15/8 in Monte Carlo, things were looking rosy when he reached the semi-finals while Rafael Nadal fell by the wayside. However, at that point the Serb saw a wrist problem become too problematic and he duly lost in the last four at which stage he was odds-on.
The Djokovic injury, plus Nadal's shock loss, certainly means the French Open market is more interesting than it might have been with eventual Monte Carlo champion Stanislas Wawrinka now into 15/2 for the title with our betting partners, Sky Bet.
Nadal remains odds-on at 4/5. Djokovic is 15/8 - hardly a price that looks tempting given the doubts over whether he will even turn up in Paris. Roger Federer has shortened to 12/1 after making the final last week.
Sky Bet also have a series of specials regarding Wawrinka. He's 100/30 to win another Grand Slam title this season, 6/5 to reach another final and 7/1 to end the year as world number one. So far in 2014 he was won more ranking points than any other player. A full list of specials is available on the firm's website.
Finally an apology that there's no betting preview of this week's ATP events. The Easter Bank Holiday weekend meant time was at premium and other things had to take priority - my colleague Tim Clement will preview next week's events.
Stat of the week
Stanislas Wawrinka's success in Monte Carlo was only the second time in the last 30 Masters 1000 events that the title has been won by someone outside the 'Big Four' of Nadal, Djokovic, Federer and Andy Murray. It was also the Swiss' first at Masters level.
What you may have missed
Stanislas Wawrinka won his first ATP Masters 1000 title, beating Roger Federer in the final in Monte Carlo. In the women's game, the Czech Republic and Germany set up a Fed Cup final meeting, while teenager Donna Vekic won her first WTA title.
With the French Open looming, Novak Djokovic has an injury cloud hanging over him due to a wrist problem which is to force him off the tour for at least a few weeks.
Laura Robson is another struggling with a wrist injury - she will miss the French Open and Wimbledon after opting to having surgery.
The ATP tournament in St Petersburg, Russia, has been moved to the Israeli city of Tel Aviv.
The fields for next month's French Open have been announced with Britons Johanna Konta and Heather Watson just missing out on main-draw spots.
A list of stars, led by Andy Murray, will stage a series of matches in June to raise money in the name of Elena Baltacha, who has been diagnosed with liver cancer.
Details of the schedule for this year's WTA Championships have been announced by organisers.
More prize money increases have been announced at the French Open.
This week in tennis
All week - The ATP is in Barcelona, where Rafael Nadal heads the field, and Bucharest, while the WTA heads to Stuttgart - Agnieszka Radwanska the star name there - and Marrakech.
Twitter
With Andy Murray's team having no tournaments to attend last week, they were more active than usual on Twitter.
The player himself is @andy_murray and his dry sense of humour can be seen at its best here. This year Murray has already duped some journalists into reporting that he is getting married and that a new coach announcement was imminent.
Hitting partner Dani Vallverdu - @danielvallverdu - and strength and conditioning coach Matt Little - @Treakovic - are other members of his set-up who are on the social-media network.
As ever, please follow me - @NetTalkTennis - and the website's feed - @SportingLife - if you don't already.
You can also contact us via email - tennisfeedback@sportinglife.com.
The next Net Talk column will appear on May 12.
---
New Sky Bet customers: Free £30 matched bet
---