Net Talk: Is Federer really back?
Roger Federer's revival continued in Indian Wells but the fact he couldn't beat a below-par Novak Djokovic is cause for concern, says our Andy Schooler.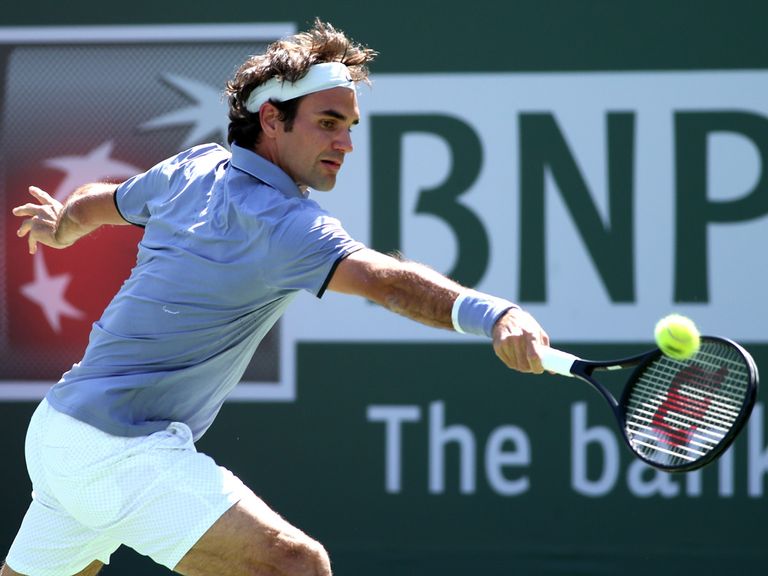 Roger Federer has achieved so much and done it in such a way that it is no surprise he is talked about so often, with praise often gushing in his direction.
That was the case again in Indian Wells, where the Swiss continued to look an improved player from the fallen great he cut through much of 2013.
But the 32-year-old's improvement should not be considered a renaissance just yet.
The fact is while Federer impressed en route to the final, he ultimately came up short against a player performing below his best.
And if Federer can't beat Novak Djokovic on a hardcourt when the Serb isn't firing on all cylinders, when is he going to beat him?
Of course, critics will point out Federer did beat Djokovic, only last month, in Dubai. But with all due respect to that tournament, Indian Wells - the latest tournament to be tagged 'the fifth Slam' meant more and subsequently brought more pressure to both men.
When push came to shove, Djokovic reacted the better, pulling his game up by the bootlaces to recover from an inauspicious start against Federer to post a narrow win.
In doing so he undoubtedly showed the characteristics of a true champion.
But be under no illusion. The eventual champion stuttered all week, losing a set to the little-known Alejandro Gonzalez, dropping one 6-1 to Marin Cilic and failing to serve out twice against John Isner (and subsequently being taken to a third set again). This was a far cry from vintage Djoker, circa 2011.
Yet, as is often said about the greats, he found a way.
Whether having Marian Vajda back in his corner during the event is a co-incidence or not remains to be seen. Boris Becker will be back in the head-coach seat in Miami this week but however Djokovic performs in Florida - where he will be looking to complete the Indian Wells-Miami double for the second time in four years - it will be well into the summer before the decision to appoint the German can be truly judged. Certainly talk of a crisis in Djokovic's game following his close-season coaching changes were premature in the extreme. After all, he had only played two tournaments before Indian Wells, reaching the quarter-finals and semi-finals in those.
He is not at his best but he is winning matches and seems to be steadily improving.
As for Federer, he will be encouraged by his form - and all his comments suggest just that - but I wonder how much belief there really is that he can return to that very top table and win there on a consistent basis.
Yes, his backhand has looked much improved in these opening weeks of the season and it looks a shot capable of doing some damage again, rather than simply keeping him in a rally. The forehand also seems more reliable than it did for much of last season.
But he leaves another Masters tournament a loser - his last win at this level being back in Cincinnati in August 2012.
Miami is next for him, a tournament he missed last year so there's now every chance he'll be back in the top four come the end of it.
But that's where this hardcourt swing ends and after that it's onto the clay where beating Rafael Nadal and Djokovic becomes an even tougher task for the Swiss.
Federer is talking his confidence up at present. He'll need to keep doing so if he's to reach Wimbledon - the tournament he openly admits is by far his best opportunity of Grand Slam glory these days - with a genuine chance of capturing an 18th major crown.
Betting
It's a funny time of year with tournaments starting in midweek. The Sony Open in Miami begins on Tuesday when the women are in first-round action. The men's event starts the following day and I'll be previewing that so please log back on in the next couple of days.
Stat of the week
Andy Murray won his 436th career match in Indian Wells - equalling fellow Briton Greg Rusedski's tally. He still has a way to go to overtake Tim Henman, although it would appear it is only a matter of time - probably around this time next year - before he passes his mark of 496.
What you may have missed
As already pointed out, Novak Djokovic beat Roger Federer to win the ATP title in Indian Wells. The women's event was won by Flavia Pennetta, who beat an ailing Agnieszka Radwanska in the final.
Laura Robson withdrew from this week's Sony Open in Miami due to her ongoing wrist injury. She still hasn't played since the Australian Open.
Victoria Azarenka has also revealed she won't play in Miami - she is still troubled by a foot injury.
This week in tennis
Tuesday onwards - The Sony Open gets under way in Miami on Tuesday with the WTA action starting then. The ATP draw kicks off the following day.
Twitter
@SonyOpenTennis is the official feed of this week's big tournament in Miami.
I'll also give a shout out to British teenager Kyle Edmund - @kyle8edmund - who has been handed a wild card into the event. He'll play Julien Benneteau in the first round.
Please also follow myself - @NetTalkTennis - and the website's feed, @SportingLife, if you have not done so already!
You can also contact us via email - tennisfeedback@sportinglife.com.
---
New Sky Bet customers: Free £30 matched bet
---