Net Talk: Coaching merry-go-round
Roger Federer, Novak Djokovic and Maria Sharapova all have new coaches - our Net Talk column looks at the off-season coaching moves.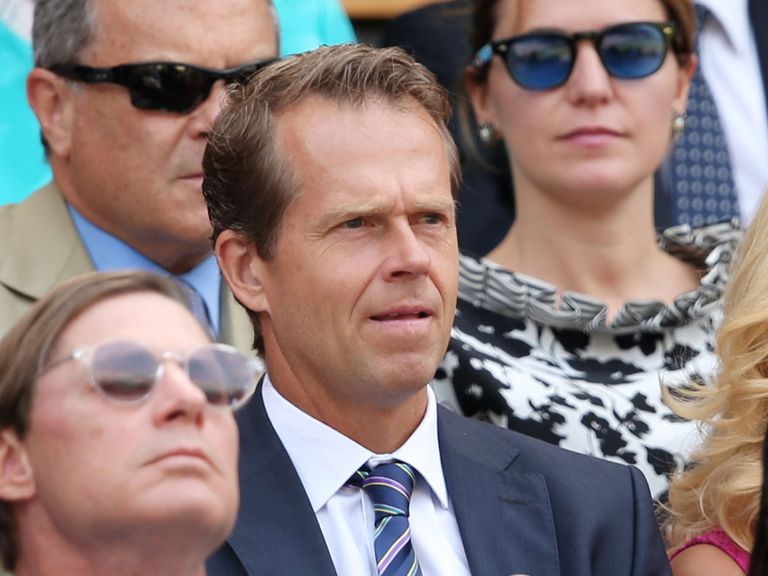 This week I've taken a look at some of the high-profile coaching changes which have taken place while tennis has been away.
You are going to see some familiar faces in the player boxes in the coming weeks but you may not be used to seeing them handing out coaching advice.
With Stefan Edberg, Boris Becker and Michael Chang among those now in the hot seats, it may all resemble the Champions Tour.
All the other usual Net Talk features are below, including my betting previews of this week's ATP tournaments.
If you have any feedback, you can contact me via email - tennisfeedback@sportinglife.com - or Twitter - @NetTalkTennis.
---
Novak Djokovic - It's a measure of the man's thirst for further success that Djokovic has made changes to his coaching set-up in the off-season, bringing in Boris Becker as 'head coach'. The Serb is not far behind Rafael Nadal in the world rankings and won another Grand Slam title in 2013. Most would deem that a success but Djokovic wants an extra edge and has effectively replaced long-time coach Marian Vajda, although he remains part of the team. Becker has no coaching experience at this level, although that hasn't stopped Ivan Lendl being deemed a huge success with Andy Murray. What does seem a little strange is that Becker never had the key to success on clay - he famously never won a tournament on the red dirt - yet the French Open is now the main target for Djokovic, it being the one Slam missing from his CV. Another worry in some quarters is that when Todd Martin was brought into the Djokovic team a few years back, primarily to improve the serve, his ideas were quickly rejected. For the record, Becker is committed to travelling to the Australian Open, Dubai, Miami, Monte Carlo, Rome, Roland Garros, Wimbledon, Cincinnati, the US Open, Shanghai and Paris. Vajda will be the man in the hot seat in Indian Wells, Madrid, Toronto and Beijing. We wait to see whether the new set-up can possibly work.
Roger Federer - The Swiss great joined the trend for hiring 80s stars by teaming up with Stefan Edberg, who will work with Federer for "at least 10 weeks" this season, starting at the Australian Open. He will work alongside Federer's long-time advisor and friend Severin Luthi, who, unlike Vajda, is used to others coming in to help. Edberg recently spent time at Federer's training base and a more formal agreement is now in place. Again, Federer's search for improvement should be lauded. Paul Annacone was ditched during last season when Federer's struggles were at their height - he clearly wants more. Now 32, Federer is seeking one last hurrah but whether Edberg, another man with no coaching experience at this level, can provide it remains to be seen.
David Ferrer - It's hard to work out whether Djokovic hiring Becker is a bigger shock than Ferrer splitting from Javier Piles after 15 years as a partnership. He will now work with former ATP professional Jose Altur (he made world number 88 back in 1990). Ferrer, already 31, is arguably coming off his best-ever season under Piles' tutelage - he made his first Grand Slam final at Roland Garros and ended 2013 as the world number three. Most baffling was the timing of the split, coming just days before the season began meaning Altur's ideas can hardly have been implemented yet.
Richard Gasquet - The Frenchman was another to dump his coach after arguably his best-ever season. The split came during the ATP World Tour Finals in London with Riccardo Piatti leaving mid-tournament. Claycourt great Sergi Bruguera is Piatti's replacement. Working on Gasquet's sometimes fragile mental game will be a key area for the Spaniard to address. If he can add his clay expertise to Gasquet's already-strong dirt game, the spring could bring some fine results.
Grigor Dimitrov - Is Australian Roger Rasheed the man who can finally turn the undoubted talent of Dimitrov into serious success? He's previously worked with Lleyton Hewitt and Jo-Wilfried Tsonga so unlike many of the other recent appointments, does know a thing or two about delivering at this level.
Marin Cilic - The Croatian has long known his country's tennis hero, Goran Ivanisevic, and has taken his advice in the past. In 2014 their partnership will be a closer one with Cilic bidding to climb back up the rankings following last season's drugs ban. Expect subtle changes to the Cilic game. Ivanisevic was once coached by Bob Brett, who until fairly recently also worked with Cilic.
Kei Nishikori Another blast from the past will be on the tour as Nishikori's coach in 2014, namely former French Open champion Michael Chang. The American has been given an "advisory" role by Nishikori. Like Becker with Djokovic, Chang has been added to the camp rather than recruited as a replacement. Dante Bottini remains Nishikori's coach but Chang will join the team for "17-20 weeks" over the course of the campaign.
Maria Sharapova - The changes are not restricted to the men's game. Sven Groeneveld is Sharapova's new coach and comes with a sky-high reputation. He's worked with too many of the game's current players to name. A British audience may know him for working with Greg Rusedski back in the day. Most recently he's been employed by adidas in a role which has seen him tweak the games of numerous adidas-backed players. He is essentially a replacement for Thomas Hogstedt who left the Sharapova camp after Wimbledon. Expect Groeneveld to last a little longer than Hogstedt's initial replacement Jimmy Connors - he lasted one match back in the summer.
Laura Robson - Many in the game feel what Robson needs to really kick on and fulfil her potential is to find a long-term coach. She has flitted between this one and that one for years now with her most recent coaching relationship with Miles Maclagan coming to an end in the second half of last season. She recently announced a new team. Nick Saviano, a respected American coach behind the emergence of Genie Bouchard, will be an out-of-tournament consultant, with Jesse Witten, a former ATP pro, on the circuit. Robson knows Saviano through her friendship with Bouchard but critics suggest that could also be her downfall. The pair could soon be serious rivals on the tour and Bouchard has been keen to stress that Saviano's main focus remains on her game.
Heather Watson - The other British player of which much is expected has also changed her coach in the off-season. She'll now be coached by another former ATP player, Argentina's Diego Veronelli. Watson split from Colombian Davis Cup captain Mauricio Hadad during last season and worked with the LTA's Jeremy Bates in the latter months of what was a year ruined by glandular fever.
Betting
It's week one of the new ATP World Tour season so it's time for me to provide tournament betting tips again.
I'm hoping a 14/1 shot can get us off to a flying start in Brisbane, while there's a separate preview of the events in Doha and Chennai.
And if you didn't read them last week, here's another go for my season-long ATP and WTA previews.
Given my piece on coaching changes above, it's also worth me pointing out some interesting markets provided by our betting partner, Sky Bet.
They have priced up some specials following Edberg's appointment, including the Swede being offered at 7/4 to still be part of the Federer set-up come Wimbledon. That looks rather big to me.
All the firm's coaching markets can be found by clicking here.
What you may have missed
Andy Murray's first match since September resulted in defeat to Jo-Wilfried Tsonga in Abu Dhabi but he beat Stanislas Wawrinka the following day.
Novak Djokovic emerged victorious in Abu Dhabi, beating David Ferrer in the final.
British number one Laura Robson pulled out of the ASB Classic in Auckland due to a wrist injury.
This week in tennis
All week: It's the opening week of the ATP World Tour and WTA seasons. ATP events take place in Brisbane, Chennai and Doha - the latter is the headline act as it features five of world's top 10, including Rafael Nadal and Andy Murray. The WTA season begins with tournaments in Shenzhen, Auckland and Brisbane. Serena Williams, Victoria Azarenka and Maria Sharapova are all in Brisbane. In addition, the ITF's mixed team competition, the Hopman Cup, continues in Perth.
Sunday onwards: The final round of warm-up tournaments for the Australian Open gets under way in Sydney and Hobart, where Laura Robson is due to open her season.
Twitter
If you've not yet seen it, Andy Murray (@andy_murray) staged an #askandy Q&A on Sunday. Check his feed for the answers he provided to a multitude of questions. It certainly shows his dry sense of humour.
As ever, @SportingLife and @NetTalkTennis are the feeds you need to stay in touch with us.
---
New Sky Bet customers: Free £30 matched bet
---