Net Talk: Who's playing where?
In his latest Net Talk column, our Andy Schooler takes a look at who will play where ahead of January's Australian Open.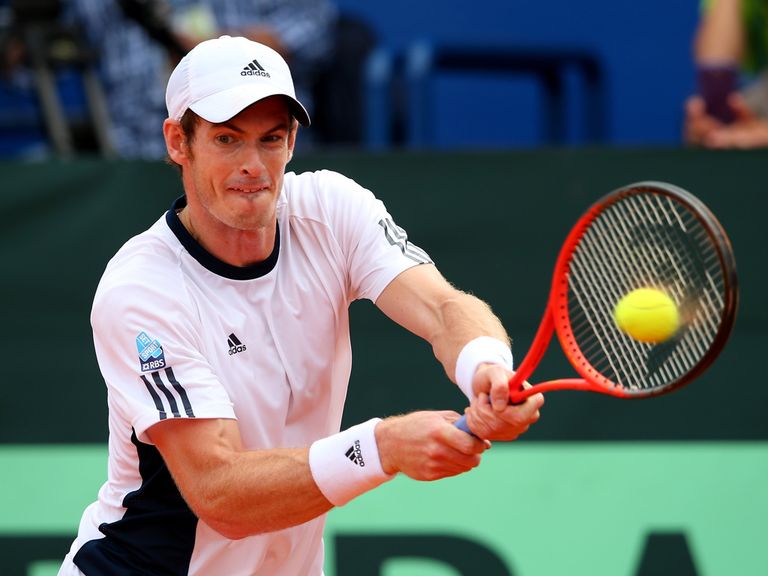 Staging one of your four major tournaments three weeks into the season is frankly a ridiculous situation for a sport to be in.
No-one would design a season this way from scratch but for now it's a position tennis is stuck in as there seems little will to tear up the calendar and start afresh.
What is does mean is that how players prepare for the Australian Open takes on added significance.
In the men's game it is interesting to note that three of the 'Big Four' have rejigged their schedule ahead of 2014's first Grand Slam tournament - even Novak Djokovic, the man who has won the last three Australian Open titles.
Last season he got matches under his belt first in Abu Dhabi - officially an exhibition tournament but one taken more seriously than most given its date and the fact that it attracts such a high-quality field - and then at the Hopman Cup team event in Perth.
However, in 2014 the trip to Perth has been ditched and so the Serb will only play in Abu Dhabi, therefore arriving in Melbourne with no proper competitive action in the bank.
It was a decision Roger Federer took 12 months ago but one he's not going to repeat as the Swiss has agreed to play in Brisbane this time around - the first time he's ever attended the Queensland event where, given the standard of the field, he's likely to start a hot favourite.
Four times a winner of the Australian Open, Federer will also get an opportunity to try out the Rod Laver Arena in a match atmosphere prior to the 2014 tournament as he'll play an exhibition against Jo-Wilfried Tsonga on it the week before. The wonderfully-titled 'A Night With Roger Federer and Friends' will also feature musical acts as cash is raised for charity.
Briton Andy Murray also changes tack. In each of the last two years he's played - and won - in Brisbane, arriving Down Under more than two weeks in advance of the Australian Open getting under way.
That won't be the case this year. Instead he's going back to Doha in Qatar for an event he used to start his season with and one he's won twice in the past.
It's likely to be a much stiffer test than he's had in Brisbane with world number one Rafael Nadal among a field which also includes David Ferrer, Tomas Berdych and Richard Gasquet.
The previous week - his back permitting - Murray will be among those in Abu Dhabi with Tsonga already lined up as his opening opponent of the season there.
Nadal is the one member of the 'gang of four' to stick with his familiar routine. This time last year he was nursing a knee problem and was forced to miss the start of the season. However, two years ago he played in Abu Dhabi and then Doha before heading to Melbourne and that's what he'll do again.
In the women's game, Serena Williams and Victoria Azarenka have identical schedules heading into the Australian Open.
The world's top two will face each other in an exhibition in Hua Hin, Thailand, before heading to Brisbane where a top-quality WTA field will gather - six of the top 10 will be there.
They will include Maria Sharapova, who is due to play her first competitive tennis since August at the event.
The other members of the top 10 are also in action during the opening week of the season.
Jelena Jankovic, Angelique Kerber and Caroline Wozniacki are the others who will be in Brisbane; Agnieszka Radwanska and Petra Kvitova will play at the Hopman Cup, thus guaranteeing themselves at least three singles and doubles matches; Li Na and Sara Errani will start in Shenzhen, China.
The following week the likes of Williams and Azarenka will rest up. Radwanska will be the biggest name in action; she heads a Sydney field which also includes six of the world's top 10.
Meanwhile, British number one Laura Robson will start her campaign in Auckland before heading to Hobart where lower quality fields should mean she has a better chance of getting some confidence-boosting wins on her record before arriving in Melbourne where she has plenty of ranking points to defend having reached the third round last season.
Further details of which leading players are playing where and when can be found below:
MEN
Mubadala World Tennis Championship, Abu Dhabi (Dec 26-28) - Rafael Nadal, Novak Djokovic, Andy Murray, David Ferrer, Stanislas Wawrinka, Jo-Wilfried Tsonga
ITF Hyundai Hopman Cup, Perth (Dec 28-Jan 4) - Jo-Wilfried Tsonga, Milos Raonic, John Isner, Jerzy Janowicz, Bernard Tomic
ATP Brisbane International (Dec 29-Jan 5) - Roger Federer, Kei Nishikori, Lleyton Hewitt
ATP Qatar ExxonMobil Open, Doha (Dec 30-Jan 5) - Rafael Nadal, Andy Murray, David Ferrer, Tomas Berdych, Richard Gasquet
ATP Aircel Chennai Open (Dec 30-Jan 5) - Stanislas Wawrinka
ATP Apia Sydney International (Jan 5-11) - Juan Martin Del Potro, Nicolas Almagro, Jerzy Janowicz, Bernard Tomic
ATP Heineken Open, Auckland (Jan 6-11) - David Ferrer, Gael Monfils, Kevin Anderson, Tommy Haas, John Isner
AAMI Classic, Kooyong (Jan 8-11) - Tomas Berdych, Stanislas Wawrinka, Richard Gasquet, Kei Nishikori, Lleyton Hewitt
A Night With Roger Federer & Friends, Melbourne (Jan 8) - Roger Federer, Jo-Wilfried Tsonga
WOMEN
Hua Hin Invitational (Dec 28) - Serena Williams, Victoria Azarenka
ITF Hyundai Hopman Cup, Perth (Dec 28-Jan 4) - Agnieszka Radwanska, Petra Kvitova, Sam Stosur, Sloane Stephens
WTA Brisbane International (Dec 29-Jan 5) - Serena Williams, Victoria Azarenka, Maria Sharapova, Angelique Kerber, Jerzy Jankovic, Caroline Wozniacki
WTA Shenzhen Open (Dec 29- Jan 4) - Li Na, Sara Errani
WTA ASB Classic, Auckland (Dec 30-Jan 4) - Roberta Vinci, Ana Ivanovic, Venus Williams, Laura Robson
WTA Apia Sydney International (Jan 5-10) - Agnieszka Radwanska, Sara Errani, Petra Kvitova, Angelique Kerber, Jelena Jankovic, Caroline Wozniacki
WTA Hobart International (Jan 5-11) - Sam Stosur, Venus Williams, Laura Robson
Betting
Looking ahead to the Australian Open, Novak Djokovic is the men's title favourite at 11/8 with Sky Bet at present and with little chance to show off his talent beforehand, it's hard to see that price shortening much.
World number one Rafael Nadal is offered at 2/1 with Andy Murray next at 5/1, a price which will presumably be cut if he proves his fitness in Abu Dhabi and Doha.
Roger Federer is out at 12/1, a price which puts him behind Juan Martin el Potro (10/1) in the betting.
The women's market is headed, unsurprisingly, by Serena Williams, who is just even money to win for a sixth time in Melbourne. Defending champion Victoria Azarenka is 7/2 with Maria Sharapova, another player who is yet to prove her fitness, at 8/1.
At least one female player usually shortens significantly during the build-up by posting a series of wins and a look at the schedules shows that player this time could be Agnieszka Radwanska. She'll play at least three matches at the Hopman Cup and will likely start favourite to win the title in Sydney. I can see her going off shorter than the 25/1 she currently is.
To view the full markets and place your bets, you can visit the Sky Bet website.
What you may have missed
Andy Murray heads the shortlist for the BBC's Sports Personality of the Year award.
British number one Laura Robson will play in January's Hobart International, the week before the Australian Open.
Six of the world's top 10 women will compete at the Sydney International in January. Agnieszka Radwanska heads the field.
This week in tennis
TBA - The entries for the Australian Open will be announced at some point this week (no date set as yet) when we'll find out which players won't be in Melbourne. Expect cut-off points in the ranking lists just north of 100.
Wednesday to Sunday - Craving some tennis action ahead of the new season? Well, this week it's the time when the greats of the past gather at the Royal Albert Hall for the Statoil Masters. This year, Tim Henman, Greg Rusedski, Pat Rafter and Goran Ivanisevic are among those in action in the Champions Tour event, while John McEnroe, Mats Wilander and Stefan Edberg help make up the 'legends' field. It's being televised on ITV4 from Friday.
Friday - Maria Sharapova is due to play a match in public for the first time since August when she meets Ana Ivanovic in Bogota, Colombia. Just don't call it the battle of the babes...
Twitter
After my piece last week on exhibition season, it was good to see that former world number two Magnus Norman offered similar sentiments via his feed (@normansweden).
Norman, now the coach of Stanislas Wawrinka, wrote: "Tennis players always complained about the long season. Now they have a longer off-season but playing exhibitions all over anyway. Don't get it."
Meanwhile, @Masters_Tennis is your feed for the Albert Hall event, while their PR guy @DavidLawTennis, who you may know from his radio and TV commentary, is a man in the know.
And if you're not following @SportingLife and @NetTalkTennis by now, then please do!
---
New Sky Bet customers: Claim free £5 bet every week
---