Net Talk: Czech mates show the way
Our tennis man Andy Schooler brings you his new-look Net Talk column, looking at the latest events in the world of tennis.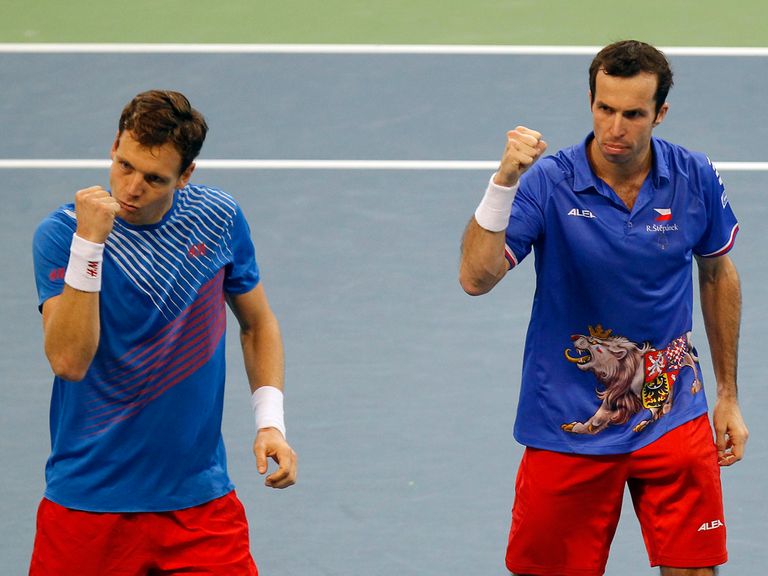 Comment, betting tips, news, future events will all feature.
We hope you like it. Any feedback you have, including things you'd like to see, can be sent via email to tennisfeedback@sportinglife.com or via Twitter to @NetTalkTennis.
---
The Davis Cup can't be won by a two-man team.
That was the theory. At least it was when Tim Henman and Greg Rusedski were flying the flag for Great Britain back in the late 90s and early-noughties.
Back then we were constantly told how tough it was for two players to play three best-of-five-set matches in as many days.
Despite both players holding rankings inside the world's top 10 on a fairly regular basis, the British pair famously never managed to win a Davis Cup World Group tie, never mind the trophy itself.
With depth of squad often prevailing at the time, plenty agreed with the theory.
But, just as we now know the world is not flat and you won't disappear into the ether if you set sail in the Atlantic Ocean, so the two-man theory can now be removed from the textbook.
Take a bow Tomas Berdych and Radek Stepanek, theory wreckers extraordinaire.
What they have achieved over the past two years in winning back-to-back Davis Cups for the Czech Republic has to give hope to many countries, including Great Britain. Team depth is not a necessity for team success.
During their two-year unbeaten run, the Czech Republic have played 32 live Davis Cup rubbers. Only four have not featured either Berdych or Stepanek. Both have been prepared to put themselves through the gruelling schedule, tie after tie, showing that one aspect of success that a team certainly must have is commitment to the cause.
It is no co-incidence that such commitment is found in the Czech Republic and many other eastern European countries. It is an area where national pride knows no boundaries, hardly surprising given that many nations were born, fairly recently, after years of being bossed around by the Soviet Union.
That is certainly a major reason why Berdych and Stepanek have been so determined to produce heroic efforts on the team stage.
While Berdych is and has been a top-10 player for some time, the 34-year-old Stepanek, the man with a penchant for Czech female players, came into this year's final having lost more matches than he had won on the tour this season.
Yet with his country's name proudly embroidered on the back of his garish shirts, Stepanek has been inspired to great things, none more so than in the doubles where he and Berdych have now won 14 of the 15 Davis Cup matches they have contested together.
So if depth really isn't that important, what of Britain's chances in the 2014 competition?
Well, look at their potential team and throw in the modern-day two-man theory, and you can make a case for them being able to beat anyone.
Wimbledon champion Andy Murray is one of the world's best players, I think we can all agree on that, so is more than capable of winning at least two points per tie.
And while it is asking a lot for Britain's current number two singles player Dan Evans to contribute much at World Group level, what captain Leon Smith does have at his disposal are some seriously good doubles players.
Ask Murray to play the doubles alongside one of GB's three players ranked in the world's top 30 (or Ross Hutchins who is set to return after his year-long battle with cancer) and Leon Smith's side just might be able to do something special.
OK, it's definitely a long shot - and Murray would have to show that aforementioned commitment by playing in every tie, including those a few days after both Wimbledon and the US Open - but Britain lifting the Davis Cup is not quite the impossible dream it once was.
Berdych and Stepanek have shown what can be done. Smith would do well to mention the pair when he sits down his his team in January.
Betting
It was a mixed end to the season at the weekend for Novak Djokovic as he stretched his unbeaten run to 24 matches yet still ended on the losing side in the Davis Cup final.
He ends the season as world number two but our betting partner Sky Bet make the Serb the odds-on favourite to finish 2014 in top spot. They offer 4/6 with current incumbent Rafael Nadal 6/4 to still be ranked number one this time next year.
In terms of a value bet, Andy Murray at 8/1 would appear to be it at this stage. imagine what price he would have been back in July as he bathed in post-Wimbledon glory. OK, no-one can be sure how he will fare when he returns from his back operation but everything has gone to plan and he hits the ground running, that price won't last long.
Click here to view the full market and place your bet.
Stat of the week
This is Rafael Nadal's 109th week in total at the top of the ATP rankings, drawing him level on that front with fellow great Bjorn Borg.
What you may have missed
The draw for next season's Davis Cup has already been made. Find out who's playing who, where and when.
Former British number one Elena Baltacha has announced her retirement from tennis at the age of 30.
Andy Murray will open his new season against Jo-Wilfried Tsonga in Abu Dhabi on December 26.
This week in tennis
All week - The Australian Open Asia-Pacific wild-card play-off takes place in Shenzhen, China, where one men's and one women's wild card in next year's first Grand Slam tournament will be up for grabs.
Wed - Exhibition season is now in full swing with Rafael Nadal taking on Novak Djokovic in Santiago, Chile, at what is essentially Nicolas Massu's retirement bash. The local hero faces David Nalbandian.
Sat - Former Wimbledon finalist Nalbandian signs off from professional tennis with an exhibition match against world number one Nadal in Buenos Aires.
Sun - Exo season continues with Nadal facing Djokovic once again, this time in Buenos Aires.
Twitter
David Nalbandian (@nalbandiandavid) and Nicolas Massu (@massunico) may well be worth a follow this week before they head into retirement.
And, of course, make sure you are following @SportingLife and @NetTalkTennis.
---
New Sky Bet customers: Claim free £5 bet every week
---