Djokovic can complete Masters set
Our Andy Schooler is backing Novak Djokovic to complete a full set of Masters 1000 titles in Cincinnati this week.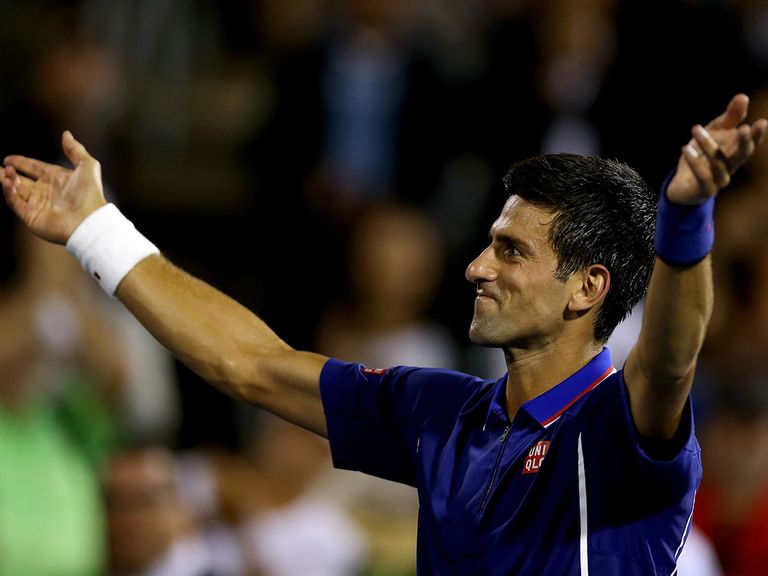 Sorry to sound like a stuck record, but when it comes to the Masters 1000 tournaments, such as this week's in Cincinnati, it's hard to look beyond the big boys.
Following Rafael Nadal's victory in Montreal on Sunday, 65 of last 78 Masters events have been won by the 'Big Four' of Novak Djokovic, Andy Murray, Roger Federer and Nadal.
While there have been signs that the gap from the pack to those at the top of the game is closing, it's still difficult to truly consider anyone else as a true contender, particularly this week.
For the star names, Cincinnati represents the last chance to fine tune their game ahead of the US Open which starts in a fortnight's time - or indeed lay down a marker - so they should be totally focused.
My pick has to be Djokovic, a player who has an additional reason to do well this week.
The Serb will become the first player to win all nine Masters 1000 tournaments if he is victorious this week.
He surely has a great chance of doing so.
Djokovic has been handed a decent draw with Murray, Nadal and Federer all in the opposite half. Instead his scheduled semi-final foe is David Ferrer, a man who has muscled in among the big guns in ranking terms but one who continues to disappoint whenever he plays a member of the elite quartet.
Ferrer also proved a let-down in Montreal, losing in straight sets to Alex Bogomolov.
In contrast, there was little wrong with Djokovic's game in Canada where only a handful of points proved the difference between him and Nadal in the semis.
Of course, the fact he's bidding for history shows he's not won in Ohio before but he has been a finalist four times in the past which shows his 'course form' is far from shabby. It's certainly no concern and even at 6/4 I feel there's value to be had in backing the world number one.
It's a price which may well contract before the action gets into full swing on Monday (three main-draw matches were scheduled for Sunday).
That's because questions remain over whether Nadal, never a finalist here, will turn up in a bid to protect his knees which are most susceptible on the hardcourt surface.
Whether Nadal will want two solid weeks of tennis - something he'll now get if he's to win the title in Cincinnati - is certainly doubtful and I can't be recommending him, however well he's played over the past few days.
As for Murray and Federer - the players who have won the last seven Cincy titles between them - both need wins under their belt.
Murray flopped in Montreal, suffering an early defeat to Ernests Gulbis, a result which suggests the consistency he craves is proving rather elusive.
Murray may hold two of the four Grand Slams at present but he remains patchy in these Masters 1000 tournaments - the reason he's so far behind Djokovic in the world rankings. Even if he gets to the final, I'd expect Djokovic to be there and going off favourite.
Federer returns to action after missing Montreal due to a long-running back injury which doesn't seem to be going away. His last three defeats on tour have been to players ranked 55, 114 and 116. It's unheard of and if anyone says it's not a sign that the Swiss great is on the slide, then they are kidding themselves.
That's not to say a player of Federer's talent cannot win at this level again - remember he's won here five times in the past and is the reigning champion. However, it's very much less likely than has been the case in the past and the odds reflect that.
For me, it has to be Djokovic this week given the circumstances.
As for possible outsiders, there's an argument that it may be worth throwing some spare change at a big-priced selection or two.
After all, four of the six Masters events this season have featured finalists from outside the Big Four - Juan Martin Del Potro (Indian Wells), Ferrer (Miami), Stanislas Wawrinka (Madrid) and Milos Raonic (Montreal).
Congratulations to anyone who saw any of those coming and it's with some trepidation that throw the names of Jerzy Janowicz and Kevin Anderson out there as possibles to follow in their footsteps this week.
Janowicz has proved he's the real deal this season, with his semi-final run at Wimbledon solid evidence.
Hardcourt results haven't necessarily been his strong point but in Montreal he looked in decent nick. The Pole had a real chance to knock Nadal out in the last 16 but didn't make the most of the good positions he created in that match, eventually losing 7-6 6-4 to the eventual champion.
He's landed in the Ferrer quarter here so has the opportunity to cause some damage and is worth siding with to small stakes as a big-priced back-up to the main selection.
Over on the other side of the draw is Anderson, who finds himself in with Nadal and Federer. However, for reasons already stated I'm not convinced either of the big names will be around in the latter stages and Anderson has the tools to pounce if that happens.
The South African has racked up plenty of wins on the hardcourts in recent weeks, reaching the final in Atlanta. Somewhat surprisingly he was an early loser in Montreal but that simply means he'll be keen to add more wins this week with the US Open looming large.
If a first-round match with the higher-ranked Tommy Haas can be won - Anderson won their only previous meeting while the German had injury problems last week - then the cards may well fall into place for the 200/1 shot.
Posted at 2220 BST on 11/08/2013.