Last chance for Serena
Serena Williams goes into the US Open in a position she has experienced only once in the last six years.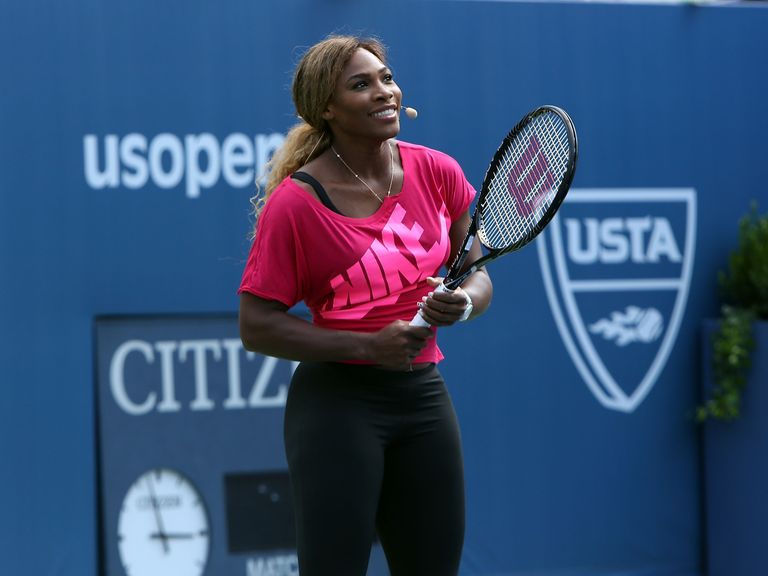 The world number one and two-time defending champion is once again a big favourite to lift the title but she has faltered badly in the grand slams this year.
Since 2008, the only time Williams has arrived in New York without a slam title came three years ago when she was working her way back to top form after potentially life-threatening blood clots.
The most worrying thing for Williams is she has been nowhere near adding to her 17 grand slam singles titles in 2014.
A fourth-round loss to Ana Ivanovic at the Australian Open was followed by a second-round thumping from Garbine Muguruza in Paris and a third-round defeat against Alize Cornet at Wimbledon.
There then followed the bizarre and concerning spectacle of Williams taking to the court for a doubles match at the All England Club barely able to hit a ball or keep her balance.
After hitting four consecutive double faults, she was persuaded to call it a day, and a virus was the not entirely convincing explanation offered.
Since returning to the tour in Stanford last month, Williams has been impressive, winning two titles and losing to sister Venus in the semi-finals in Montreal.
Her most recent match was an impressive final victory over Ivanovic in Cincinnati last weekend, but winning tour events has not been a problem for the 32-year-old this season.
Williams said: "I played well in that final, but this is a new week. These next two weeks I'm going to have to put that together for hopefully seven matches.
"If I can do that, I'll definitely have a good chance to be in the tournament for a long time. But we'll see. My expectations are always really high. I always expect the best from myself."
Williams was understandably keen to lift the pressure but it is difficult to see another grand slam failure being anything other than a hammer blow.
"There's always next year and the year after, so you don't give up," she said. "You just keep going and you keep fighting to continue to win more."
Williams begins the tournament with the standout match of the first round against 18-year-old American Taylor Townsend, who had a brilliant run to the third round of the French Open.
"It's going to be a great match for me," said Williams.
"She's such a great player. Extremely young. I have been able to see her play a little bit. She does everything really, really well. We're really good friends. We always talk and always text each other.
"She's a lefty. I always wanted to be lefty. That just in general puts you on a whole new level as a player.
"She's a very aggressive player. She comes to the net. She makes her shots. You don't really see that in tennis so much. It's good, refreshing, and I think it's the future of tennis just by doing what she does."
In both of the last two years Williams has beaten Victoria Azarenka in the final at Flushing Meadows.
For some time the Belarusian was the leading challenger to Williams at the top of the women's game but she has endured a nightmare season and is seeded only 16th this time.
A foot injury sustained just after the Australian Open that kept her out for the best part of four and a half months has been the main culprit, with Azarenka struggling for form since her return.
Instead of honing her skills on the court, Azarenka has been learning to spread the toes on her left foot to minimise the risk of further problems.
She said: "It took me about two weeks, because it was a constant, mental thing. (When I did it) I ran and I screamed in the hallway. I've never been so happy in my life."
Azarenka, who opens her tournament against Japan's Misaki Doi, will certainly not be among the favourites this time but being back in New York has given her a lift.
She said: "It's not really about coming back with what you have done before, I just love playing here. I think it's such an amazing event.
"The energy that is here - it's a grand slam in New York City. You cannot take it for granted, no matter how many times you have played or how well you have done here.
"I just want to look at it from this perspective. The preparation? I believe I have done the best I could. I have been managing every day to try to get the best out of every day. So in that way I think it was ideal."