Serena fighting herself - Durie
Serena Williams will face a tough battle with herself at this year's US Open, according to former British star Jo Durie.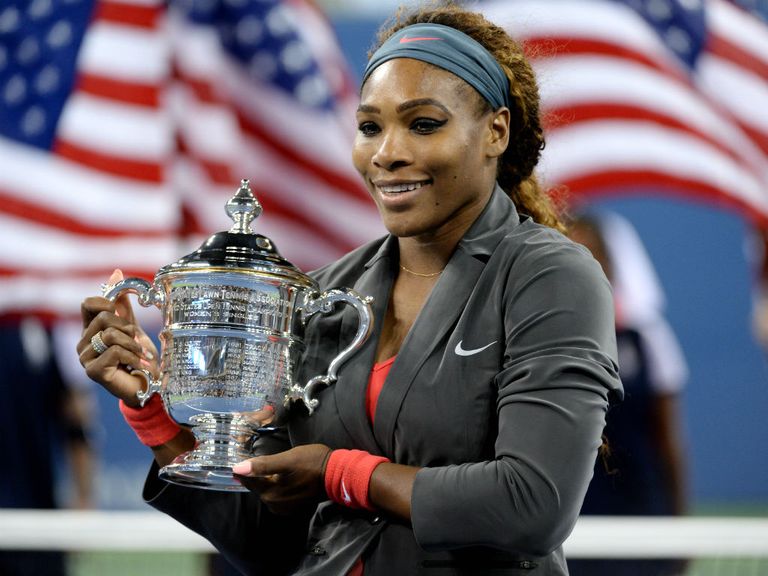 Williams has won the past two US Open championships and, having returned to form with title victories in Stanford and Cincinnati over the past month, is the hot favourite to triumph this year.
However, Durie believes the American's early exits from this season's first three majors - she failed to progress past the last 16 in Melbourne, Paris and at Wimbledon - may play on her mind.
The former US Open semi-finalist, who will be part of the British Eurosport commentary team at this year's tournament, told sportinglife.com: "It's something she'll be fighting. She fights herself a lot, as well as her opponent. She strives for perfection and gets cross with herself when she doesn't play as well as she wants to."
Durie feels that as well as struggling to overcome her recent disappointments, self-imposed pressure and other players may also negatively affect her game at Flushing Meadows.
She added: "Though she's one of the best ever, other women raise their game when playing Serena, and at 32, she knows there aren't that many years for her to be at the top, so maybe she even puts a bit of extra pressure on herself."
As far as predictions go, however, Durie is uncertain when it comes to picking a title winner, although she is far from ruling Williams out.
"It's in New York where she feels most at home (she is a five-time winner in total) and on a hardcourt in hot conditions she's rather good," said the former world number five.
Plenty of eyes will be on Wimbledon finalists Petra Kvitova and Eugenie Bouchard but Durie fears both may struggle to live up to increased expectations.
Bouchard has since struggled, losing early in Montreal, Cincinnati and New Haven and has also said she is being hampered by a hamstring problem. The youngster may have found play since her first final "hard to deal with", says Durie, while Kvitova has reportedly felt similar "post-Wimbledon blues" and certainly disappointed after her first SW19 success back in 2011.
Durie emphasises that the mark of a great grand slam champion is consistency, and says that Kvitova and Bouchard have not yet have achieved this.
"If you want to be a great champion, you are able to win a grand slam and then go out there and play and win again – that's what they've got to come to terms with."
Instead, Durie favours Ana Ivanovic as an outside contender who could surprise in New York.
The Serb, a former world number one, pushed Williams all the way in the quarter-finals of Stanford and beat Maria Sharapova in Cincinnati before losing to Williams again in the final.
Durie, who made the last four in New York back in 1983, assessed: "Ivanovic has had a pretty good hardcourt season - she's started playing very well against the top players. She's feeling good about herself, and I think it will be an interesting tournament for her.
"She is very capable of beating one of them (the top players), it's whether she's quite got the consistency in a grand slam to beat two, three or four of them in a row."
Also not to be discounted are Sharapova and even British number one Heather Watson, who faces the lower-ranked Sorana Cirstea in the first round.
"She is on a really good roll at the moment and could get through a few rounds, especially as she deals with hardcourt and hot conditions well, due to her extensive practice in Florida," she added.
British Eurosport HD will broadcast extensive coverage of the US Open from August 25 to September 8.