Wimbledon glory for Kvitova
Petra Kvitova searched around for an explanation for the stunning performance that brought her a second Wimbledon title and settled on an answer: "Maybe it was magic."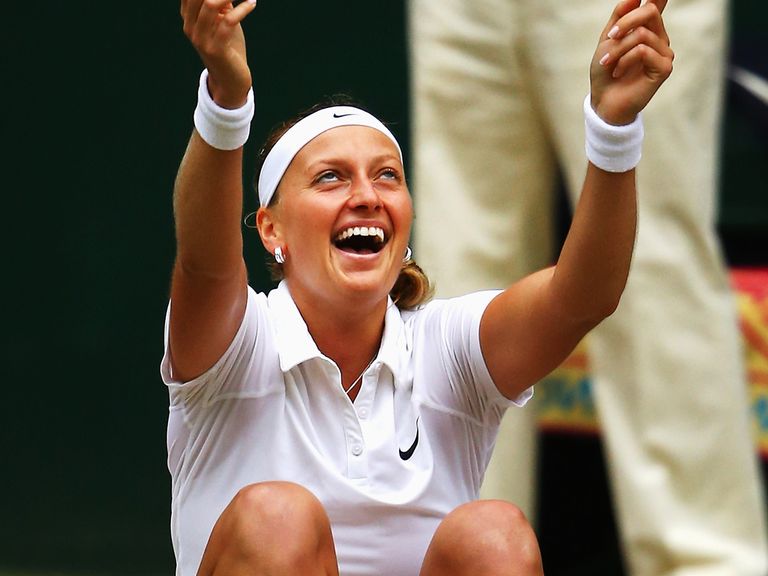 There was certainly something magical about the way Kvitova completely overpowered golden girl Eugenie Bouchard.
She hit 28 winners in the mere 55 minutes it took to clinch a 6-3 6-0 victory - the quickest Wimbledon final for 31 years.
"A few shots were really incredible and I really couldn't believe that I made them actually," said a beaming Kvitova.
"Really for the first time I said, 'Oh, my God, this is good'.
"Definitely it was one of the best matches that I have played. I knew that I could play well on the grass, but I really played so well. I exactly knew how I had to play to beat her.
"I was very focused for every point. I knew that I had to go forward for every shot that I played to push her. I did it.
"Maybe it was magic. I was really prepared for everything."
The most spellbinding moment came in the fourth game as she battled to hold onto her serve after breaking Bouchard.
The Canadian was in the ascendancy in a rally but Kvitova, a player known almost entirely for her attacking game, showed remarkable defensive skills before somehow guiding a backhand winner onto the line.
The 24-year-old doubted she would be able to maintain the same level all the way through but she simply got better and better, Bouchard completely powerless despite making only four unforced errors.
Kvitova's talent has never been in doubt and she came close to becoming world number one at the end of 2011, the year she stunned Maria Sharapova to win her first Wimbledon title.
But for the shy girl with a small-town background in the Czech Republic, the extra attention and pressure was too much, and the last two and a half years have been a story of frustrating inconsistency.
"I was still believing in me that I could have it for a second time, some grand slam," she said. "I didn't want to think about Wimbledon again, but I wanted it really too much.
"I probably know a little bit more right now about that, what it means for me, how the feelings are and everything. It was certainly a great journey for me here."
While 20-year-old Bouchard was watched from the Royal Box by Princess Eugenie, after whom she was named, Kvitova had tennis royalty supporting her in the shape of another Czech-born left-hander, Martina Navratilova.
The pair met up afterwards, and Kvitova said: "It's nice to see her in the locker room and she's smiling and she's happy for me.
"She really cheered for me. She's a legend. I'm just glad that I have this huge fan."
Kvitova made the traditional climb up to her box - made easier by a new gate - to celebrate with her family and supporters.
Father Jiri was tearful, not that Kvitova was surprised.
"It's nothing new," she said with a laugh. "My dad is very emotional. He has a birthday tomorrow, so I'm just glad that he has a nice present."
Bouchard made no secret of her ambition to win the title, describing reaching her first grand slam final as "a step in the right direction".
The Canadian will certainly have better days in major finals and accepted she had been thoroughly outplayed.
"I have to give full credit to my opponent," she said. "I think she played unbelievably and didn't give me many opportunities to stay in the rally or do what I do.
"It's a tough road to try to become as good as I want to be no matter what. I'm not going to win every single time. I think this was a good experience for me, my first slam final.
"I'm going to learn a lot from this match and hopefully use it to get much better.
"It was a big moment walking out onto Centre Court for a final. I have that experience now. I know what it feels like. I hope I can walk out to many more finals. That's the goal."
Bouchard had said before the match she would love for Princess Eugenie to share the moment, not imagining it would really happen.
"That was crazy," she said. "I did see her in the box. I'm very happy that she came out. I'm disappointed I couldn't put on a better show for her, but I'd love to meet her, of course.
"It's the only person I'm named after. She's the only one in the world."
There was a brief delay after the match and before the trophy presentation while the roof was shut, and Bouchard was directed to the engravers' room.
Cruel perhaps, but for Bouchard it brought back happy memories of the day two years ago when she was crowned junior champion, and a little extra motivation.
"I was watching them work, wishing one day, dreaming that he'll write my name somewhere," she said.
Petra Kvitova factfile
1990: Born March 8 in Bilovec, Czechoslovakia (now Czech Republic).
2006: Turns professional, having shone at the Prostejov club which has produced many professionals.
2008: Ranked 143rd in the world, Kvitova beats top seed Venus Williams 2-6 6-4 6-3 in first round of Cellular South Cup in Memphis. Plays her first grand slam at the French Open and reaches the fourth round before losing to Estonian Kaia Kanepi. Loses to Ukrainian Tatiana Perebiynis in first round at Wimbledon. Ends the year ranked 44th.
2009: Wins first WTA Tour event at Hobart but loses to Victoria Azarenka in first round of Australian Open. Beaten by Russian Maria Kirilenko in first round at Wimbledon. Reaches fourth round at US Open, knocking out top seed Dinara Safina in third round before losing to Yanina Wickmayer. Loses again to Wickmayer in Linz final in October. Finishes the year ranked 62nd.
2010: Stunning run to Wimbledon semi-finals includes a 6-2 6-0 win over third seed Caroline Wozniacki and ends in a 7-6 6-2 defeat to Serena Williams. Loses five first-round matches in a row after Wimbledon. Ends the year ranked 34th.
2011: Wins Brisbane International and then reaches quarter-finals at the Australian Open. Beats world number one Kim Clijsters in straight sets to win Paris title in February. Wins Madrid Open in May, beating Azarenka, and reaches top 10 for the first time. Loses to eventual champion Li Na in fourth round at the French Open. Loses to Marion Bartoli in final of the AEGON International in Eastbourne.
Wins first grand slam title with a 6-3 6-4 win over Sharapova in the Wimbledon final on July 2. Loses in first round of US Open to Alexandra Dulgheru but bounces back to triumph at end-of-season WTA Tour Championships, defeating Azarenka in the final, and ends the year ranked number two.
2012: Loses to Maria Sharapova in Australian Open and French Open semi-finals, and as defending champion bows out to Serena Williams in Wimbledon quarter-finals. Wins Montreal and New Haven titles but loses to Bartoli in US Open fourth round. Finishes the year at eighth in the rankings.
2013: Beaten by Laura Robson in second round of Australian Open. Wins title in Dubai but tumbles out to Jamie Hampton in French Open third round, and loses to Kirsten Flipkens in Wimbledon quarter-finals. Loses to Alison Riske in US Open third round before winning Toray Pan Pacific Open title in Tokyo and signing off for the year with semi-final showing at WTA Tour Championships. Stands sixth in the rankings at year's end.
2014: Loses to unheralded Thai player Luksika Kumkhum in first round of Australian Open, and to Russian Svetlana Kuznetsova in third round of French Open.
Suffers a hamstring injury at AEGON International in Eastbourne but plays Wimbledon and on July 5 she wins the trophy for a second time, beating Canadian rising star Eugenie Bouchard 6-3 6-0 in the final.