Teenager Kyrgios stuns Nadal
Teenage sensation Nick Kyrgios dumped two-time champion and world number one Rafael Nadal out of Wimbledon - a result even his mum did not think possible.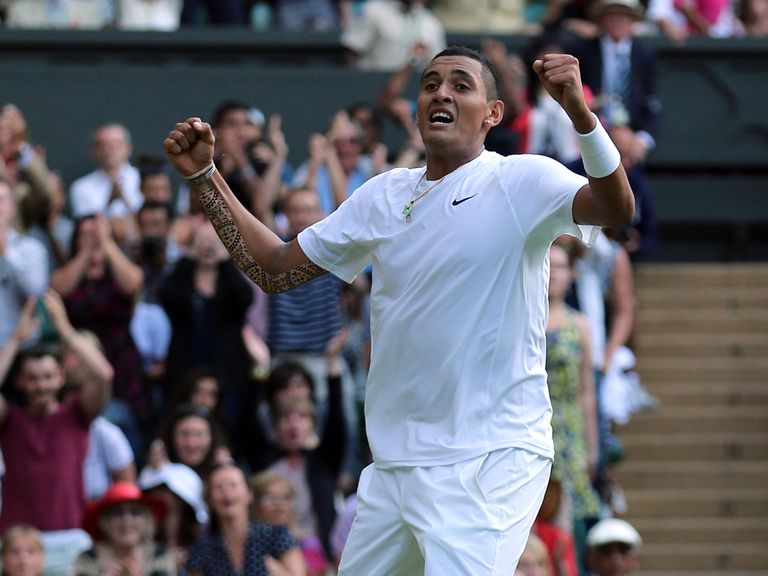 The 19-year-old Australian romped past the second seed to set up a quarter-final clash with Milos Raonic, then revealed mother Norlaila had predicted a Nadal victory.
Kyrgios said he would text message his mother in Canberra, buoyed by seven-time grand slam winner John McEnroe backing him to swipe this year's Wimbledon crown.
"Last night I was reading a comment that she thought Rafa was too good for me," said Kyrgios, after his 7-6 (7/5) 5-7 7-6 (7/5) 6-3 victory on Tuesday.
"It actually made me a bit angry; you would think he's in a whole 'nother level compared to me.
"I just believed in myself that I could create some opportunities and I took them under pressure.
"I haven't spoken to her yet, but I'll just text her a smiley face."
Wild-card entrant Kyrgios arrived at Wimbledon ranked 144th in the world, and will now leave having reached at least number 65.
He is the first player ranked outside the top 100 to defeat a world number one at a grand slam since Andrei Olhovskiy saw off Jim Courier at Wimbledon in 1992.
The ebullient showman, who was ranked 838th in the world at the start of 2013, was neither overawed by Nadal nor overwhelmed by Centre Court, firing 37 aces.
Playing down McEnroe's backing for the All England Club title after reaching the last eight of a grand slam for the first time, Kyrgios said: "I'm just going to stay grounded.
"I'm just going to go home tonight and do everything possible for my next round tomorrow.
"Milos has probably got the best serve in the world. I'm just going to go out there and have fun again."
McEnroe, speaking on the BBC after the match, said that Kyrgios was "acting to me like he can win this tournament".
Kyrgios revealed he nearly flew back to Australia after losing a Challenger-level match against John Patrick Smith in Nottingham three weeks ago.
The relieved teenager admitted he made the right decision to plug away at the rest of England's grass-court season
"That's the biggest win of my career obviously, and something I'm never going to forget,'' he said.
"I'll draw so much confidence out of that no matter where I play now.
"I think I've achieved a lot this week, it's definitely been the best week of my life.
"It's just extraordinary: I'd never think after that match I'd be in the quarters of Wimbledon three weeks later.
"I was actually thinking about flying home after that match, but I just stayed strong and kept working hard.
"It just shows good things will come.''
Kyrgios produced the shot of the tournament so far by flicking a baseline winner from between his legs, and later pledged to stick to his no-fear crowd-pleasing style.
"Even if Kyrgios' fruitful week has come as a shock, the confident Australian has set himself the ultimate career goal.
"I definitely had nothing to lose out there, my first Wimbledon, making the fourth round,'' he said.
"I think I'll always have that aggressive style, serving aggressively and trying to take control from the baseline.
"That's how I've got to play to play my best tennis.
"I am going to have to play free, and back myself under pressure.
"I want to be the number one player in the world, that's my motivation."
However, Nadal claims the jury is still out on the youngster.
The 28-year-old admitted Kyrgios deserved his fourth-round victory, but refused to endorse his bid for prolonged top-10 success.
"This sport is mental a lot of the time," said Nadal.
"He has things, positive things, to be a good player.
"But at the end, everything is a little bit easier when you are arriving.
"Everything is new, nothing to lose; everything is good, everything is positive.
"You can do whatever and it will be positive, and everybody will just see the good things in you.
"When you are there yourself, the rest of the people start to see the negative things in your tennis.
"We'll see if he's able to improve and to play at a very high level for a long period of time.
"When we see a young player that arrives on the tour and plays a great match or tournament, people say he will be the next big star.
"Sometimes they are right, sometimes not.
"It depends how things improve over the next couple of months and years for him.
"If he is able to keep improving he will be there - if not, it will be more difficult.
"I wish him all the best."
Nadal arrived at Wimbledon fresh from his ninth French Open triumph, but also with a clean bill of health where his troublesome knees were concerned.
The five-time finalist said he was "satisfied" with his 2014 Wimbledon return, pledging to hit the beach in his native Mallorca.
"It's true that my draw was not the best, all the matches were uncomfortable against players that didn't give you the opportunity to play a lot," he said.
"I fought until the end in every single match.
"I was able to play some good tennis on this surface, and that's something I've not been able to do in the last two years.
"In a way I am not even angry today because I lost the match losing my serve only once in the whole match.
"I created my opportunities, but I was not able to read his serve.
"When you have an opponent who serves that well and hits every ball so hard, you are in trouble.
"I don't think I played badly, but that's the game on this surface.
"I think in the second and the third set I was better than him, but I was not able to convert opportunities - and for the rest, I think he played better than me.
"In general, talking about what you need to win on this surface, he did those things better than me.
"Congratulations to him - for me, it's the beach."