Djokovic: No damage in fall
A review of the rest of the men's singles action on day five of Wimbledon 2014 when Novak Djokovic survived an injury scare.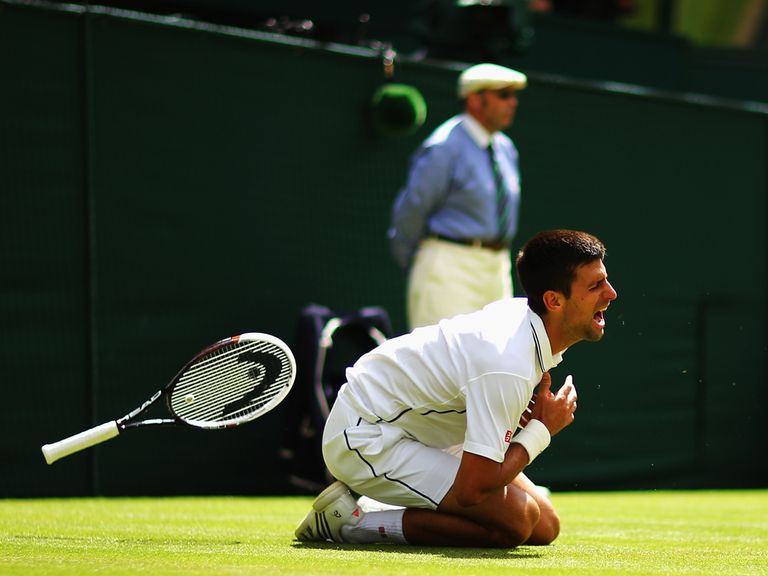 Novak Djokovic admitted he feared his Wimbledon campaign was over when damaging his left shoulder in a "scary fall" during his third-round win over Gilles Simon.
The 2011 champion landed awkwardly after diving for a volley midway through the third set against the world number 44 on Centre Court on Friday, recovering to win out 6-4 6-2 6-4.
Djokovic conceded he thought he had dislocated his shoulder, hearing a "click or pop", but medics have since given the 27-year-old the all-clear.
The six-time grand slam winner will face Jo-Wilfried Tsonga in the last 16, thankful of a two-day break for slight muscle pain to subside.
"It was obviously a scary fall," said the Serbian. "I tried to land on my left arm.
"That split-second was not pleasant: I definitely feared I could be out of the tournament.
"I basically had a strong impact on the shoulder: when I stood up I felt that click or pop, whatever you call it.
"I feared maybe it might be a dislocated shoulder, something like that, or a joint problem.
"Luckily for me it was only an impact that had a minor effect on the joint and the muscles around, but no damage that can cause a bigger problem."
Frenchman Tsonga saw off Jimmy Wang 6-2 6-2 7-5 to set up that clash with Djokovic - a re-run of the Roland Garros clash that Wimbledon's top seed won easily.
"It's a new opportunity for me to play against one of the best players in the world," said the 14th seed.
"That's what I'm looking for to make me a better player; I think I need to play against those players."
Tomas Berdych became the biggest casualty in the men's draw in a straight-sets defeat to Marin Cilic.
The sixth seed slipped out to Croat Cilic 7-6 (7/5) 6-4 7-6 (8/6) in a clash that finished at 2136 BST, as the light faded from Court Three.
Czech Berdych berated the officials continually during the decisive third-set tie-break, calling for play to be suspended due to the poor light.
Cilic plugged on undeterred however, the 27th seed progressing to round four, where he will meet Frenchman Jeremy Chardy, who beat Sergiy Stakhovsky.
Bulgarian Grigor Dimitrov proved his new-found athleticism by seeing off 21st seed Alexandr Dolgopolov in a grinding five-set victory.
The 11th seed Queen's Club champion prevailed 6-7 (3/7) 6-4 2-6 6-4 6-1 against the Ukrainian on Court One.
Stylish Dimitrov boasts of the game's most varied shot repertoires, but was proud his tenacity shone through on a day when his usual poise evaporated.
"I knew I wasn't playing my best shots or beautiful tennis," he said. "In the end it doesn't matter if you win scrappy or lose beautiful - I'd rather win that way."
Veteran Australian Lleyton Hewitt forced Jerzy Janowicz into five sets, but was unable to edge out the 15th seed.
The 2002 Wimbledon champion squeezed the 2013 semi-finalist and world number 25 all the way.
Janowicz triumphed 7-5 6-4 6-7 (7/9) 4-6 6-3 in second-round action, to tee up a meeting with Tommy Robredo.
Hewitt's 42nd five-set match in grand slam tournaments set a new open-era record - but the two-time major champion admitted he would rather keep things brief.
"I'd much rather win in three or four sets than go the distance all the time," he said.
"I seem to put everyone through the wringer quite a bit."
He also admitted the All England Club might have seen the last of him.
"I don't know if I'll be back, you never know,'' he added. "I'm one injury away from hanging up the racket at any time."
Felicianio Lopez, Andrey Kuznetsov and Kevin Anderson all claimed third-round victories, while Colombia's Santiago Giraldo edged out Spain's Marcel Granollers in a five-set second-round battle.