Moore edged out at Wimbledon
Tara Moore will channel Elena Baltacha's fighting spirit in her bid to power up the women's singles rankings after a frustrating Wimbledon defeat to Vera Zvonareva.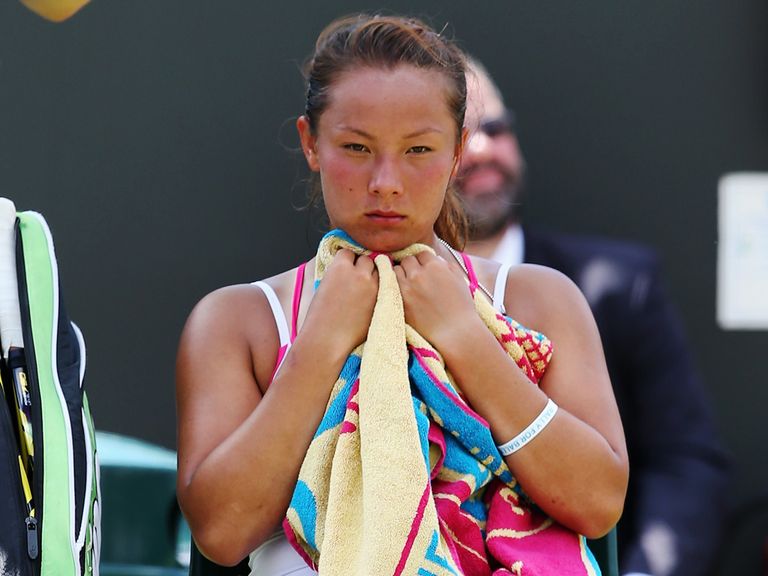 The 21-year-old botched two gilt-edged chances to finish off 2010 finalist Zvonareva in Wednesday's first-round defeat, with the injury-hit Russian battling to rebuild her career.
Hong Kong-born Moore twice served for the match in a nervy decider, after they resumed at one set each in a match carried over from Tuesday evening.
Moore will donate in excess of £300 in sponsorship to the Elena Baltacha Foundation, earned for the number of times she produced her trademark fist pump.
Former British number one Baltacha died in May aged just 30 after a short battle against liver cancer.
World number 255 Moore has vowed to sit far higher up the tennis ladder in time for Wimbledon 2015 - admitting she will aim to emulate her late friend Baltacha's grit.
"I gave it my all," said wild-card entry Moore after her 6-4 6-7 (7/3) 9-7 defeat. "She played well on the big points, she didn't give me anything.
"She made me work for everything. I think I did the same for her, she had to try very hard to beat me.
"I don't think I lost momentum at all, she played very well and didn't give me any free points.
"Momentum is hard to carry on when someone is playing so well on the big points."
Baltacha was never a Wimbledon star, but her determination was widely admired.
"It was devastatingly sad to hear about Bally," Moore said.
"She was obviously very close to me and a great mentor to all the players in British tennis.
"I just want to remember her and hope that everyone does remember her fighting spirit - fist pumps are the best way to do that.
"It's already a fantastic legacy for Bally. She was probably one of the best British players out there, and she fought every single match.
"She fought off the court and on the court.
"That's what I aspire to be. I want to fight in every single point and every single match - I hope I did that today."
Targeting increased consistency to move up the women's game pecking order, Moore has challenged herself to be in a fear healthier position in 12 months' time.
Zvonareva might have once stood second in the world rankings, but the 29-year-old now lies at number 566 after an injury and illness-plagued 18 months.
Despite becoming the eighth of 11 Brits to bomb out in the first round, Moore claims she can reach the upper echelons of the sport.
"I know that it's just consistency, coming out and doing that every day," said Moore.
"I work incredibly hard and I definitely think that I can do it.
"I was nervous out there obviously playing on a really big court, and I am just very grateful to play on such good court.
"I am so grateful for the opportunity the All England Club have given me.
"I hope that I've really shown them that I wanted to be here and I've tried my hardest."