Briton Broady into round two
Naomi Broady bucked the trend of British frustrations at Wimbledon by claiming a first-round victory over Hungarian Timea Babos.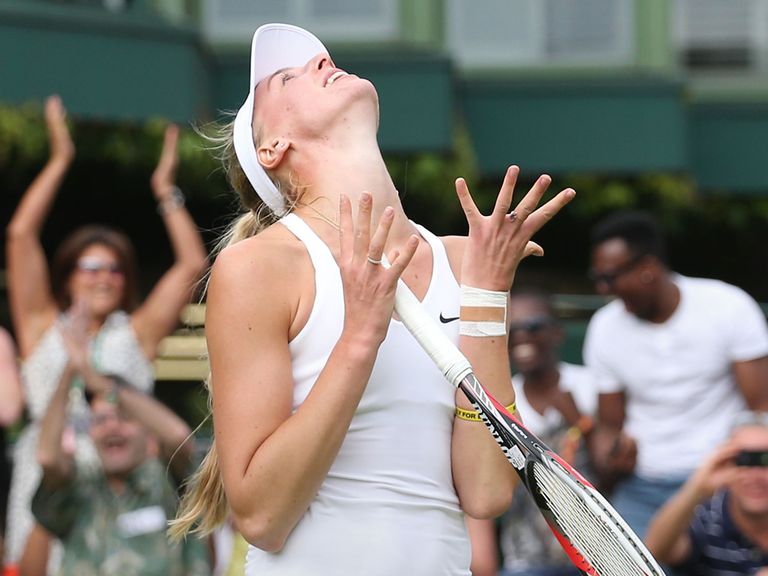 The 24-year-old Brit fended off a fast start from the world number 94 to eventually ease home 2-6 7-6 (9/7) 6-0.
Broady's win lifted British spirits on the opening day of Wimbledon after first-round exits for Johanna Konta, Dan Cox and James Ward.
Broady has moved into the world's top 200 this year - she is currently just below her career-high at 164 in the WTA list - but had looked up against it against a player ranked 70 places higher.
The Briton was two points defeat in the second-set tie-break but took it on her fourth set point.
Having missed her chance, Babos seemed demoralised and, playing some impressive tennis, Broady dominated the decider to book her place in round two where she will face either former world number one Caroline Wozniacki or Shahar Peer.
Broady was famously stripped of LTA funding after posting a raunchy picture of herself on a social-networking site when a teenager and has gone it alone in the tennis world since.
"This time last year I was lucky enough to get a wild card into the qualifying for Wimbledon," said Broady, who ground down Babos 2-6 7-6 (9/7) 6-0.
"But the week before that, I was researching how to become an au pair, and I was going for Paris.
"I was looking at doing first-aid courses, language courses, to become an au pair because I couldn't afford to play tennis.
"Last year I won a round through qualifying and that gave me enough money for the next few tournaments.
"I didn't want to stop at all: I've played some of the French money tournaments, to fund the national tournaments.
"It was literally to the point where I've won the tournament, cashed the cheque, bought my ticket and flown off to the next competition the next day.
"Finally wins started coming, and the difference a year can make is amazing: if you keep going, you never know when it's going to switch."
Dan Evans, Kyle Edmund, Dan Cox, James Ward and Johanna Konta all failed to advance to the second round, leaving just Broady and Murray progressing of the Brits in action on Monday.
Broady admitted her £43,000 second-round windfall will fund the best part of another year's professional tennis.
Unfazed by adverse reaction to that Facebook fuss seven years ago, Broady did admit she hopes the LTA will not try to muscle in on her new-found success.
"It quite went over my head, the whole incident, it happened and I still to this day don't particularly see what was the big deal," she said.
"It was just a stupid, jokey pose that looked horrible: it's not really disrupted my tennis other than financially.
"I don't think they (the LTA) will try and take credit for it. I think it's pretty clear I've been the only person at every practice session for the past few years.
"I'm the only one that's been there every single day. I'll laugh in someone's face if they try and say it was them.
"It's definitely made me hungrier: if I don't win, I don't have any money."
Broady toasted victory by hoisting young niece Lola Rose in front of the Court 16 crowd.
"She has just turned five," said Broady.
"We are very close: she let me give her kisses today. Normally she wipes them off, but I was allowed to give them today."