One last hurrah for Federer
Our Andy Schooler previews the Wimbledon men's singles and feels Roger Federer is capable of a final day in the sun.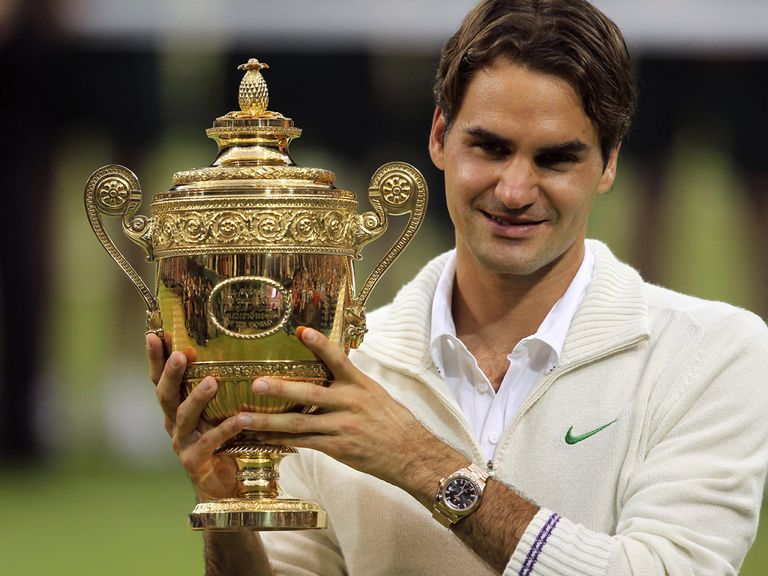 I had a theory at the start of the season that the gap between the 'Big Four' and the rest was closing.
Stan Wawrinka's Australian Open win (he also won in Monte Carlo) suggested my thinking was along the right lines but since then it's pretty much been business as usual with the biggest tournaments still being won by the established elite.
Yes, there have been flashes of brilliance from the chasing pack - Kei Nishikori in Madrid, Ernests Gulbis in Paris and Grigor Dimitrov at times, including recently at Queen's - but can we really expect a surprise winner, or even finalist in SW19?
History suggests not. In the past 10 years I'd suggest that only one player to reach a Wimbledon final can be described as a surprise package - Tomas Berdych in 2010.
In that period, only six men have played in a Wimbledon final - the 'Big Four' of Novak Djokovic, And Murray, Rafael Nadal and Roger Federer, plus the now-retired Andy Roddick and Berdych, who lost to Nadal in his only appearance.
While the grass does not produce the vastly different brand of tennis it once did, it remains a surface on which certain players struggle.
The 'Big Four' are not among them and each of them has lifted the famous trophy once in the last four years.
While it seems likely one of them will win it again - indeed as a quartet they are heavily odds-on to do so - it is possible to suggest there are chinks in the armour.
If fully fit, I'd agree with the bookies' verdict that Djokovic is the favourite.
He's not been far away at any tournament this year and indeed has lost just four times. One of those was to clay king Nadal, another when he was clearly injured in Monte Carlo, while his Australian Open title defence was only ended by Wawrinka at 9-7 in the final set in Melbourne.
He's incredibly tough to beat and few manage it. While it's probably fair to say grass is the surface which favours the Serb the least, it is not right to suggest it is a weakness. His last three appearances at Wimbledon have been RU-SF-W.
You can also argue that had Juan Martin Del Potro not played out of his skin in a near-five hour semi-final 12 months ago, Djokovic would have been much closer to Murray in the final. Look back at 2012 and he was hindered by the weather with his last-four clash with Federer played under the roof, something which played firmly into the Swiss' hands.
Of course, such situations are what they are but essentially Djokovic has not been far away from the title in any of the last three years and his form suggests he'll go very close again.
The problem for him has been getting over the winning line at the biggest events. As good a player as he's been in recent years, the fact is he's pocketed just one grand Slam title since January 2012 - essentially he's cost his regular backers plenty of money in that period.
And then there's the fitness issue. The fact he withdrew from an exhibition match on Thursday - meaning he won't have played a single grasscourt match prior to Wimbledon - due to the wrist problem which has affected him since April has to be worry for anyone looking to back him at 2/1 or shorter.
All things considered, he can be swerved.
Djokovic is in Murray's half of the draw and plenty will be expected of the defending champion.
While a widely-held theory is that the Scot can relax having already claimed the prize he knew his career would be defined by, that flies in the face of something you often hear from players - that defending a title brings an added dimension, a different kind of pressure.
Whichever view you choose, you have to take note of the fact that Murray has beaten just one player ranked inside the world's top 20 since undergoing back surgery last autumn.
Yes, he played well against limited opposition at Roland Garros but when the going got tough against Nadal in the semis he was rolled over. I'd be worried about what happens in the latter stages of this tournament too.
His back problem, one which won't ever really go away, remains a concern too. It's something that won't be helped by the low-bouncing grass, no matter how at home Murray feels on it.
Add in an early exit at Queen's and a new coach Amelie Mauresmo potentially throwing new ideas into the mix and his preparation simply doesn't look particularly strong.
The bottom half of the draw looks weaker.
It is here where second seed Nadal resides and he looks very opposable.
This is a man who lost in the first round last year to Steve Darcis and in round two in 2012 to Lukas Rosol.
The grass is simply awkward for him in his current condition. It is here where his damaged knee seems to struggle more - his movement in that clash with Darcis last year was a major factor in his loss.
Another issue appears to be that he's vulnerable in the return-of-serve department until he's bedded in on the surface - another opening-round loss to Dustin Brown in Halle last week is further evidence of this.
Yes, Nadal is a two-time title winner in SW19 but last of those came four years ago and recent results on the grass suggest he could fall to almost anyone.
Worryingly for Nadal the big-hitting Rosol an Ivo Karlovic could both be first week opponents, while Milos Raonic - in the same mould - is seeded to meet the Spaniard in the quarters.
If Nadal makes that stage and is still around in the second week, he'll be a threat, but there seems little certainty about that being the case so 5/1 is too short for me.
The one member of the 'Big Four' I do like the look of is Federer.
He's had the luck of the draw with fellow Swiss Wawrinka in his quarter, a player who does not have a great grasscourt record. Nadal would not be a welcome semi-final opponent but few can be convinced that is how the section will unfold.
Approaching 33, some will say Federer is too old, but if ever he is to add to his 17 Grand Slam titles, it will surely be on the hallowed turf of the All England Club.
He's won seven titles here and while many will point out most of those came before the true emergence of his fellow 'Big Four' members, it is worth remembering that he is the only one of the quartet to have won the crown twice in the past five years.
Of course, Federer suffered a shock exit in the second round of last year's tournament to Sergiy Stakhovsky, a player who has done little since.
However, do not make the mistake of comparing Federer's form this year to that of 2013.
This time 12 months ago he looked lost. He'd already lost to Kei Nishikori and Julien Benneteau in the months before Wimbledon and after it suffered further, losing to Federico Delbonis, Daniel Brands and Tommy Robredo as the summer wore on.
This year he's played much, much better, has already beaten Murray and Djokovic and arrives having won a seventh title at the warm-up tournament in Halle.
Gilles Muller or Benneteau, a player who pushed Federer in five sets here in 2012, could be awkward foes in the second round but Federer will obviously start a hot favourite against either. The rest of his quarter looks weak with last season's semi-finalist Jerzy Janowicz unlikely to still be around in the last 16 given his form.
At 6/1, Federer is even an each-way proposition.
Whereas the final was been something of a lock-in for the big guns surprise semi-finalists have been more prevalent in the past decade - think Janowicz last year, Tommy Haas and Jonas Bjorkman.
Philipp Kohlschreiber fits the bill this year in the Nadal quarter.
He's got a decent record on grass, performing best in Halle where he is a former champion and once toppled Nadal. The German also made the semis in front of his home fans again last week.
At Wimbledon, results have not been quite as good, although two years ago he made the quarter-finals and this year's draw gives him every chance of doing so again.
As already suggested, I can easily see Nadal falling by the wayside, while Raonic has simply not performed on the grass as he has on other surfaces so far in his career - a miserable opening-match defeat in Halle being the latest evidence.
Kohlschreiber's form is generally good. During the claycourt campaign he won in Dusseldorf and came mighty close to taking out Murray at Roland Garros, losing their third-round encounter 12-10 in the fifth.
I'll therefore take a small slice of the 14/1 that he reaches the last four.