Dimitrov through to final
Grigor Dimitrov summoned all his "courage" to exorcise French Open demons, rediscover his unshackled "creative" best and strut into the Queen's Club Aegon Championships final.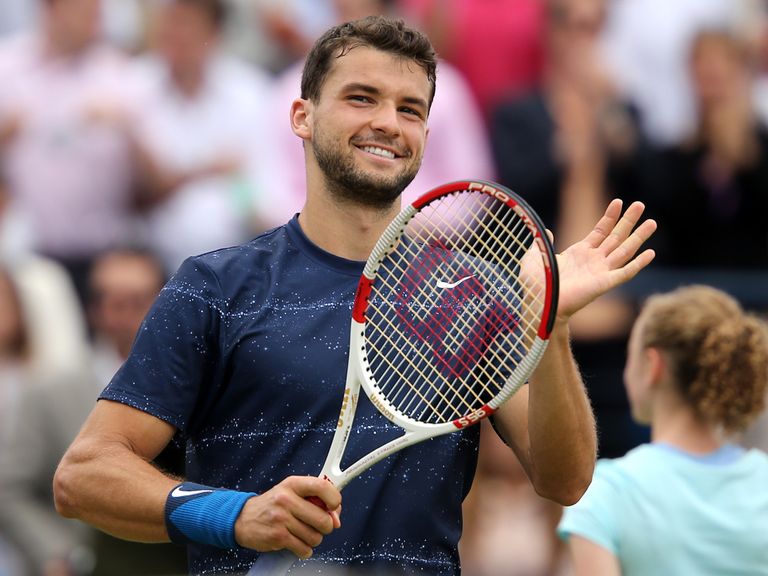 The thoroughbred Bulgarian revealed he spent last week pounding the streets of Wimbledon to shake off his first-round Roland Garros exit at the hands of Croatian Ivo Karlovic.
The head-clearing regimen, plus a bit of rest and relaxation with girlfriend and newly-crowned French Open champion Maria Sharapova, has paid off.
The 23-year-old dispatched top seed Stanislas Wawrinka 6-2 6-4 in Saturday's semi-final, in an enterprising mix of grass guile and superior net-court craft.
"I was really down after the French Open, I didn't touch a racquet for five days," said the world number 13 after booking his Sunday afternoon date with Spaniard Feliciano Lopez.
"So it took a lot of courage for me to come right out here and find my way through every day, with that stinging pain from the French Open.
"It was just painful, I kept dwelling on it every day, but at the same time that pushed me into those hard sessions on and off the court.
"That eventually put me in a really good position where I was really positive for that week, and the next thing you know I'm in the final.
"Clay is tiring; it's also a lot of emotions, and a fair bit of travelling.
"It was a good timing for me to have a few days off, leave everything aside and calm myself down.
"I was ready in Paris, expecting to really perform, but that loss took a lot out of me.
"I had all those days to go back to basics and find another inspiration.
"I ran 25 miles the whole week, to flush myself out.
"I love being here, practising around the area, getting out on the Tube or taking a taxi, it's felt pretty cool.
"I was excited about it, it was just free - then obviously after that the improvisation started to come and you start to be more creative.
"I proved not only to everyone, but mainly to myself that I bounce back pretty good."
Dimitrov will face 10th seed Lopez on Sunday, the 32-year-old 7-6 (9-7) 6-4 winner over in-form Czech battler Radek Stepanek , who accounted for reigning champion Andy Murray in the third round.
Highly-rated Dimitrov has long since been touted as a future grand slam winner, but is yet to progress past the last-eight in a blue-chip tournament.
The upbeat Bulgarian admitted he will try to hold on to his new-found no-fear attitude as Wimbledon approaches in a bid to diffuse that slam-talk pressure.
"I've always had a strong affinity with this tournament," he said.
"I always wanted to be in the final here, stepping out on that Sunday, so it means a lot to me.
"It's a good feeling to know that you've got Wimbledon to play and basically you've got nothing to lose when you come out here.
"Every match is important: you still want to play as though you have nothing to lose but at the same time you can't take anything for granted."
Toledo-born Lopez will defend his title at Eastbourne next week, and would dearly love to hit the Sussex coast with some silverware in his kitbag.
"I'll defend my title in Eastbourne, maybe with one more already when I get there," he said.
Stepanek won a 23-point rally that almost turned the first-set tie-break, only for Lopez to recover.
The Spaniard admitted his gritty Czech opponent hardly merited defeat.
"It was 6-5 and he made this incredible point for six-all," said Lopez.
"We switched sides, I played a great point after and that gave me the set point.
"At 6-3 I had the set in my hand and it looked like it had disappeared, so it was a crucial recovery."