Stepanek books semi-final spot
Radek Stepanek scanned his mental database to confirm surviving 15 gunshot aces from Kevin Anderson as small change compared to an assault-rifle peppering from Ivo Karlovic in 2009.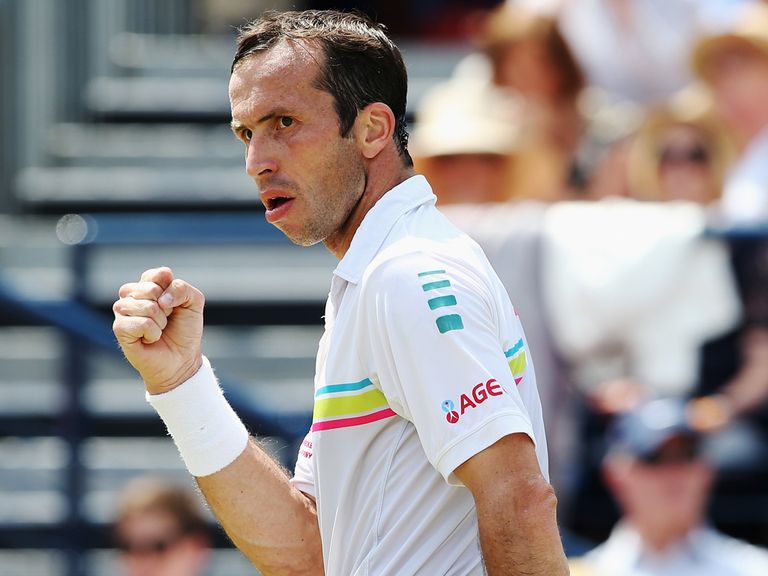 Evergreen Stepanek seized the momentum of unseating reigning champion Andy Murray to move past South African Anderson and into the semi-finals at Queen's.
The 35-year-old Czech bombed out 6-1 in the first set to the big-serving 6ft 8in seventh-seed on Friday, before recalibrating to prevail 6-3 6-2.
The wily operator made light of Anderson's siege-gun serve, cross-referencing a six-hour marathon clash with Croatian Karlovic five years ago.
"You want to hear a good stat? I won a match where I faced 78 aces," said Stepanek, revealing remarkable powers of recollection.
"It was against Ivo Karlovic, in Davis Cup semi-finals in Croatia in 2009.
"I remember all my matches.
"Someone might use a computer for all their stats - I have my computer in my head.
"I see it in my mind, when I think about a match I remember exactly how the day was, what was going on, if there was something going on.
"For me it comes automatically."
Stepanek has not won a single's title since his 2011 victory in Washington, but the 15th seed is in fine fettle at the Aegon Championships.
The world number 42 bumped defending champion Murray off his perch 7-6 (12-10) 6-2 on Thursday, with compatriot and friend Petr Cech in the Kensington crowd.
The Chelsea goalkeeper was on hand again to watch Stepanek hold his nerve on Friday, eventually picking off enough of Anderson's wayward serves to step into the last four.
Stepanek said his personal number-crunching always helps tennis chess-match strategy - but warned it can never replace courtside intuition.
"I'm getting ready for every single match day by day, but definitely it helps to take all these memories, go back through and know what you did well and what you did wrong," he said, still chasing his first career title on grass.
"Also when there is a gap with a player you last played three years ago, you must remember a lot will have changed since then.
"So you know some basic things but still you have to improvise on the court.
"A lot of players have their favourite shots, and favourite situations, especially under pressure; everyone sticks to what they like.
"We all know that, through our coaches who are checking the other players, seeing the other matches the day before you play them."
Stepanek will now face Feliciano Lopez in Saturday's semi-finals, after the Spaniard continued the trend of upsets.
The number-10 seed dislodged Tomas Berdych in straight sets, the tournament's second favourite double-faulting on match point.
Lopez stormed into the final four with a comprehensive 6-4 7-6 (9-7) victory.
"The second set was over at 6-3 down in the tie-break, then I won my serve twice, he hit one out and it gave me a chance," said Lopez, steeling himself to face Stepanek instead of Murray.
"I made a good point, then there was the double fault - and that was the lucky one.
"It would have been great to play Andy in England, at the semis, at Queen's Club, but he lost and now it's Radek.
"Radek is experienced, he knows how to play here, we have similar styles so it will be interesting."
Top seed Stan Wawrinka denied Marinko Matosevic a third Queen's upset, seeing off the outspoken Australian 7-5 6-3.
Matosevic has been in hot water this week for sticking by comments that he "doesn't think that highly of the women's game", referencing Murray appointing new coach Amelie Mauresmo.
Swiss world number three Wawrinka refused to go the same way as seeds Marin Cilic and Tsonga however, easing through to face Grigor Dimitrov in the last four.
The Bulgarian fourth seed progressed via a walkover after Alexandr Dolgopolov withdrew with thigh trouble.