Evans edges past Melzer
Dan Evans battled through the pain of a nagging knee injury to edge past Jurgen Melzer and into the second round of the Queen's Club Aegon Championships.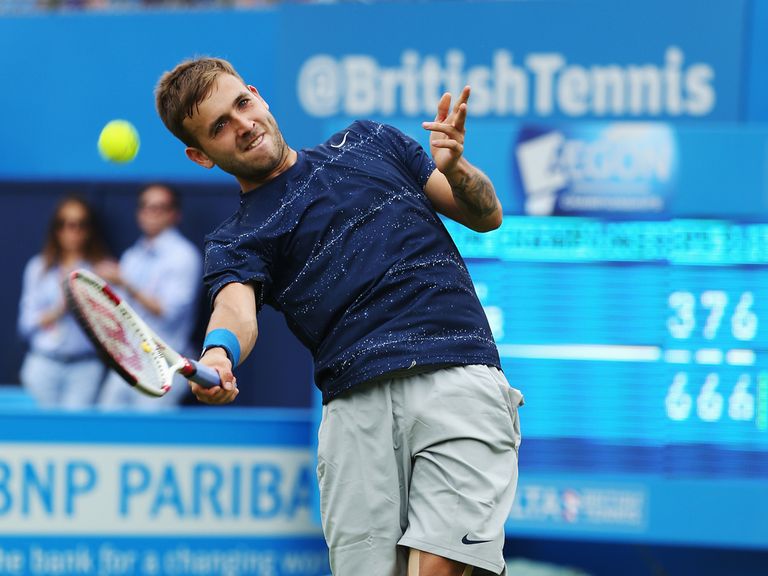 The British number two admitted only the lure of home action at Queen's and Wimbledon stopped him resting the left knee problem he has carried since September.
Evans conceded 88 world ranking places to Austrian Melzer, but prevailed Melzer 6-3 6-7 (5-7) 7-6 (7-2), firing an ace to secure victory.
The 24-year-old will face seventh-seed South African Kevin Anderson on centre court in Kensington on Tuesday.
"I took my chances when I needed them and fought back from a break down in the third, so it was a good day," said Evans.
"He is a tough player, grass is one of his favourite surfaces, he has all the shots to be dangerous on grass and it was a good match.
"This year has been a bit sporadic for me, I've been a bit injured as well.
"I've had a slight problem with my knee, that's still causing me issues.
"So I'll probably have to take some time out after grass."
Vienna-born Melzer is currently ranked 51st in the world, with a career-high of eighth, with Evans at 139.
Evans said it is easy to stave off niggling knee trouble with Wimbledon hurtling into view.
"I can still play but it's just not right at the minute," he said. "I'm taking pain killers and a few other things.
"If it wasn't the grass I would probably be resting up, yeah.
"You want to play your home tournaments, I especially like playing in Britain, especially when you're given a lot of opportunities: it's only right that you pay that back by digging in and trying to win matches.
"I've had it since September, so a long while; it's just a case of normal things to manage it like ice and massage, hopefully I won't need an operation.
"It's been sporadic for me this year, but there are some good tournaments ahead.
"Wimbledon's the tournament where you want to win matches.
"So second, third, fourth round of Wimbledon: that would be pretty good.
"I definitely want to win some matches in Wimbledon, that's the definite goal."