Jim Courier interview
Former world number one Jim Courier know a thing or two about the French Open - he won the title at Roland Garros in 1991 and 1992.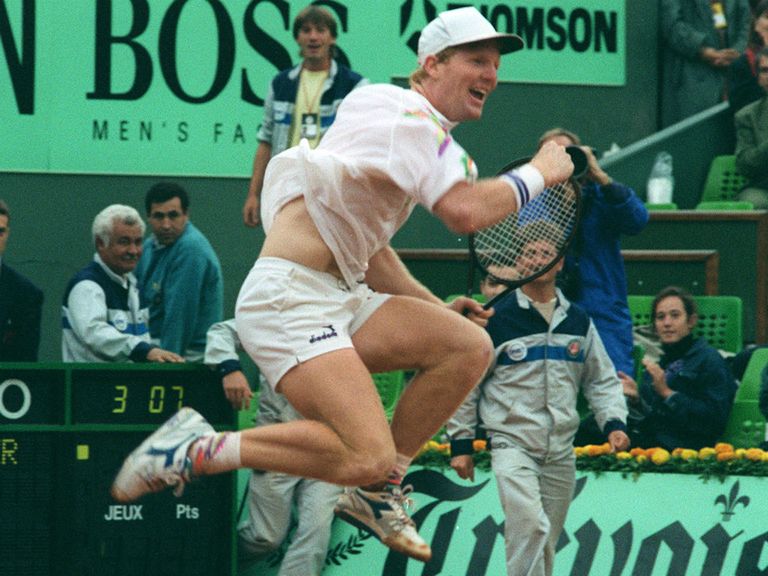 This year he'll be commentating on the tournament in Paris for ITV.
Our Andy Schooler caught up with the two-time champion, now the USA's Davis Cup captain, for a fascinating interview in which he predicts the title winners and picks out potential surprise packages.
Courier also tells us why Andy Murray should wait before hiring a new coach, recalls his most memorable French Open moment and insists he has no regrets over opting to play Great Britain on clay in the Davis Cup earlier this year.
The full interview can be read below:
Who do you have as your men's title winner this year?
I've picked Rafael Nadal as my title winner. Last year I picked Novak Djokovic and put the jinx on him so I hope I don't do the same this year! This best-of-five situation, compared to three at the other tournaments, is in his favour. He can play his way into matches and by the time the heavy competition arrives later in the tournament I think he'll be OK having been a bit low on confidence lately. I'm not worried that he's struggled in the warm-up events compared to recent years. My only concern is a physical one – will his back and knee hold up? Everything else will come together for him I think. Remember last year he started very slowly here in Paris and in his first two matches he was rather poor by his standards. But by the business end he was on the money.
How about an outsider who could go well?
(Kei) Nishikori has proven in this claycourt season that he can challenge. He was beating up on Rafa in Madrid until his back went. Milos Raonic also played fantastic tennis in Rome. He's a player who, when he is on his game, his offence can in unstoppable. Those two guys in the claycourt season are probably the ones who pose the most danger to the top four or five players.
How about the women? Is Serena the one to beat again?
Without questions she's the player to beat. (Victoria) Azarenka not being here, even though she's not at her best on clay, is one less obstacle for her. She's seeded to face (Maria) Sharapova in the quarter-finals but that's not good news for Maria, who has struggled against Serena for a while. That's probably a match you'd expect to be in the finals.
Same question as the men – any outsiders you see posing a threat?
I still hold out hope for Sloane Stephens with her athleticism. This is a surface that rewards movement and she could come out of the blue as she's had a bit of a down year outside of Australia (where she made the last 16). Eugenie Bouchard is another. She's playing pretty well this year, was great in Australia (making the semis) and has a lot of self-belief. She also arrives here having done well in one of the warm-up tournaments in the last week. Finally, French player Caroline Garcia is worth mentioning. She's got a tough first round (against Ana Ivanovic) but looks like she could make good on that promise of a few years ago.
A lot of people are expecting a Rafa v Novak final. You do a lot analysis in your TV roles. Tell us how you see that match unfolding if indeed those two are in the final in a fortnight's time.
These two have played more than any other pair at the top level of the game. They know each other very, very well. It's about who gets on top and gets control. Both have great defence; it's usually the one who is more offensive who dictates things. Lately that's been Novak. Rafa is great at taking anything he's been given and maximising it. But Novak can neutralise his forehand more than any other player, or at least as well as any other player, and uses his two-handed backhand to take control of a point. Also, Novak's serve is better. Rafa chooses not to go for it. For me, he needs to go for more free points on his first serve but he often just spins it in and plays for position. This is a match where there are no secrets. It's about who can be more offensive, who can execute and who doesn't blink at the end. Novak blinked last year (in their semi-final) and Rafa stood tall. When he failed to serve out the fourth set, other players would have gone away mentally but not Rafa.
Here in the UK a lot of the focus is on Andy Murray. How do you rate his chances in Paris?
He should have been very encouraged by how he played in Rome against Rafa – he pushed him to the brink. He played such offensive tennis in that first set (which he won 6-1) and was completely dominant. He looks to me physically that he's almost back to 100 per cent, at his peak, which given his back surgery last fall is a great thing to have. He needs to be focused on playing good shots and playing good tennis. Of the four majors, this is the least likely for him to win because of the surface but that doesn't mean he can't go deep. I wouldn't be surprised to see him climbing out to the semi-finals and, if things go well, even the finals. He knows how to win tournaments of this calibre.
Murray says he's close to getting a new coach. When he hired Ivan Lendl he wanted someone who had been there to help get him over the Grand Slam winning line. But what does he need now to go from a two-time Grand Slam champion to one who can win four, five six?
Andy has a lot of knowledge. He's worked with a lot of great coaches and built that knowledge up. Andy would actually make a great coach for another player himself right now. Need is not the word I'd use. The question is what does he want in a coach? I haven't seen him express what he does want. And the question of what he's out to get is one only he can answer. We've seen with the likes of (Roger) Federer that top players can go periods without a coach. Then they will look for inspiration, to get momentum, to move to another level or just freshen things up. It's possible that Andy's looking for that – more inspiration or something fresh. He's won two majors and the Olympics which is like a Grand Slam now, in my opinion.  There's a very small pool of candidates in coaching terms that have done that and many of those are taken. What I would say is this – it's in his best interests and simpler for him if he waited until after Wimbledon to make an appointment. This is a busy six-week period that's about to begin. A new coach will try to instil new ideas and getting into a new rhythm and learning their language will be a challenge. My view is it would be better to do this in a training block after Wimbledon and then hit the road for the warm-up tournaments ahead of the US Open. That makes more sense to me, but Andy is the CEO of his operation.
You won at Roland Garros twice in your playing career. Is there one moment that stands out in your memory more than any other when it comes to this tournament?
One match stands out on my part which not many people were at. It was in 1991 – the first year I won the title – and I was nearly out against Magnus Larsson (in round three) on the Bullring (Court One). I was down in the fourth – two sets to one down and 4-2 down. At 15-40 on my serve a little baby cried out just before I was about to serve. I looked up and said 'I know exactly how you feel' and for whatever reason that was a big turning point. I held, broke his serve and won the match and then the tournament. Wherever that child is now – they'll be 22, 23 – somewhere out there they probably won't know they changed my career.
We often talk in the UK about the lack of players coming through. American tennis is also struggling a bit these days with people wondering where the next men's champion is coming from. You work for the USTA (as Davis Cup captain). Tell us what they are doing to find him.
Last year's US Open gave us our worst results in modern-day tennis (no American male went past the third round) so there is concern. In our country we've got various private enterprises working with young players, who have pushed their game on in the (junior) rankings. The USTA, like the LTA, want to get more doing this in the pro rankings. It's been a challenge to convert the junior game to the pros in the last decade. Rest assured we've got a lot of good coaches out there. My old coach Jose Higueras is very much involved, as is Patrick McEnroe. They are trying to push things in the right direction. We need to get the quantity of athletes coming through up and that's a challenge as tennis is so far down the line in terms of popular sports in the US. Tennis used to be the place where people from other sports came, those who didn't quite have the athleticism needed to succeed in football or basketball. But that's no longer the case. The athletic level needed at the top level is now extremely high. You can't just have guile and craft any more – you have to have the athleticism to go with that. Tennis' little dirty secret is that it takes a lot of money to take a player from eight years old. People have done the numbers and it's between US$300,000 and $400,000. That's a lot more than baseball or basketball but then that's always been the case.
Do you have any regrets about choosing to play Great Britain on clay in the Davis Cup in San Diego earlier this year?
I don't like to live my life looking back – that's not me. I make decisions on the information to hand. I still feel if all the players were healthy it was the right move. It wasn't the case (John Isner was ruled out in the days leading up to the tie). I do tip my hat to James Ward though for staying tough against Sam Querrey. It was an impressive, mental performance by him. I'm now looking at the next tie and playing Slovakia, who want to beat us to win promotion to the World Group. It was a tough defeat for us in San Diego but I'm sure it was very satisfying for them (GB).
ITV, ITV3 and ITV4 will screening live coverage of the French Open from May 25 to June 8.