French Open: Bookies' verdict
Our Andy Schooler spoke to several leading bookies to get their views on the forthcoming French Open, including their best bets.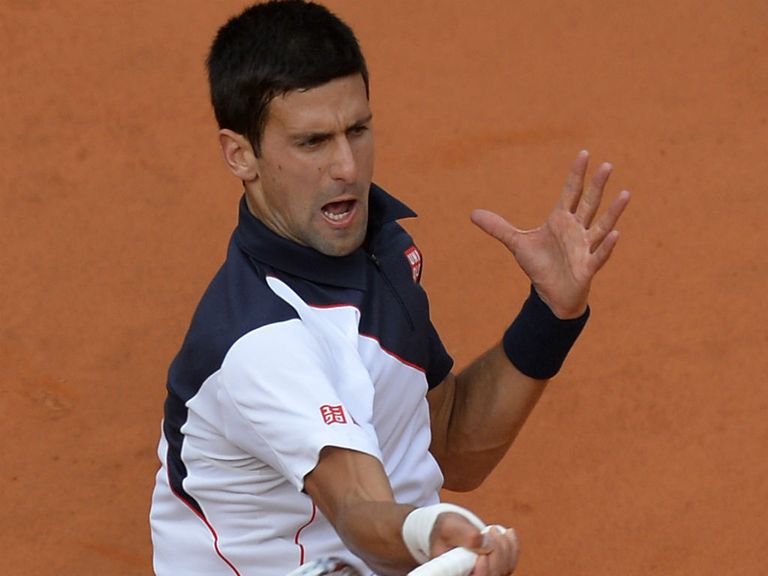 Check out what they had to say - they've also updated their thoughts following Friday's draws.
Djokovic or Nadal for the men's title and why?
Phil Charlton, Sky Bet: I would have to say Djokovic. The way he beat Nadal in Rome was impressive and he looked fitter and stronger than Nadal did. He went off underdog in that final but were they to meet in the French final I would expect the betting to be a lot closer.
Adam Williamson, Ladbrokes: We still slightly prefer Nadal. His record is so unbelievable at the French Open it's hard to oppose him, although Djokovic did deserve to win in Rome last week. Clay is Djokovic's least favourite surface and he may also have more problems in the earlier rounds than Nadal.
Rory Jiwani, Stan James: Definitely Djokovic. Before his wrist injury, he was by far the best player in the world and his win over Nadal in Rome shows he's right back on track. This should be his year.
Jack Milner, BetVictor: For once it's Djokovic we're siding with. He beat Rafa last week in Rome and has now beaten the eight-times French Open champion on the last four occasions the pair have met. The Serb is taken to defy Rafa's claim for a fifth consecutive Roland Garros title.
Rupert Adams, William Hill: If they meet, Djokovic seems to have the slight edge this year, although I think there is more chance of Djokovic losing before the final.
That question may have been a bit disrespectful to the other players in the field. Can you really see anyone else winning the title though? If so, who?
Phil Charlton, Sky Bet: Kei Nishikori would most likely have beaten Nadal in the Madrid final before injuring his back when a set and a break up and the 35/1 is appealing should he be over his injury. A player at a big price who has pushed the main players in recent weeks is Milos Raonic at 150/1. Solid performances against Djokovic and the previously-mentioned Nishikori in his past two tournaments show he is improving on the clay surface.
Adam Williamson, Ladbrokes: Not really! Stan Wawrinka seems much too short in the betting now. Although he won the Australian Open and a Masters event on clay in Monte Carlo a few weeks ago, facing Nadal or Djokovic on the surface over five sets will be very difficult for him. Defeats in his last two tournaments against Dominic Thiem and Tommy Haas don't bode well either. We're not convinced Federer can cope with two weeks of best of five sets any more, David Ferrer usually finds one too good and Kei Nishikori has injury concerns. At a price, Jo-Wilfred Tsonga on home soil is an underdog, as is the talented Grigor Dimitrov.
Rory Jiwani, Stan James: It's very hard to see anyone outside the big two winning it, although David Ferrer is worthy of respect. Milos Raonic could go a long way with a decent draw after a good showing in Rome last week but he needs some dry weather for the courts to speed up.
Jack Milner, BetVictor: No. Djokovic and Nadal showed again in Rome that they are a level above the field on clay and it should be between the big two for the title.
Rupert Adams, William Hill: Federer is playing very well this year although it's hard to see him troubling Nadal over five sets and will be more of a force at Wimbledon. He could trouble Djokovic although, as the question stated, it's difficult to see past the front two.
Andy Murray played well against Nadal in Rome but clay isn't his favourite surface. How do you rate his chances?
Phil Charlton, Sky Bet: The performance against Nadal was by far his best performance for months and shows the talent is definitely still there. I worry how he will perform against the top players over five sets on clay as the back surgery still seems to affect his overall performance levels. With his slip in the rankings he could potentially play Nadal, Djokovic or Wawrinka in the quarter-finals. Each of those would be good favourites for this potential match up.
Adam Williamson, Ladbrokes: The signs were much more positive in Rome. He seems to have been going through the motions all year, none of his usual enthusiasm has been there. His shot-making and fitness appear to be returning though. Most likely he is trying to peak for Wimbledon to defend his title there. Unbelievably he's never even made an ATP final on clay, so unless the draw massively opens up for him, he won't be in contention.
Rory Jiwani, Stan James: Obviously more players are a threat to Murray on clay and the draw will be crucial. If he gets a favourable one, he could reach the semi-finals but you wouldn't fancy him against either of the top two.
Jack Milner, BetVictor: A quote from our head of tennis reads is 'he has no chance of ever winning the French'. He did play well against Rafa last week but concentrating on the defence of his Wimbledon title might be his best chance of a Major title in 2014.
Rupert Adams, William Hill: On clay he seems to play very well against the best players. However, there always seems to be more of a chance on clay that he can get sucker-punched by a journeyman claycourter.
In the women's singles, are you wanting to keep favourite Serena Williams firmly onside or are you happy to lay her?
Phil Charlton, Sky Bet: I am happy to take Serena on at the prices. She has only won the French twice before and with age catching up with her and injuries I will be looking elsewhere with my money. On her day she will beat anyone but past Slam losses to Ivanovic, Lisicki and Stephens prove she isn't as invincible as the price suggests.
Adam Williamson, Ladbrokes: The only thing that can stop Serena winning any tournament is Serena herself. She's so much better than everybody else, she needs to have an injury or an off day to be beaten. She loves this tournament, even going as far as learning French to get the crowd on her side! We'll be keeping her firmly on our side if possible.
Rory Jiwani, Stan James: As usual, the only danger to Serena is herself. If she serves well, she's going to be very hard to stop and it's up to punters whether they want to play at 5/4 or not.
Jack Milner, BetVictor: If Serena turns up and plays as she can then she wins; it's as simple as that. She is head and shoulders above the field and has won the French Open every time she has won in Rome the previous week. She has everything in her favour.
Rupert Adams, William Hill: It's difficult to see who can beat her to be honest.
If not Serena, who are you most wary of?
Phil Charlton, Sky Bet: Sara Errani has made the semi-finals and the final in the past two years and the 66/1 appeals, the only worry being the injury scare she picked up when losing in the Rome final on Sunday. Maria Sharapova could be drawn in Serena's half of the draw but the 11/2 is tempting. She comes in having won in Stuttgart and Madrid and has the game to worry Serena. I would expect this price to shorten should she be drawn in the opposite half to Serena.
Adam Williamson, Ladbrokes: Maria Sharapova is in decent form, and has won this tournament before, but hasn't beaten Serena Williams in nearly 10 years! Ana Ivanovic is another former winner who has the potential to beat anyone on her day. At a bigger price, Jelena Jankovic is a quality operator who could go deep with a good draw, although doubts remain about her mental fragility at key stages of matches.
Rory Jiwani, Stan James: If the Serena machine malfunctions then Maria Sharapova and Simona Halep are probably best-placed to profit. Eugenie Bouchard would be our idea of an outsider but her price might be a little short now.
Jack Milner, BetVictor: The shrewd punters out there have latched on Li Na (11/2) safe in the knowledge that she won't face Serena until the final and could collect the each-way money. Sharapova (5/1) boasts similar appeal but she can't beat Serena so if pressed to have a punt against her it would have to be Ana Ivanovic (16/1) who has her forehand back and is playing extremely well this year.
Rupert Adams, William Hill: Sharapova is the obvious one if something happens to Serena although if they meet at any point Serena has the upper hand.
Give us your best bet for the tournament as a whole.
Phil Charlton, Sky Bet: The Djokovic-Sharapova win outright double is available at just over 14/1.
Adam Williamson, Ladbrokes: The Rafa Nadal-Serena Williams double which works out a very respectable 4/1 shot.
Rory Jiwani, Stan James: Djokovic to win the men's singles title. His price may have shortened at the weekend, and he's now favourite with us, but he is the form pick and the most likely winner at Roland Garros.
Jack Milner, BetVictor: Despite a lot of juice going from her price (50/1 at the start of the year) it has to be Ivanovic, in excellent form and, hopefully, in the other half of the draw to Serena.
Rupert Adams, William Hill: Difficult to do before the draw, but if fit it's hard to see any player troubling Serena.
Have Friday's draws changed your views at all? If so, how?
Phil Charlton, Sky Bet: Sharapova has drifted to 7/1 after been drawn in Serena's quarter - she has an awful record against her having lost her past 15 matches against her. A friendly bottom half of the draw has seen Li Na, Simona Halep and Sara Errani shorten to 6/1, 12/1 and 33/1 respectively.
Adam Williamson, Ladbrokes: We feel that it's an even draw which hasn't thrown up anything that would prompt us to make any price changes at all.
Rory Jiwani, Stan James: Rafa Nadal has landed a tough draw with potentially Nicolas Almagro, David Ferrer, Andy Murray and Novak Djokovic in his path. We're now top price 7/4 about the Spaniard winning a ninth Roland Garros title. Players we want to be with are Djokovic, Tomas Berdych and Fabio Fognini as well as Murray, who has been handed a favourable draw and could well reach the semis. In the women's, we're against Maria Sharapova now as she's due to face Serena Williams in the quarter-finals and Serena wins every time they meet. We're now with Serena and top price 6/1 about Sharapova. Li Na has a great draw in the weaker half and we're keeping her onside along with Jelena Jankovic, Simona Halep and Svetlana Kuznetsova.
Rupert Adams, William Hill: We are still fans of Federer as the value bet on the Djokovic side of the draw. No real changes though and Nadal is proving to be the punters' choice and by far our worst result.