Djokovic 'to topple Nadal'
Former British number one Jo Durie says Novak Djokovic can complete the "ultimate" task in tennis by beating Rafael Nadal over five sets in the forthcoming French Open.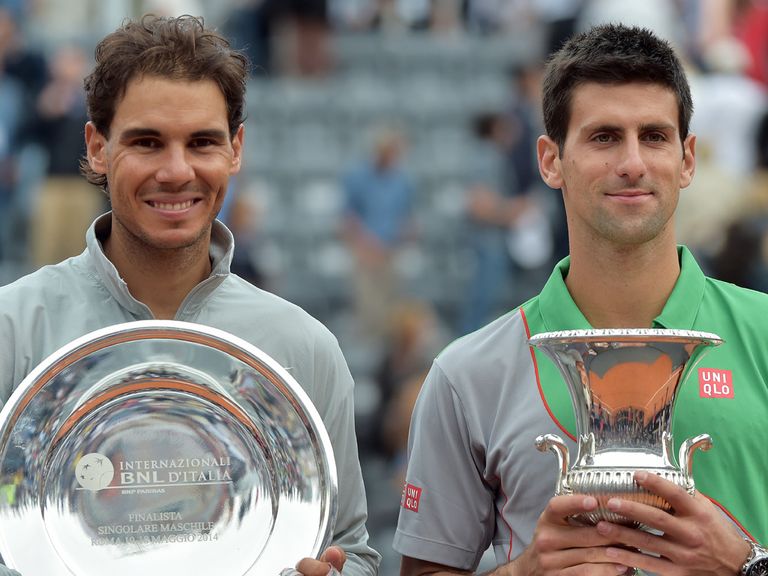 Djokovic heads to Roland Garros having just beaten Nadal in the final of the Rome Masters, a wrist problem seemingly well and truly behind him.
He will be seeded to meet eight-time winner Nadal again in the final in Paris and Durie, who will be commentating on this year's tournament for British Eurosport, says most of the question marks currently surround Nadal.
"It's hard to look beyond those two," she told sportinglife.com.
"Everybody is really looking at Nadal. He's coming into the French having had the worst time he's had on clay for a long, long time. People are saying 'what's the matter with Rafa?'
"It's been interesting to see that and to see that he's vulnerable. It's probably the first time since he lost to Robin Soderling (whose victory over Nadal in the 2009 French Open remains the Spaniard's only defeat in a best-of-five-set match on clay) that anyone's said that.
"It's a bit harsh (Nadal won the warm-up tournament in Madrid) but we expect such amazing things from him and so as soon as he has a slip everyone's talking about it, with Djokovic beating him in Rome. Can he do it over five sets at Roland Garros though - that's the ultimate."
Durie, who made the last four at the French Open back in 1983, feels the current flooding catastrophe in Djokovic's homeland of Serbia will actually toughen his already-solid resolve to win in Paris – if he does so he will become only the eighth man in history to win all four Grand Slam tournaments.
She added: "Novak is even better when playing for his country and he feels that he is at the moment. He's been trying to get everybody to get people to look at what's happening in Serbia."
And Durie says Djokovic has the game and tactics to down Nadal in what is effectively his second home.
"He can step up against Nadal," she explained. "Against him he goes cross-court with the forehand with spin. When he steps in he can flatten it out and hits down the line which really troubles Nadal – that's the play.
"Can he keep it up for five sets? That's the only question.
"I actually think he could do it."
If anyone if going to stop the big two, Durie feels Australian Open champion Stanislas Wawrinka is the man most likely to do so.
"I think he's the one who could surprise everybody again," she said. "He's had a great year, winning his first Slam, and he can beat anybody, I really think that. He's the next strongest contender."
Expectations are lower on Wimbledon champion Andy Murray but, like many, Durie was impressed by her compatriot's performance in Rome where he beaten 7-5 in the deciding set of his quarter-final with Nadal.
"When you see how he played against Nadal in Rome, when he really attacked him, Andy could contend is he plays like that.
"It's not his best surface but there's no technical problem.
"It's just nice to see him back to his usual self. It's been a very strange year for Andy but in Rome he had that determination and look in his eye again.
"I actually fear for him more in the early rounds, if he comes up against a decent claycourter. If he plays Nadal in the semi-finals I can see that being a really interesting match."
British Eurosport HD will broadcast comprehensive LIVE coverage of the French Open from May 25 to June 8. Live multi-court coverage will also be available online and on mobile via Eurosport Player - www.eurosportplayer.com