GB's concerns over 'slippery' court
The Great Britain team have admitted their concern about the state of the newly-laid claycourt on which this weekend's Davis Cup tie against the USA will be played.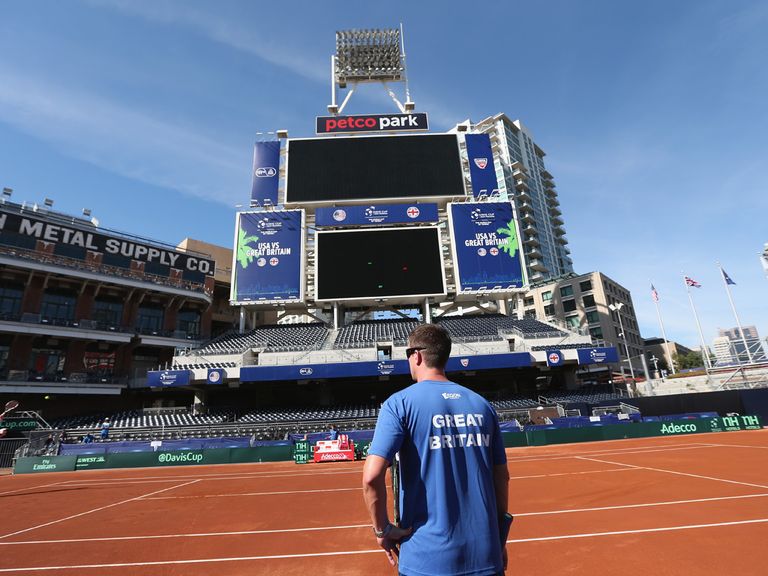 Both star player Andy Murray and captain Leon Smith have described the surface, which has been laid in Petco Park, home of baseball team the San Diego Padres, as "slippery" ahead of the World Group tie which begins on Friday.
Murray said: "The court is really slippery and that's the most challenging part about it.
"I've played like 4.30, 5pm some days and there is a lot of moisture in the air. When it gets a bit dark it's very significant as well.
"So the first match during the day will probably be playing faster, much faster, than the second match.
"That's something you have to adjust to. But being able to move properly and safely is the important thing."
The Wimbledon champion will be particularly concerned about the surface given the fragile state of his back - he underwent an operation on it towards the end of last season and has already admitted that moving onto clay for the tie from the hardcourts of the Australian Open is far from ideal.
Captain Smith agreed with his star man's assessment saying: "(The court) needs a bit of work. It's pretty slippery.
"But everyone is sort of adjusting as we go along the week and hopefully it'll get better and better the next few days.
"I think they are definitely watering it a bit more, so it's helping a little bit. But it's not a true European red claycourt."
Both men spoke to the media on Wednesday ahead of Thursday's draw at which most observers expect Murray to be nominated for the singles alongside teenager Kyle Edmund, who has reached back-to-back claycourt finals on the ITF's Futures circuit in the past fortnight.
Murray is also expected to play doubles alongside Colin Fleming on Saturday when they will likely face the world's leading doubles team, Bob and Mike Bryan.
John Isner and Sam Querrey are expected to play singles for the hosts, although the former comes into the tie with an injury cloud surrounding him after he was forced to retire from his opening match at the Australian Open due to a an ankle injury.
Asked about his problem, Isner said: "I'm getting better. I wouldn't say I'm exactly where I want to be right now.
"I'm not going backwards, so we'll see how these next couple days go."
During Thursday's press conference, Murray was quizzed about a question-and-answer session he held on Twitter in which he said he would be getting married in the summer.
However, he was quick to point out that had simply been a joke, like many other answers he had given.
He explained: "I also said some other things in the same sort of hour period that were also not true. (It's a) sort of sense of humour that not everybody gets sometimes."
---
New Sky Bet customers: Free matched bet up to £30
---