Rafa halts Roger's run
Rafael Nadal maintained his dominance over Roger Federer to set up an Australian Open final against Stanislas Wawrinka.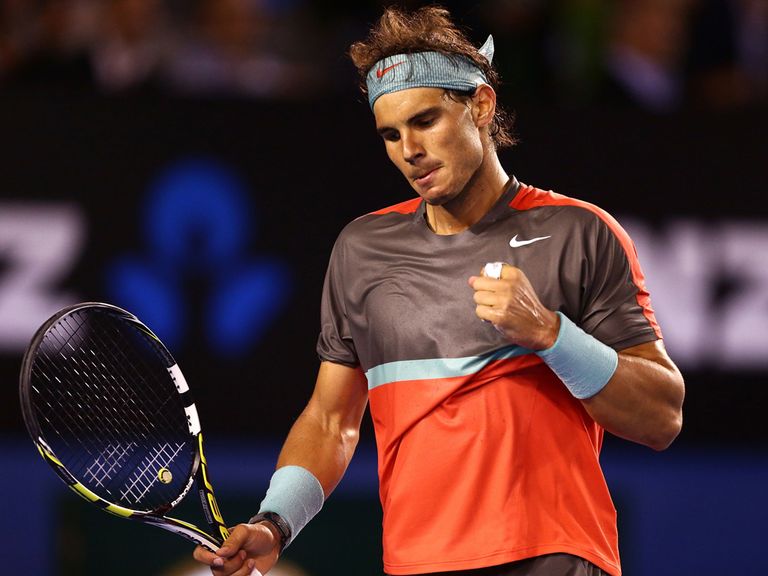 World number one Nadal proved too strong for his great rival, as he had on 22 of the previous 32 occasions they had played, and was a comfortable 7-6 (7/4) 6-3 6-3 winner.
Nadal's victory ended hopes of an all-Swiss final, and the Spaniard will be a huge favourite to defeat Wawrinka on Sunday given Federer's countryman has never won a set in any of their 12 matches.
Friday's result also ensured Wawrinka will overtake Federer in the rankings on Monday to become Swiss number one for the first time.
Nadal will play in his third Australian Open final, having beaten Federer to win the title in 2009 and lost to Novak Djokovic in 2012.
Victory on Sunday would take him level on 14 grand slam titles with Pete Sampras, who will present the trophy and on Friday watched Nadal play Federer live for the first time.
Federer's 17 slams is the all-time men's record Nadal could then aim for.
"I played well tonight," said the world number one. "I think I played probably my best match of the tournament. So I'm very, very happy for this great news. It's a very special moment to have the chance to be in another final."
The stats were all in Nadal's favour, especially the one that showed Federer had not beaten the Spaniard at a grand slam since the Wimbledon final in 2007.
But there is always a special excitement around their matches, and there were reasons to think maybe this time it might be different.
World number one Nadal had been struggling with a blister on the palm of his left hand that affected his serve and was far from his best against Grigor Dimitrov in the quarter-finals.
Federer, meanwhile, had looked back to something like top form in wins over Jo-Wilfried Tsonga and Andy Murray.
Free from back pain, with a larger-headed racquet and boyhood idol Stefan Edberg as coach in his corner, Federer was dreaming of an all-Swiss final.
The first set was extremely tight, both men aware how important early momentum could be.
Nadal was the one pushing, but Federer came up with solid play when he needed it, saving two break points in the seventh game and another in the ninth.
The Swiss, surely influenced by Edberg, had come to the net incredibly often against Murray, and he was sticking to the tactic despite Nadal's extraordinary ability to hit passing shots.
If he was to have any chance, the tie-break appeared a must-win for Federer, but he made errors at crucial moments to trail 5-1, and although he won the next three points, he could not fully recover.
As he has on so many occasions, Nadal was trapping Federer in his backhand corner with vicious top-spin that the 32-year-old has always seemed powerless to counter.
Federer betrayed his frustration by complaining to umpire Jake Garner about Nadal's grunting, which received short shrift.
Nadal had no visible strapping on his blister but he took a medical time-out after the first game of the second set to have it treated.
Federer continued to resist the onslaught by saving three more break points in the fourth game, but two games later he dropped the ball too short and saw a forehand go whizzing past him as Nadal finally took his eighth chance.
There was a half-opening for Federer at 0-30 when Nadal served for the set but the Spaniard played four excellent points, including a sublime forehand down the line.
The only time Nadal had ever lost a match from two sets up came in their second meeting in Miami in 2005, when Nadal was 18 years old.
There seemed virtually no chance of a repeat, and even less so when a disgruntled Federer netted a volley to drop serve early in the third set.
Federer was given a lifeline when Nadal promptly dropped serve himself - the first time he had offered up break points in the match - but he moved ahead again for 4-3.
And two games later Nadal clinched victory on his second match point when a desperate Federer forehand flew long.
The vanquished Federer said afterwards: "I think Rafa played well. He's played me this way many times.
"It was just the lack of opportunities I created for myself which put the pressure on me too frequently, instead of maybe being able to do that the other way around.
"He did a good job. Overall he was more consistent. He deserved to win tonight. He was better.''
Missing out on an all-Swiss final against Wawrinka was another blow for Federer, but he will leave Australia at least knowing he is back in the grand slam mix.
Last season the chances of the 32-year-old winning another major title appeared to have gone, but with back problems seemingly behind him, a new racquet and a new part-time coach in his boyhood hero Stefan Edberg, Federer sees plenty of cause for optimism.
He said: "I wish I could have won here and given an all-Swiss final. That's something I'll regret for a long time.
"But I think this is a very good start to the season for me overall. I still feel my best tennis is only ahead of me right now.''
---
New Sky Bet customers: Free £30 matched bet
---