Nadal calls for understanding
A review of Monday's action in the men's singles at the Australian Open, with Rafael Nadal falling foul of the rules.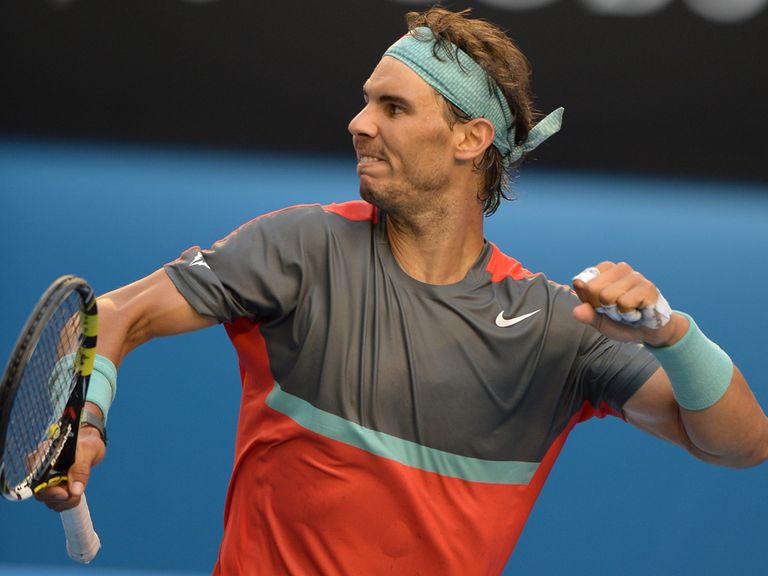 Rafael Nadal called for greater understanding from umpires after once again falling foul of the time violation rules.
Players are not supposed to take more than 20 seconds between points at grand slams but Nadal, with his many ticks and foibles, often strays outside that limit.
Umpires began cracking down on abuses last season and Nadal has been warned repeatedly.
It happened again during his fourth-round clash with Kei Nishikori at the Australian Open on Monday, most notably at a crucial stage of the third set.
With Nadal serving at 4-4 and deuce, he was warned by umpire Eva Asderaki for a second time and briefly lost his cool.
He dropped his serve but broke Nishikori back straight away and went on to win the match 7-6 (7/3) 7-5 7-6 (7/3).
Nadal said: "The negative thing in my opinion is not the warning. The negative thing is the moment. You can choose another moment to do it, not that one.
"Another thing is she didn't advise me before the second warning that I was still going slow.
"We need referees who understand the game. The rules cannot go against the good show.
"I accept the rules. Sometimes I am wrong. Sometimes I am too slow and I accept that. I'm going to try to go quicker for the future."
Every set lasted more than an hour, with Nadal having to show off his legendary battling qualities rather than the sublime form he demonstrated in crushing Gael Monfils on Saturday night.
It was a troublesome afternoon for the world number one, who needed treatment for a large blister on his hand and broke a shoelace in taking a tumble, requiring a trip off court for a new pair of shoes.
He said: "The feeling was not the same (as the Monfils match). It was a little bit worse, my feeling.
"He was able to play more inside the court. I think I played a little bit too short. The other day I was able to hit longer and to take advantage with my shots.
"But the victory of today has much more value than the victory of two days ago. Because when you are playing that good, the normal thing is to win.
"I think the concentration for me was okay the whole match. I played very focused, fighting for every ball.
"Kei played a fantastic match, just a few mistakes in some moments that were tough ones. But for the rest he played very aggressive, he went for his shots.
"He came on court with determination to take the ball very early and go for winners. He really had the right feelings to do it. It was a tough match, a very important win. I'm very happy."
In the quarter-finals, Nadal will face Grigor Dimitrov, who continued to blossom at his breakthrough grand slam with a 6-3 3-6 6-2 6-4 victory over Spain's.
The Bulgarian, who has made it further in the tournament than girlfriend Maria Sharapova, said: "I'm really happy to be out there in the quarter-finals but I'm not even close to satisfaction.
"I've been working really hard in the past year, especially in the off-season, so it's nice to see that result.
"I'm really looking forward to the match. I just want to put myself into a good position to play matches like that more often. So that's what I'm working for."
Nadal has won all their three previous matches but each of them has been close.
"I had tough battles with him in the past," said Dimitrov. "There were always little things missing. But I'm quite happy with the way I'm performing so far. So I like my chances."
Roger Federer put himself in the frame as a potential Australian Open winner with a vintage display to beat Jo-Wilfried Tsonga and reach the quarter-finals where he will play Andy Murray.
It was the perfect birthday present for Federer's new coach Stefan Edberg, who turned 48 on Sunday, as an aggressive display from the sixth seed saw him power to a 6-3 7-5 6-4 victory.
But if Federer is to win an 18th grand slam title he will have to do it the hard way, with Wimbledon champion Murray next up and Nadal and defending champion Novak Djokovic also likely to stand in his way.
From the start against Tsonga the Swiss looked sharp, breaking serve in the second game and easily holding throughout the first set.
All the pressure was coming from Federer and, although Tsonga held on until 5-5 in the second set, the 32-year-old was quick to take his chance when it came.
The writing seemed on the wall for Tsonga when Federer broke again to lead 2-1, although the Frenchman at least fought back from 0-40 in the seventh game to keep it to one break.
Federer hit his first double fault of the match on his first match point but took it on the second with a clinical forehand volley.
"I don't have doubts any more. I know I'm going definitely in the right direction," said a delighted Federer.
"I've had a great off season. I had a strong end to the year. I couldn't have worked harder in the off season.
"This is the type of win I needed. Clearly if I lose in the next round I'll have doubts again, but I'm going to try to not make that happen.
"What I've shown over the last three to four months to myself is that I'm more confident, that I know I'm most likely going to play okay in my next match, which wasn't always the case midway through last year when I didn't know how I was going to feel during the match.
"I feel like I can think ahead. I can think tactics. I can think many things out there. Everything else but my body, and that's very positive. I've overcome a lot in the last few months."
More doubts surround Murray, who is playing in only his second tournament since back surgery last September.
Wednesday's clash will be a rematch of their semi-final meeting from last year, which Murray won in five sets before losing to Novak Djokovic in the final.
Federer said: "I don't know how he's feeling. I haven't seen him play much.
"But what I'm hearing is that he's fine. That's very positive. That's what I was hoping for Andy, that when he did come back, he was 100 per cent, not half way, limping, not feeling great.
"It's good to see he took care of his draw, and here we are again. I'm looking forward to the match, I must say. I wonder how it's going to play out.
"Last time we played was a great match. So I hope we both can reproduce something similar.
"It will be interesting, because we had an interesting year last year with some ups and downs. It's a good start to the season for both of us already."
---
New Sky Bet customers: Free matched bet up to £30
---