Winning O2 debut for Wawrinka
Stanislas Wawrinka thrilled the travelling legion of Swiss fans as he marked his debut at the Barclays ATP World Tour Finals with victory over Tomas Berdych.
ATP World Tour Finals. Click here to bet.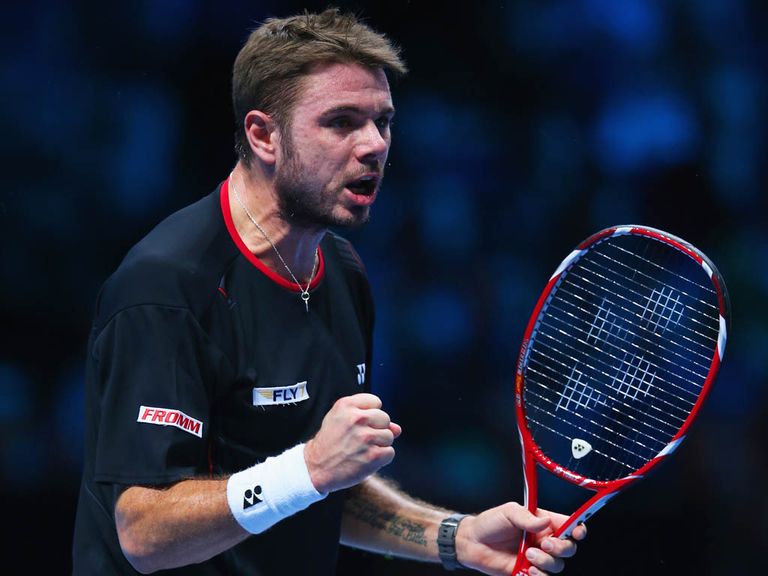 At 28, Wawrinka has put together the best season of his career, culminating in a first qualification for the year-ending tournament at London's O2 Arena.
He hit his stride straight away, recovering from a poor second-set tie-break to defeat fifth seed Berdych 6-3 6-7 (0/7) 6-3.
It was not surprising Wawrinka felt so at home given the vocal Swiss support, although he was quick to acknowledge the red and white hordes are not in London just for him.
"They wanted Roger, but they had me," he said with a smile.
Roger Federer, who begins his campaign against Novak Djokovic on Tuesday, has been the most successful player since the tournament moved to London in 2009, winning the title twice.
Wawrinka added: "It was a really good atmosphere. It's always nice to play in front of such nice people. There were a lot of Swiss people.
"I'm really, really happy we are both in the tournament. I think it's something really special for Switzerland.
"I saw this tournament so many times on TV. To play was something different. For sure to win my first match here was something really special for me."
Wawrinka beat Berdych on his way to the semi-finals of the US Open and he was much the better player in the first set of their latest meeting.
It was not until he came to serve it out that the seventh seed wobbled before eventually clinching it on his fifth opportunity.
The second set was very tight, Wawrinka recovering from 0-40 in the eighth game only to be whitewashed in the tie-break.
But he refocused and broke through again to lead 3-1 in the decider, and he needed only one chance to finish it off.
Wawrinka said: "It was not my best tie-break this year for sure. But against that kind of player, it can be a really fast tie-break.
"When I sat down after the set, I was telling myself that I was still thinking I was the best player on the court. I had to focus again on my serve and start the third set a little bit more aggressively to show him that I'm going to try to win the match and not let him."
The only concern for Wawrinka was a twisted ankle, but he said: "I think it's not a big deal."
With matches against world number one Rafael Nadal and third seed David Ferrer to come, this match was always likely to be crucial to both players' hopes of making the semi-finals.
Berdych felt the main difference was that Wawrinka took his opportunities, but he is staying upbeat about his chances.
The Czech said: "It was a very close game again. He had four break points, he made two. I had five and made zero. I think that's been really a big difference.
"The next opponents, especially on paper, look even tougher. It's not going to be easy at all. But I've been in a couple of situations here which didn't look good at all and I was able to get through the group."
Standings:
Group A:
Wawrinka 1-0 (2-1)
Berdych 0-1 (1-2)
Nadal 0-0 (0-0)
Ferrer 0-0 (0-0)
Group B:
Del Potro 1-0 (2-1)
Gasquet 0-1 (1-2)
Djokovic 0-0 (0-0)
Federer 0-0 (0-0)
Figures in brackets are sets won and lost.
If players finish with the same number of wins, the final standings will be decided as follows:
Greatest number of matches played.
Head-to-head results if only two players are tied.
If three players are tied, then:
i) If three players each have one win, a player having played less than all three matches is automatically eliminated and the player advancing to the single elimination competition is the winner of the match-up of the two players tied with 1-2 records; or
ii) Highest percentage of sets won; or
iii) Highest percentage of games won; or
iv) The player positions on the Emirates ATP Rankings as of the Monday after the last ATP World Tour tournament of the calendar year.
v) If (i), (ii), (iii) or (iv) produce one superior player (first place), or one inferior player (third place), and the two remaining players are tied, the tie between those two players shall be broken by head-to-head record.
---
New Sky Bet customers: Claim free £5 bet every week
---