Serena keeps on rolling
Serena Williams marched onwards as Victoria Azarenka's hopes of a first WTA Championships title were derailed in Istanbul.
WTA Tour Championships. Click here to bet.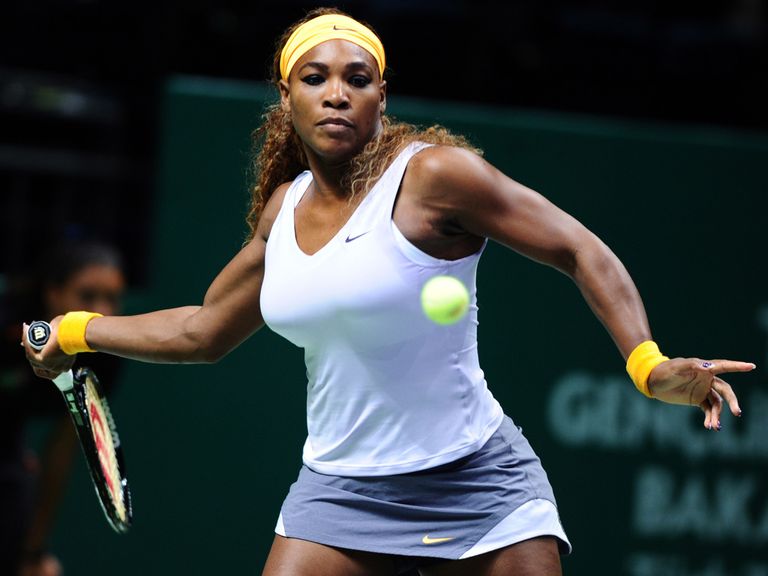 Williams is the only player with two victories from two round-robin matches at the Sinan Erdem Dome after notching another win against Agnieszka Radwanska.
The Pole had managed just one set against Williams in seven previous meetings, and things did not get any better as the world number one triumphed 6-2 6-4.
The scoreline was harsh on third seed Radwanska, who forced eight break points on the formidable Williams serve but could take only one.
Williams' progress from the red group is now all but assured, while Radwanska must beat Angelique Kerber on Thursday and hope other results go her way.
Azarenka, meanwhile, admitted she is going through a tough time after losing her fourth match out of five dating back to the US Open.
The second seed's conqueror was Jelena Jankovic, who showed why she has climbed from outside the top 20 at the start of the season back into the top eight with a fine performance to win 6-4 6-3.
But she was helped by a string of unforced errors from Azarenka, who fought hard but could not find anything like her best form.
The Belarusian said: "Of course she was playing well. I think she's playing her best tennis right now. She's really improved a lot throughout the year.
"But I cannot sit and say that I played well and she was better today. I let a lot of balls go. There was a lot of mistakes - small mistakes, a little bit bigger mistakes.
"It was just so inconsistent and it just doesn't work against top players."
Azarenka has not been the same player since losing to Williams in the final of the US Open - a match where she fought back brilliantly in the second set only to fall away in the third.
"It's hard sometimes to just keep it up," she said. "I think I have been pretty much the most consistent player the last two years and sometimes things like this happen.
"It's just the bad road and I have to go through that, because it didn't happen to me in a long, long time.
"Definitely it's tough at the end of the year to play against the best players, because every match you have to go and dig deep, and sometimes your motivation is not there enough to know how deep can you dig.
"I just need to battle right now as much as I can."
Having beaten Sara Errani in her first match, Azarenka's hopes of making the semi-finals are still very much alive going into her final white group clash against Li Na on Friday.
The 24-year-old did not give the impression she thought she would beat the Chinese player, though, saying: "I have one more match so for me it's just going to be about that. Then there is a break, and 2013 will be over for me."
Jankovic, meanwhile, is clearly loving life back among the game's elite after three years away from the year-end championships.
The former world number one said: "There's no reason for me not to be confident. I believe in myself. I prepared very well. I enjoy myself.
"When you have been number one in the world - and I have beaten all these players that are here. If you can do it in the past, you can do it again."
The first match of the day saw Li open her campaign in the with a 6-3 7-6 (7/5) victory over Errani, whose hopes of reaching the last four are all but over.
It was generally a good performance from fourth seed Li but she rather stumbled over the finish line after missing a match point in the ninth game of the second set and then being broken twice when she served for the match.
Errani, meanwhile, gave a positive report on the calf problem that had put her continued participation in the singles tournament in doubt.
Standings:
Red Group
Williams 2-0 (4-0)
Kvitova 1-0 (2-0)
Kerber 0-1 (0-2)
Radwanska 0-2 (0-4)
White Group
Jankovic 1-0 (2-0)
Li 1-0 (2-0)
Azarenka 1-1 (2-2)
Errani 0-2 (0-4)
Figures in brackets are sets won and lost.
If players finish with the same number of wins, the final standings will be decided as follows:
Most matches played;
Head-to-head results if two players are tied;
If three players are tied, a player having played less than all three matches is automatically eliminated and the player advancing to the single elimination competition is the winner of the match-up of the two remaining tied players;
If three players are tied and have all played the same number of matches, the player with the highest percentage of sets won finishes higher. If still level, the highest percentage of games won will be decisive.
---
New Sky Bet customers: Claim free £5 bet every week
---