Andy Murray's family fun
Andy Murray has revealed one of his favourite things about winning Wimbledon was the way it brought his family together.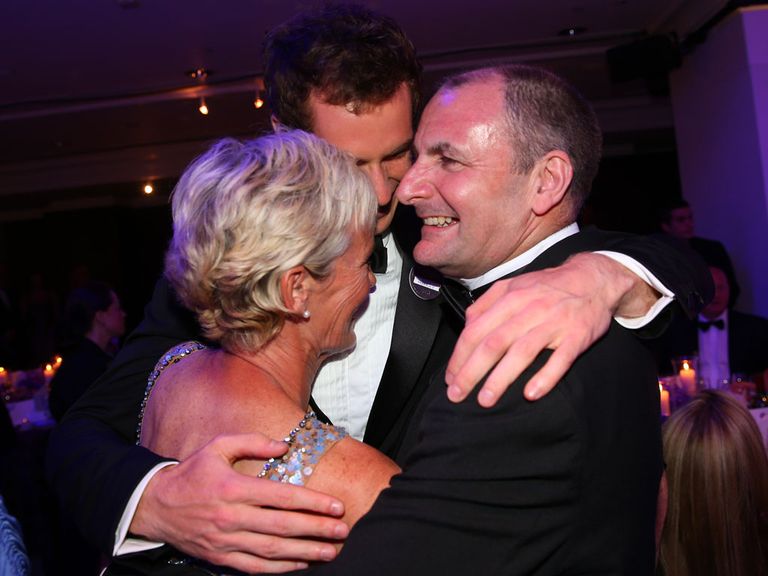 At the Champions Dinner following his three-set win over Novak Djokovic, Murray was pictured hugging his mother Judy and father Willie.
The Scot's parents separated when he was a child and, although they often both attend Murray's matches at Grand Slams, they never sit together.
Murray told USA Today: "My parents got divorced when I was younger so they didn't spend a whole lot of time together. It was just nice to have everyone really happy, just everyone being able to enjoy each other's company, which hasn't always been the case."
Murray was due to begin his US Open defence later on Wednesday in New York as he looks to add a third Grand Slam trophy to his collection.
Djokovic and Rafael Nadal are expected to be his main competition, and his slide from two to three in the rankings on the eve of the tournament has made Murray's path more difficult.
Had he stayed at two, he could have been on the other side of the draw to both, but he could well have to beat Djokovic in the semi-finals and Nadal in the final.
Murray's coach, Ivan Lendl, said: "That's a complication, there is no doubt about it.
"It would be better if Novak and Rafa are in the same half of the draw and Andy is in the other. He just has to deal with it."
Lendl said after Wimbledon that he believed Murray was the best player in the world as the holder of two grand slam titles and an Olympic gold medal but the Scot is very unlikely to be able to challenge for the world number one spot this year, largely because of the form of Nadal.
The trio and Roger Federer have shared the grand slams between them over the past couple of years and Lendl does not expect that pattern to change significantly.
"It would be a mistake to be thinking that somebody could be dominant in the near future," he said.
While Murray prepared for his first-round match, Dan Evans was getting ready for his second-round contest against Bernard Tomic, which pits two of tennis' more stylish players and wilder children against each other.
Qualifier Evans produced the upset of the first day when he defeated 11th seed Kei Nishikori and the 23-year-old from Birmingham does not want to stop there.
Evans has climbed rapidly up the rankings this summer but is still only at 179, which makes him an unknown quantity for a lot of the other players in New York.
Nishikori admitted after his loss that he knew nothing about his opponent and Tomic said: "I haven't seen much of him at all. I know he played well on grass. That's about it. That's all I know.
"My hitting partner is from the UK and he's hit with him a few times, so that's a good thing."
Tomic was playing at the same time as Evans on Monday and was shocked when he saw the score flash up at the changes of ends.
He said: "I was very surprised because I practised with Kei and he was playing very, very good in practice. I thought Kei was going to win that match.
"It shows you how anyone can play and all these players that are playing here, they're good. You can't take anyone for granted these days because it proves that a guy that's 150 can play on his day and beat a guy almost top 10.
"For him to win against Kei was huge. I'm sure if he's playing the same way against me it's going to be very difficult, that's for sure."
---
Sky Bet Free Bet Club: £10 free bet - £5 free every week
---