Serena all the way
Serena Williams simply has to be backed to win the Australian Open, says our tennis expert Andy Schooler.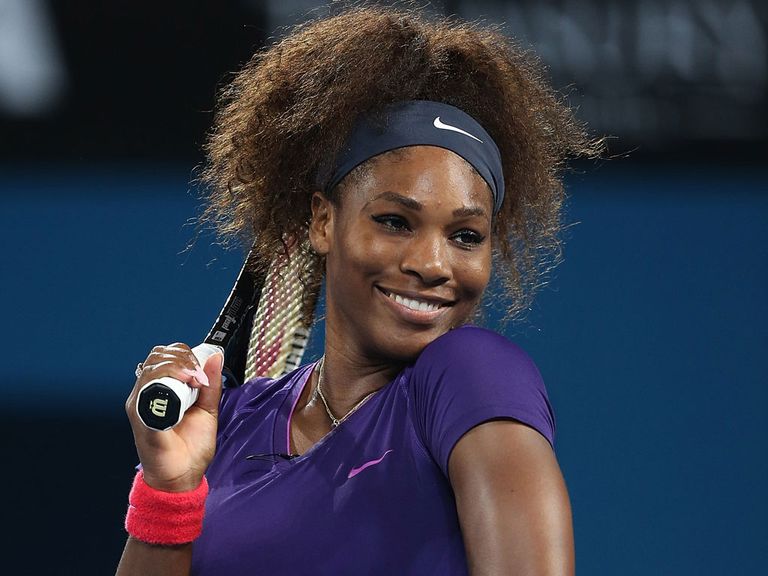 Serena Williams is the hot favourite for the Australian Open for good reason.
She was clearly the world's best player over the second half of last season, even at 31 managing to play arguably the best tennis of her career. Credit, in more ways than one, must go to her new coach Patrick Mouratoglou.
In terms of pure results, the American has won 35 of her last 36 matches, a run which has seen titles gobbled up at Wimbledon, the Olympics and the US Open. She's already picked up where she left off, winning only last week in Brisbane.
Her serve in this period has been majestic - probably never bettered in the history of the women's game. She's winning many free points from it. But even if that stroke is having a bad day, the relentless power off the ground, coupled with a mental resolve that appears almost unbreakable, usually sees her through.
Williams' record is none too shabby at this tournament either - she's a five-time winner at Melbourne Park. As she goes for a sixth title, she'll have the added motivation of finalising what is already known - that she is the true world number one.
In short, dismissing her chances would be pure folly - the only question a potential backer needs to ask is 'does the price represent value?'
The odds-against may have gone - those of you who follow me on Twitter are hopefully already on at 11/8 - but even now I'd still say the answer is yes.
There's a theory in some quarters that Williams could be vulnerable early on but that's not been shown too often during her winning run and certainly at the US Open at the end of last season, the early rounds were negotiated with the minimum of fuss. She doesn't always play a warm-up event before Melbourne, but having won in Brisbane, any rust has already been shaken off so I'm happy to dismiss such fears.
As for title rivals, they don't exactly seem to be queueing up.
Victoria Azarenka got close to Williams at the US Open - indeed she should have beaten her - but having served for the match, you do wonder how much mental damage has been done there. It extended her miserable head-to-head record against Williams to 1-11. In addition, the Belarusian arrives here having had problems with her foot after a pedicure went wrong. Anyone backing Azarenka must surely want to wait a couple of rounds to see if she is, as claimed, OK.
The same can be said of Maria Sharapova - the French Open champion has yet to play this season having been forced out of Brisbane by a collarbone injury. For a player who often has struggles with her service action, that does not bode well.
Azarenka and Sharapova are the only other players at a single-figure price; I'm with Williams all the way.
Admittedly many of you will want a bigger price. Well, the way to go here is to side with Williams in another way.
She's up at 11/2 to win the title without dropping a set which looks a tasty price.
The American won the Olympics in such fashion and also the season-ending WTA Championships when all the best players were in attendance. At the US Open, only Azarenka - at the very last opportunity - was able to take a set off her.
In total, of Williams' 35 wins since May, 31 have been in straight sets.
I'm more than happy to split my betting bank between Williams lifting the trophy and her doing so without losing a set.
While Serena has been the headline maker in the family for some time now, sister Venus has actually been making some real progress of her own of late and may represent a spot of value in the opposite half of the draw.
Her battle with Sjogren's Syndrome have been well documented but form of the last few months suggests it is a battle being won.
Venus was a semi-finalist in Cincinnati last summer before losing in the second round of the US Open - not that that was a disaster. Losing 7-5 in the third to a top-10 player (Angelique Kerber) when you've played very little should actually be considered a minor triumph.
Venus wrapped up the 2012 season by winning in Luxembourg and her unbeaten streak has continued into the new year as she won all three singles matches she played at the recent Hopman Cup in Perth.
I'm not saying she's going to finally win the Australian Open, a title which has always eluded her, but I don't think she should be out at 66/1. The price could represent some each-way value and should also interest back-to-lay punters.
Seeded to face Sharapova in the last 32, Venus has a tough draw. But if the Russian isn't, as many fear, 100 per cent, that's a winnable match for a player with Venus' weapons and form.
And if Sharapova is either seen off or eliminated early, there don't appear too many names in the bottom half for Venus to be concerned about.
One of them is Agnieszka Radwanska, winner of two WTA titles already this season.
The Wimbledon runner-up was out at 25/1 earlier this week and although that's now into 16s, the Pole is still worth consideration from an each-way perspective.
Radwanska, beaten by the eventual champion in the quarter-finals in the past two years, could not have asked for a better draw, avoiding both Serena and her friend/nemesis Azarenka.
I wouldn't have 'Aga' down to beat either of those players but she won't have to to land the place part of any bet.
She's already beaten main quarter rival Li Na this season and with the entire bottom half looking much more open than the top section, Radwanska is worth adding to the coupon.