Title six for O'Sullivan?
John Skilbeck looks ahead to snooker's forthcoming World Championship, which runs from April 19 to May 5.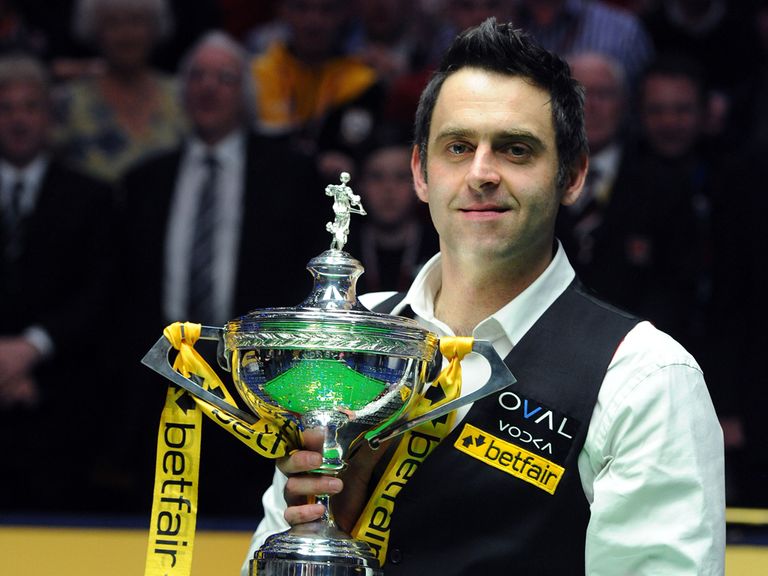 Ronnie O'Sullivan is a stadium act in a backroom sport, a megalith amid the odd boulder and a heap of shingle, and the master of his own destiny over the coming weeks.
Should O'Sullivan arrive in Sheffield with the desire and motivation to carry off the World Championship trophy for a sixth time, then consider it a fait accompli. Send everyone home now and bring back last month's production of Kes for a 17-day run.
But the Crucible puts on year-round drama, with snooker's run in the famous theatre no exception. And if there is the slightest weakness about O'Sullivan it will be exposed, his title defence going the same way as young Billy's beloved kestrel in Barry Hines' novel and its stage adaptation.
If the last two years have told us anything, it is that the O'Sullivan show can be irresistible.
When Barry Hawkins strode around last year's after-party beaming from ear to ear, he gave off the appearance of a new world champion, but the reality was that he had been the victim of an O'Sullivan masterclass, on the wrong end of a record six centuries and an 18-12 defeat.
And you were left to wonder: is this what snooker's World Championship has come to? Thirty-two players assembling in Sheffield, each lining up for a belt-and-buckle thrashing at the hands of a player the rest have little answer to. Where finishing runner-up is considered a triumph, given the nature of the opposition.
O'Sullivan starts out on the opening day, and his route to the final could involve tussles with former champion Shaun Murphy and world number one elect Ding Junhui, or even Hawkins again in the semi-finals.
Yet he starts as clear a favourite as the tournament has known for many a year. The 38-year-old has earned that status through his 2012 triumph, when he rebounded from a career-threatening slump largely thanks to mind training with the sports psychiatrist Dr Steve Peters, and the startling 2013 defence that saw O'Sullivan begin from a standing start, having skipped almost an entire season, but sweep all opposition aside with scarcely a fright.
The one time O'Sullivan looked rattled last year was when Ali Carter pegged him back to 7-7 in the second round. He duly cranked his performance up a gear and slayed his fellow Essex cueman by taking six of the next seven frames. This year will see Carter, twice a runner-up to O'Sullivan in Sheffield, make what could be an emotional Crucible outing, having successfully fought off cancer since last year's tournament.
Beyond whatever script O'Sullivan has planned, there will inevitably be sub-plots. Twelve months ago there was the maverick and previously scarcely known Thai player Dechawat Poomjaeng, whose etiquette-bending behaviour so rattled first-round victim Stephen Maguire that the Scot confessed he was "afraid to look at him by the end".
Young Welshman Michael White reached the quarter-finals, steered by the steady hand of coach Terry Griffiths, a champion 35 years ago, while out in the first round went former champions John Higgins, Neil Robertson and Mark Williams.
As Griffiths would attest, the Crucible does remarkable things to players. Not only is the tournament the most prestigious, it falls at the end of a long season, by which stage many are weary, some are in a losing rut, others going all in, scrambling to make amends for a disappointing year.
Ding and Robertson, duking it out for the world number one ranking, should be as battle-ready as anybody after spectacular seasons.
Robertson will be the first player to hit the 100 centuries mark in a single campaign should he make seven in Sheffield, while after matching Stephen Hendry's record of five ranking titles in a season Ding has never been better primed to become China's first world champion.
Never write off Higgins. Nor Murphy, who has recently struck on something close to his 2005 vintage. And Mark Selby, in the year of his beloved Leicester City's promotion to the Premier League, and with his close friends Kasabian headlining the Glastonbury festival in June, will want to steal the show.
And then there is Judd Trump, the showman who lit up the 2011 World Championship and starts in the bottom quarter of the draw along with Robertson.
Trump loves his fast cars as much as his snooker. It might be his time to apply the brakes on O'Sullivan's domination, but a season in second gear points to the 24-year-old trundling home early.
Barring a staggering surprise, this looks as narrow a field of title contenders as the World Championship has seen in years. Some would suggest it is as narrow as being all about one man.