O'Sullivan to reveal future plans
Ronnie O'Sullivan is back in the snooker spotlight and ready to announce on Tuesday whether he will cut short his career break and defend the World Championship title.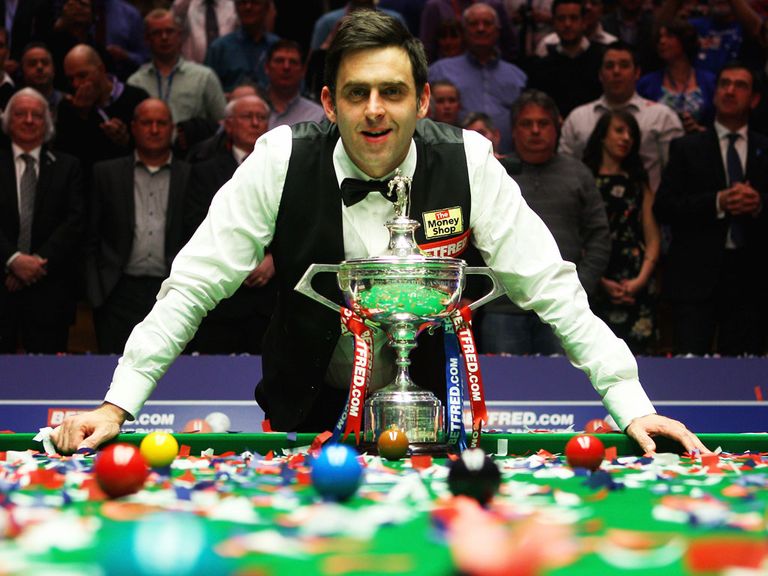 The Chigwell cueman has played only one competitive match this season, stepping away from snooker in November in a move that cast doubt on whether he would ever be back.
One source close to O'Sullivan said he anticipates that the 37-year-old will confirm his intention to play at the Crucible and go for a fifth world title.
However, many key snooker figures were travelling to China for next week's Haikou World Open and were unavailable to discuss the development.
It appeared even World Snooker chairman Barry Hearn was not certain what O'Sullivan will announce at a press conference in London scheduled for midday on Tuesday.
Hearn told the Daily Telegraph: "I hope very much for Ronnie's sake - and also for snooker because Ronnie's a huge name - that he's reconsidered and plays in the World Championships and defends his title."
O'Sullivan's declaration is set to overshadow the live action on the other side of the world, and it will come two days before the end-of-the-month deadline for entering the World Championship.
Although O'Sullivan has fallen outside the world's top 16, as the reigning champion he will automatically be entered for the tournament and avoid the qualifying stage providing he lodges the appropriate paperwork with World Snooker in good time.
Organisers of the press conference said in a short statement that O'Sullivan would "make a statement regarding his future career plans".
Since going on a career hiatus in November, O'Sullivan has appointed new management, M&CSaatchiMerlin, with an apparent view to a career beyond his playing days.
His new management have a number of sports men and women who have gone on to successful careers in the media, and it may be that O'Sullivan has more to announce on Tuesday than merely his short-term playing plans. He threatened retirement during his run to the world title last year, and has repeatedly done so since his teenage years.
The former number-one-ranked player wrote to Hearn in November to say he would be skipping the remainder of the season.
There was speculation from within weeks of his November announcement that O'Sullivan would be back before the end of the campaign, even if it would mean mounting an audacious defence with barely any match practice.
The player he beat in May's final in Sheffield, Ali Carter, said during the UK Championship in early December that he believed O'Sullivan would be back on the scene by the time of the World Championship.
O'Sullivan was hesitant in signing up for this season, due to differences of opinion with World Snooker over the demands on players. He was the final player to sign a contract to compete.
Personal problems were cited as a reason for O'Sullivan deciding to step away from the sport in the autumn, and he has been eager to strike the right balance between a career and family life, which is complicated by the increasing amount of travel on the expanding snooker tour, and the ranking points system which rewards playing regularly.
Last year O'Sullivan also suffered badly with glandular fever but put that behind him at the World Championship to brilliantly land his fourth title in the sport's most prestigious tournament.
Ken Doherty, the 1997 world champion, would welcome the return of O'Sullivan, widely considered the most naturally talented player in the sport, and by some margin its biggest star at the box office.
Reacting to news of the press conference, Doherty wrote on Twitter: "Looks like he's coming back??
"He must miss it, the buzz, the atmosphere, excitement???
"Game will always survive, it is and always has been bigger than anyone [sic] person, love to see him come back tho."
O'Sullivan has played exhibition events in recent months, so would not be coming back entirely cold.
There have also been reports he has taken to farm labouring to keep himself occupied, and that he has got engaged to actress Laila Rouass.
A measure of the uncertainty over his future in snooker came when Jimmy White, his good friend and fellow crowd favourite, wrote on Twitter on Thursday that he was not aware of any plans O'Sullivan had to return to action.
White wrote: "Last time I spoke to Ronnie he wasn't going to play. I'd love him too but he has big plans away from snooker."
---
Click here for completely free £10 bet with Sky Bet & £5 free every week
---