Gdynia Open Snooker 2016 results
The full results from the Gdynia Open, which took place in Poland from February 23-28.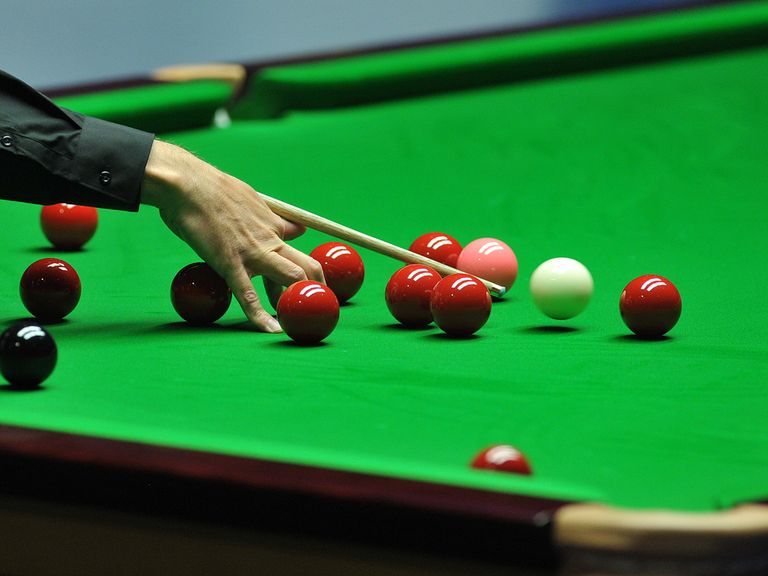 The Kreativ Dental Clinic European Tour is a series of six events across the continent, with the top 24 on the final Order of Merit to qualify for the Players Championship in Manchester.
The sixth and final event was the Gdynia Open, which took place from February 26-28 in Poland, and was won by Mark Selby after he beat Martin Gould in the final.
You can look back on how the event unfolded below with all the tournament results and a link to the final report.
You can bet on a range of snooker events with Sky Bet by clicking here
Gdynia Open Main Draw & Tournament Bracket 
Scroll down for daily schedule & results
Barry Hawkins 4-0 Yu De Lu
Jimmy Robertson 4-2 Michael Wasley
Joe Perry 4-2 Ashley Hugill
Oliver Lines 2-4 Dylan Craig
Stuart Bingham 3-4 Fraster Patrick
Daniel Wells 0-4 Ross Muir
Zhou Yuelong (W/O) v Itaro Santos
Judd Trump v Michael Williams (W/O)
Michael Holt 4-3 Ian Glover
Martin O'Donnell 4-1 Mateusz Baranowski
Robert Milkins 1-4 Peter Lines
Kyren Wilson 4-1 Duane Jones
Thor Chuan Leong 4-2 Phil O'Kane
Kurt Mafflin 4-1 Michael Rhodes
Aditya Mehta v Gareth Allen (W/O)
Mark Williams 1-4 Ding Junhui
Ryan Day 4-1 Mark Joyce
Michael Leslie 2-4 Ryan Causton
Scott Donaldson 4-1 Sydney Wilson
David Gilbert (W/O) v Hossein Vafaei Ayouri
Ben Woollaston 4-1 Andreas Ploner
Lee Walker 4-1 Gareth Green
Li Hang 4-3 Paul S Davison
Mike Dunn 4-2 Darryl Hill
Liang Wenbo 0-4 Elliot Slessor
Ian Burns 0-4 Robin Hull
Anthony McGill 2-4 Liam Highfield
Stuart Carrington 4-0 Thomas Rees
Dominic Dale 4-2 Allan Taylor
Robbie Williams 2-4 Martin Gould
Jamie Jones 4-1 Chris Norbury
Shaun Murphy 4-2 Marc J Davis
Marco Fu 4-1 Vinnie Calabrese
Rod Lawler 3-4 David Morris
Zhang Anda 4-2 Barry Pinches
Matthew Selt 4-3 Ashley Carty
Graeme Dott 2-4 Rhys Clark
Mitchell Mann 4-3 Sanderson Lam
Jack Lisowski 4-2 Cao Yupeng
Alan McManus 3-4 Dechawat Poomjaeng
Mark Selby 4-2 Joe Roberts
John Higgins (W/O) v James Wattana
David Grace 3-4 Steven Hallworth
Luca Brecel 4-3 Joe Swail
Sam Baird 4-0 Joshua Baddeley
Chris Wakelin 2-4 Richard Beckham
Gary Wilson 2-4 Thepchaiya Un-Nooh
Michael White 4-1 Kishan Hirani
Tom Ford 4-3 Noppon Saengkham
Sean O'Sullivan 4-2 Michael Georgiou
Stephen Maguire 4-2 Matthew Stevens
Alfie Burden 4-3 David Greig
Andrew Higginson 4-3 Jamie Clarke
Gerard Greene 3-4 Kacper Filipiak
Ken Doherty v Adam Duffy (W/O)
Tian Pengei 4-1 Adam Stefanow
Mark King 4-2 Michael Wild
Zak Surety 2-4 Eden Sharav
Joel Walker 2-4 Anthony Hamilton
Peter Ebdon 4-3 Michael Collumb
Mark Davis 4-2 Hamza Akbar
Fergal O'Brien 4-1 Oliver Brown
Jason Weston v Craig Steadman (W/O)
Rory McLeod 4-1 Chris Melling
Gdynia Open Snooker Schedule & Results
Friday February 26
First-round games (best of seven frames)
Marco Fu 4-1 Vinnie Calabrese
Rod Lawler 3-4 David Morris
Zhang Anda 4-2 Barry Pinches
Matthew Selt 4-3 Ashley Carty
Graeme Dott 2-4 Rhys Clark
Mitchell Mann 4-3 Sanderson Lam
Jack Lisowski 4-2 Cao Yupeng
Alan McManus 3-4 Dechawat Poomjaeng
Mark Selby 4-2 Joe Roberts
John Higgins (W/O) v James Wattana
David Grace 3-4 Steven Hallworth
Luca Brecel 4-3 Joe Swail
Sam Baird 4-0 Joshua Baddeley
Chris Wakelin 2-4 Richard Beckham
Gary Wilson 2-4 Thepchaiya Un-Nooh
Michael White 4-1 Kishan Hirani
Tom Ford 4-3 Noppon Saengkham
Sean O'Sullivan 4-2 Michael Georgiou
Stephen Maguire 4-2 Matthew Stevens
Alfie Burden 4-3 David Greig
Andrew Higginson 4-3 Jamie Clarke
Gerard Greene 3-4 Kacper Filipiak
Ken Doherty v Adam Duffy (W/O)
Tian Pengei 4-1 Adam Stefanow
Mark King 4-2 Michael Wild
Zak Surety 2-4 Eden Sharav
Joel Walker 2-4 Anthony Hamilton
Peter Ebdon 4-3 Michael Collumb
Mark Davis 4-2 Hamza Akbar
Fergal O'Brien 4-1 Oliver Brown
Jason Weston v Craig Steadman (W/O)
Rory McLeod 4-1 Chris Melling
Second-round games (best of seven frames)
Marco Fu 4-0 David Morris
Zhang Anda 0-4 Matthew Selt
Rhys Clark 3-4 Mitchell Mann
Jack Lisowski 4-2 Dechawat Poomjaeng
Mark Selby 4-2 John Higgins
Steven Hallworth 3-4 Luca Brecel
Sam Baird 4-1 Richard Beckham
Thepchaiya Un-Nooh 2-4 Michael White
Tom Ford 4-2 Sean O'Sullivan
Stephen Maguire 4-1 Alfie Burden
Andrew Higginson 4-3 Kacper Filipiak
Adam Duffy 2-4 Tian Pengei
Mark King 4-1 Eden Sharav
Anthony Hamilton 4-1 Peter Ebdon
Mark Davis 3-4 Fergal O'Brien
Craig Steadman 1-4 Rory McLeod
Third-round games (best of seven frames)
Marco Fu 4-0 Matthew Selt
Mitchell Mann 4-2 Jack Lisowski
Mark Selby 4-3 Luca Brecel
Sam Baird 4-2 Michael White
Tom Ford 4-0 Stephen Maguire
Andrew Higginson 4-2 Tian Pengei
Mark King 4-2 Anthony Hamilton
Fergal O'Brien 2-4 Rory McLeod
Saturday February 27
First-round games (best of seven frames)
Barry Hawkins 4-0 Yu De Lu
Jimmy Robertson 4-2 Michael Wasley
Joe Perry 4-2 Ashley Hugill
Oliver Lines 2-4 Dylan Craig
Stuart Bingham 3-4 Fraster Patrick
Daniel Wells 0-4 Ross Muir
Zhou Yuelong (W/O) v Itaro Santos
Judd Trump v Michael Williams (W/O)
Michael Holt 4-3 Ian Glover
Martin O'Donnell 4-1 Mateusz Baranowski
Robert Milkins 1-4 Peter Lines
Kyren Wilson 4-1 Duane Jones
Thor Chuan Leong 4-2 Phil O'Kane
Kurt Mafflin 4-1 Michael Rhodes
Aditya Mehta v Gareth Allen (W/O)
Mark Williams 1-4 Ding Junhui
Ryan Day 4-1 Mark Joyce
Michael Leslie 2-4 Ryan Causton
Scott Donaldson 4-1 Sydney Wilson
David Gilbert (W/O) v Hossein Vafaei Ayouri
Ben Woollaston 4-1 Andreas Ploner
Lee Walker 4-1 Gareth Green
Li Hang 4-3 Paul S Davison
Mike Dunn 4-2 Darryl Hill
Liang Wenbo 0-4 Elliot Slessor
Ian Burns 0-4 Robin Hull
Anthony McGill 2-4 Liam Highfield
Stuart Carrington 4-0 Thomas Rees
Dominic Dale 4-2 Allan Taylor
Robbie Williams 2-4 Martin Gould
Jamie Jones 4-1 Chris Norbury
Shaun Murphy 4-2 Marc J Davis
Second-round games (best of seven frames)
Barry Hawkins 4-3 Jimmy Robertson
Joe Perry 4-1 Dylan Craig
Fraster Patrick 0-4 Ross Muir
Zhou Yuelong 4-1 Michael Williams
Michael Holt 1-4 Martin O'Donnell
Peter Lines 2-4 Kyren Wilson
Thor Chuan Leong 4-3 Kurt Mafflin
Gareth Allen 0-4 Ding Junhui
Ryan Day 3-4 Ryan Causton
Scott Donaldson 3-4 David Gilbert
Ben Woollaston 4-2 Lee Walker
Li Hang 4-3 Mike Dunn
Elliot Slessor 1-4 Robin Hull
Liam Highfield 4-0 Stuart Carrington
Dominic Dale 1-4 Martin Gould
Jamie Jones 4-1 Shaun Murphy
Third-round games (best of seven frames)
Barry Hawkins 4-2 Joe Perry
Ross Muir 3-4 Zhou Yuelong
Martin O'Donnell 1-4 Kyren Wilson
Thor Chuan Leong 4-1 Ding Junhui
Ryan Causton 4-1 David Gilbert
Ben Woollaston 4-3 Li Hang
Robin Hull 3-4 Liam Highfield
Martin Gould 4-3 Jamie Jones
Sunday February 28
Fourth-round games (best of seven frames)
Barry Hawkins 4-3 Zhou Yuelong
Kyren Wilson 4-0 Thor Chuan Leong
Ryan Causton 0-4 Ben Woollaston
Liam Highfield 1-4 Martin Gould
Marco Fu 4-1 Mitchell Mann
Mark Selby 4-3 Sam Baird
Tom Ford 0-4 Andrew Higginson
Mark King 4-1 Rory McLeod
Quarter-Finals (best of seven frames)
Barry Hawkins 3-4 Kyren Wilson
Ben Woollaston 1-4 Martin Gould
Marco Fu 1-4 Mark Selby
Andrew Higginson 4-3 Mark King
Semi-Finals (best of seven frames)
Kyren Wilson 2-4 Martin Gould
Mark Selby 4-2 Andrew Higginson
Final (best of seven frames)
Martin Gould 1-4 Mark Selby
Gdynia Open Prize Fund
Winner: 25,000 euros
Runner-up: 12,000 euros
Semi-finalist: 6,000 euros
Quarter-finalist: 4,000 euros
Last 16: 2,300 euros
Last 32: 1,200 euros
Last 64: 700 euros
Gdynia Open History
A list of the tournament's past finals
2012 - Neil Robertson 4-3 Jamie Burnett
2014 - Shaun Murphy 4-1 Fergal O'Brien
2015 - Neil Robertson 4-0 Mark Williams