Robertson reaches milestone
World number one Neil Robertson was ecstatic after bringing up a record 100 century breaks in a season at the Dafabet World Championship in Sheffield.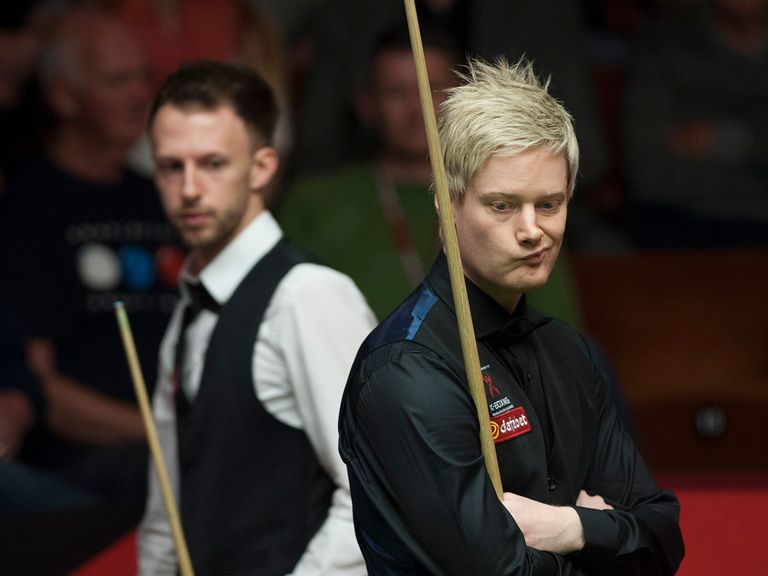 The Australian progressed to the semi-finals at the Crucible after reeling off the final five frames in a come-from-behind 13-11 victory over Judd Trump although it was his history-making achievement in the 22nd frame that attracted as much attention.
Robertson potted all 15 reds with colours, added the yellow and then the green in a break of 101 to become the first player to reach 100 tons in a single campaign, prompting jubilant celebrations from the 32-year-old.
"It was great that it came at one of the most crucial times of the match," Robertson told www.worldsnooker.com.
"I would rather make the century of centuries here than a 147. I've made a couple of 147s and it's nowhere near the same achievement.
"Nobody will ever achieve 200 centuries - that would be impossible. For me to be the first player to achieve 100 centuries in a single season is a great honour.
"It may raise the bar for break-building - the players might try a bit harder when they're on 70 or 80. Stephen Hendry was the one who always tried to clear up no matter what, and that was the approach that I've taken all season."
Having trailed 6-2 after the first session, a below-par Robertson reduced the deficit to 9-6 heading into Wednesday evening, and although he twice managed to close the gap to a single frame it appeared he would bow out when Trump took an 11-8 advantage.
Robertson dug deep to take the next two frames and after his history-making century break levelled things up, the 2010 world champion held his nerve to seal a dramatic victory as Trump wilted under the pressure.
Robertson admitted attempting to reach 100 century breaks proved a distraction but is now fully focused ahead of his last four showdown with Mark Selby.
"In the first session I was getting very frustrated," said Robertson. "My focus was on the centuries and not the match. I lost my concentration and he played really well. I deserved to be behind in the match - I played way too slow. I was grinding out the first two sessions - like I was walking through mud.
"Tonight was a perfect performance and that's how I should have approached the start of the match.
"Best of 33 with Mark Selby is going to be really tough. I can't allow myself to get bogged down so I have to approach the match the same way I did. When I'm playing really well, I'm very difficult to beat."
Selby earlier breezed through to the semi-finals after claiming the one remaining frame he needed against Alan McManus.
The Leicester cueman came into the session with a commanding 12-4 lead and veteran McManus won the opening frame with a break of 69 to extend the contest.
The Scot was among the balls again early in the 18th before losing position on 20, opening the door for Selby.
A missed red to the middle from the 2007 finalist allowed McManus back to the table but he could not take advantage and Selby closed out a 13-5 win to advance.
Barry Hawkins survived a remarkable fightback from Dominic Dale to seal a 13-12 victory and set up a semi-final against defending champion Ronnie O'Sullivan.
Dale, trailing 11-5 overnight, claimed the first seven frames of the session to shock last-year's runner-up who needed just two further frames when play began on Wednesday afternoon.
He eventually got them, but they were the last two of the session as Hawkins set up a repeat of last year's final.
Dale took the first three frames of the day with breaks of 75, 65 and 64 before claiming a slightly scrappier encounter to go into the mid-session interval just two behind.
A break of 61 in the 21st made it 11-10 and the Welshman then prevailed from a long safety battle to level up the scores.
A 52 clearance in the next edged the player known as 'Spaceman' ahead and at that point it looked like momentum would carry him over the line but Hawkins is made of stern stuff and claimed his first frame of the day with a break of 66 took the match to a decider.
Both players were edgy in the opening stages but it was Hawkins who held his nerve with a 65 clearance to go through.
O'Sullivan admitted he was surprised with the "easy" nature of his victory as he demolished Shaun Murphy 13-3 with a session to spare.
The five-time champion capitalised on a host of mistakes from his opponent, and told BBC Two: "You just never know what type of match you're going to get.
"You can expect a really tough match and it turn out easy like it did with Shaun. I didn't expect to win it that easy to be fair. He's a free-scoring great potter.
"He just missed a few balls and let me in quite easily. I still had to pot them but I didn't have to fight for my chances."
O'Sullivan claimed seven of the eight frames on Wednesday after overcoming an early 2-0 deficit to lead 6-2 overnight.
The 38-year-old added the opening two in the morning to stretch his advantage before Murphy got a frame back in the 11th but O'Sullivan followed that with a break of 118 to take a 9-3 lead into the mid-session interval.
The restart was delayed for a short while due to a problem with the scoreboard and when play resumed O'Sullivan made a break of 59 before giving Murphy a glimmer of hope.
Murphy looked to be heading for a rare frame success but missed a routine pink and O'Sullivan gratefully took the opportunity to extend his lead further.
A missed green off the spot in the next summed up Murphy's performance as O'Sullivan again capitalised, closing out a comprehensive victory with the minimum of fuss.