Rocket cruises into last four
Ronnie O'Sullivan was in cruise control as he breezed into the semi-finals of the Dafabet World Snooker Championship with a 13-3 win over Shaun Murphy.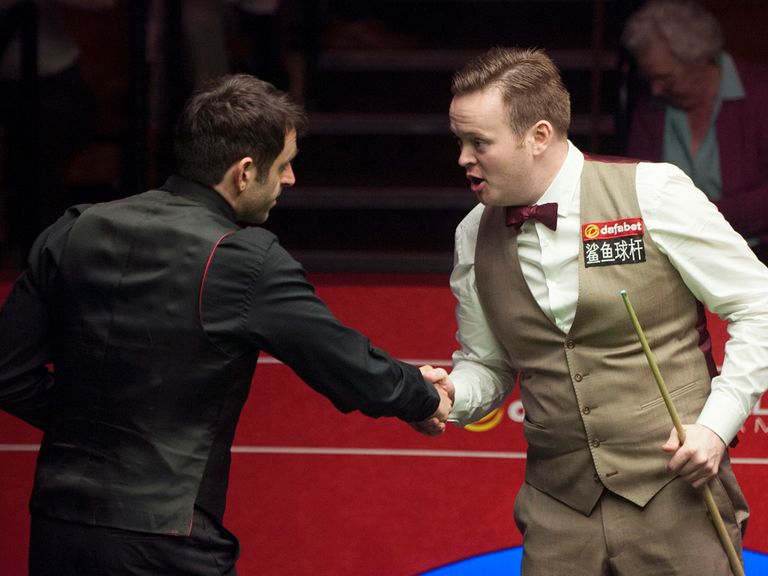 The five-time champion admitted he was surprised at the easy nature of his win as he was able to capitalise on a series of mistakes from his opponent.
"You just never know what type of match you're going to get," O'Sullivan told BBC Two.
"You can expect a really tough match and it turned out easy like it did with Shaun. I didn't expect to win it that easy to be fair. He's a free-scoring great potter.
"He just missed a few balls and let me in quite easily. I still had to pot them but I didn't have to fight for my chances."
O'Sullivan claimed seven of the eight frames on Wednesday after overcoming an early 2-0 deficit to lead 6-2 overnight.
The 38-year-old added the opening two in the morning to stretch his advantage before Murphy got a frame back in the 11th but O'Sullivan followed that with a break of 118 to take a 9-3 lead into the mid-session interval.
The restart was delayed for a short while due to a problem with the scoreboard and when play resumed O'Sullivan made a break of 59 before giving Murphy a glimmer of hope.
Murphy looked to be heading for a rare frame success but missed a routine pink and O'Sullivan gratefully took the opportunity to extend his lead further.
A missed green off the spot in the next summed up Murphy's performance as O'Sullivan again capitalised, closing out a comprehensive victory with the minimum of fuss.
O'Sullivan will now face Barry Hawkins, who survived a remarkable fightback from Dominic Dale to seal a 13-12 win.