Ding powers to Berlin title
World number three Ding Junhui stunned Judd Trump by winning six frames in a row on his way to clinching the German Masters title in Berlin.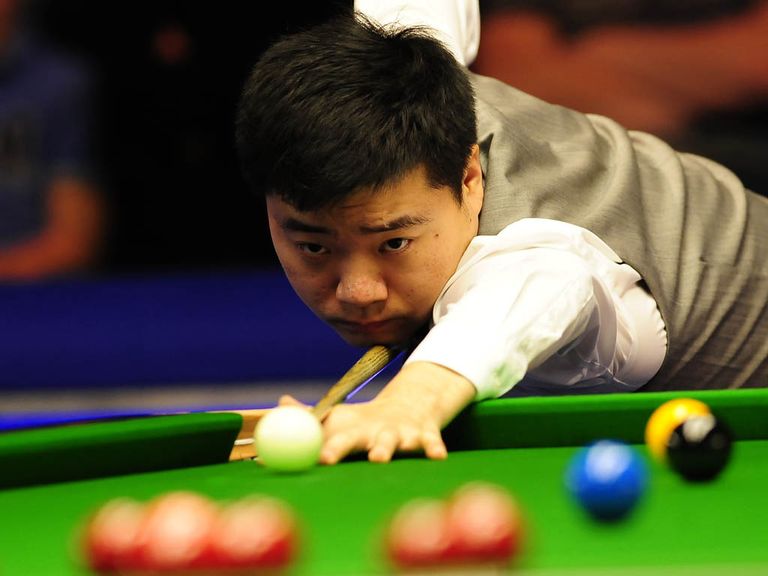 The match was tied at 4-4 after the morning session but Ding gave Bristol's Trump absolutely no quarter in the evening, scoring two centuries in the five frames he needed to win to collect his fourth ranking title of the season.
Stephen Hendry was the last player to win as many titles in one season - the Scot's record had stood since 1990/91.
The 9-5 win also booked Ding the 10th ranking crown of his career and saw him surpass the achievements of Neil Robertson, Peter Ebdon and John Parrott on the all-time list.
Trump, who had conceded only four frames over his five-match run to the final, lost as many by the midday interval on Sunday and, despite pulling a frame back late on, was well beaten to the 80,000 euro (£65,600) prize.
The match began at a good pace with Trump and Ding exchanging frames which included breaks of 80 and 87 before the Englishman took two frames in a row to lead 3-1 at the first interval.
Ding pulled one back with a break of 76 but Trump went 4-2 up after clearing to the pink in the sixth frame.
The Chinese player took advantage of Trump missing the last red in the jaws to take frame seven and a run of 81 in the last frame of the morning session saw him draw level.
Ding excelled himself following the resumption in Berlin, knocking in back-to-back tons - including a 125 - to move into a 6-4 lead.
The onslaught would not end there and, in the process of taking the 11th frame, he notched his 460th unanswered point.
By the time the evening interval came round, Trump was faced with the prospect of winning five straight frames to win after surrendering a sixth in a row when Ding moved 8-4 up with a 39 clearance.
The Bristolian would pull one frame back, taking the 13th after Ding left a free ball open on the last red, but the final result was inevitable.
"It was a very difficult final," Ding told worldsnooker.com. "At 4-2 I thought Judd would keep getting away from me. He started missing a few then I got back to 4-4.
"I had a nice rest in between sessions and then tonight I had a lot more confidence. Judd had pressure on him and he lost focus. I had a chance to win 9-4, but when I missed it I wasn't worried and I just tried to win the next frame.
"I just hope I can keep this form going for the rest of the season. I am working well in practice. I can't do well in every tournament, I would like to win all of them but it's not possible so I have to decide which ones to play in. I'm not sure yet of my schedule for the rest of the season."
Trump said: "I had chances to go 5-2 and I probably should have been ahead after the first session. Tonight my long potting wasn't good and I wasn't controlling the white ball well enough, I kept putting side on it. Ding is having a terrific season and I can't complain because he played so well.
"I'm pleased to have got into a final again and I enjoyed the atmosphere. I hope this is just the start for me. It's the Welsh Open soon and I always enjoy that one, then the World Championship is only a couple of months away."
---
New Sky Bet customers: Free matched bet up to £30
---