Ding's history bid over
Ding Junhui's bid for a historic fourth straight ranking title was ended by Ricky Walden in the last 16 of the UK Championship.
UK Championship. Click here to bet.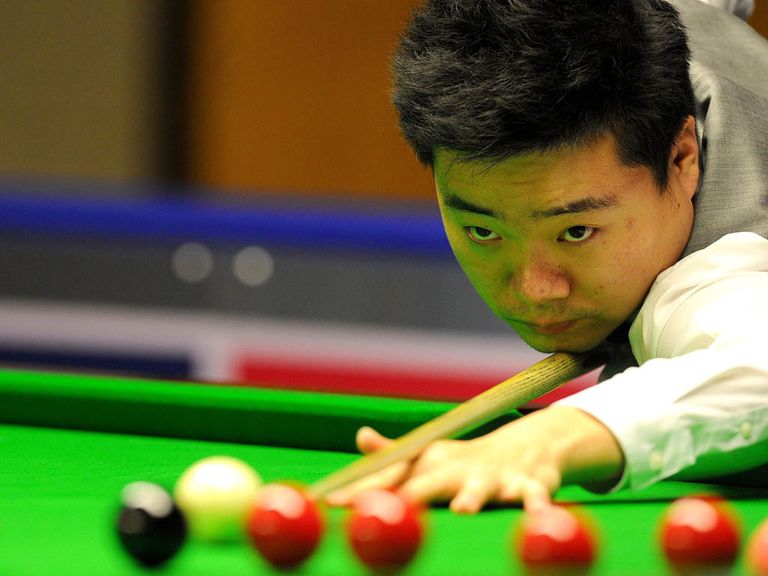 Ding had won the Shanghai Masters, the Indian Open and the International Championship, and victory in York would have brought him the longest win of ranking victories since Stephen Hendry's five in 1990.
But Walden pulled out a hard-fought 6-4 victory after a tense finish to the 10th frame.
Ding responded to losing the first frame with a 63 to level, but trailed 3-1 at the interval after an equal break from Walden.
The Chinese player came back to 3-3, making 76 in the first frame back, but Walden won the seventh on the black with a superb pot.
He moved 5-3 clear before Ding pulled one back with a 135 and the next lasted more than 50 minutes, coming down to a battle on the pink.
Walden was resigned to a final frame after leaving the ball over a pocket, but Ding amazingly missed the chance and left an equally straightforward one which Walden took.
"It was pretty tense towards the end, we both had a couple of chances to win that frame,'' said the Chester cueman.
"I was sat in my chair ready for a decider, thinking 'I can't believe I've messed this one up'. I got a bit of luck there, to be fair, but thankfully today was my day.''
Ding said of the fateful missed pink: "My cue action didn't work, the cue turned in my hand.
"The match was not good today. It's difficult to play Ricky, he gave very few chances. Every frame he scored heavily and he didn't leave any long ones, it was good safety.
"Anybody can win, maybe the next games he's going to play better and better so you don't know who's going to win. I wish best wishes for him.''
Stuart Bingham enjoyed an easier time on the other table, beating Irish surprise package David Morris 6-1.
Morris, playing the biggest match of his career, looked assured early on, with breaks of 41 and 64 to win frame two despite the black being out of commission.
But Bingham responded with two 40s in the next and led 3-1 at the mid-session interval.
Morris needed to build momentum upon the restart but breaks of 60 and 54 put Bingham in complete command.
"It was a bit of a flattering scoreline,'' said Bingham. "David made it tough for me early on and I was lucky to be 3-1 up - he had chances to be 3-1 up himself.
"I came out after the break and put a couple of good breaks together, to go 5-1, and then got over the line.''
But Morris added: "He was the better player from start to finish. His long potting was very good and he just outplayed me. No complaints.''
Mark Allen came from 3-1 and 4-2 down to beat world number four Trump 6-4.
Trump led 3-1 despite a 98 from Allen in frame three and remained clear at 4-2 before Allen pulled one back.
Both players had chances in a scrappy eighth frame, Allen responding to one of Trump's misses by hugging his opponent as he returned to his chair.
It came down to the black and after Trump missed a tough pot with the rest and then pushed the ball over the middle pocket, Allen potted it to level at 4-4.
He took the next with a break of 65 and made 54 off a fluke in the 10th, before another piece of luck left Trump hampered by the blue and he handed Allen a frame-winning chance.
Trump was frustrated to lose after a performance from Allen which he described as "awful".
The Bristolian added: "It just turned into a bit of a club game, to be honest.
"It's frustrating because I felt like so far, I've played the best snooker in the whole tournament."
Allen agreed with Trump's assessment and said: "I don't know how I've won that game, to be honest.
"I was really poor from start to finish, but one of my qualities is that I don't give up. I'm pretty proud of myself for coming back from 4-2, even though Judd let me off the hook."
Reigning champion Mark Selby had a low-key 6-2 win over Graeme Dott which ended the Scotsman's hopes of qualifying for next month's Masters.
Selby had four half-centuries in his win, including an opening 73.
But a 34 clearance in frame six was the key to seeing off Dott, who described losing the frame as "a big blow".
"I knew it was going to be tough, and it turned out to be tough," said Selby.
"I've ended up winning 6-2 but it could have easily been 3-3 - I took a good finish out to go 4-2 which might have ended up being the turning point."
Ronnie O'Sullivan blew away Robert Milkins in less than 68 minutes to reach the quarter-finals.
The 'Rocket' rattled off a 6-0 win with the minimum of fuss to set up a clash with Stuart Bingham, who he beat in the final of the recent Champion of Champions event in Coventry.
O'Sullivan took the opening two frames with breaks of 76 and 63 and it was one-way traffic from there on.
He made 93 and 58 to lead 4-0 at the interval and 67 and 57 to wrap up victory, with Neil Robertson and Joe Perry yet to return from their mid-session interval on the other table.
O'Sullivan said afterwards: "I played some good stuff. I was hitting the ball with much more authority, which allows me to be a bit more aggressive and go for my shots a bit more freely.
"It hasn't been like that this whole week. I've had spells where I haven't been able to take the game by the scruff of the neck."
Bingham awaits after a routine 6-1 win over Irish surprise package David Morris.
O'Sullivan said of the Basildon player: "We had a good match in Sheffield and a good match in the Champion of Champions.
"Stuart's one of the most consistent performers on the tour and has been for the past two or three years. He's getting to the latter stages of most events now and he's one of the favourites to win tournaments."
Robertson had promised to "destroy" close friend Perry but, despite winning 6-1, the match was more closely contested.
Robertson, who finished with a 95 break that he described as "just ridiculous", said: "The table conditions were really tough. It was very frustrating for both Joe and I and he seemed to suffer at the more crucial times.
"I made some absolutely crazy pots tonight to keep my breaks going. That 95 in the last frame was probably how I used to make all my breaks about six or seven years ago.
"I'm sure Willie (Thorne) was pulling whatever hair he has left out of his head commentating on that one!"
There was a silver lining for Perry, as he said: "I came here to secure my Masters place and I've done that.
"I'm disappointed not to go further in this competition but it's job done."
---
New Sky Bet customers: Claim free £5 bet every week
---