Lancaster: We must take our chances
England head coach Stuart Lancaster insists England must learn the lessons of life at the top level of Test rugby after his side were beaten 20-14 by Australia at Twickenham.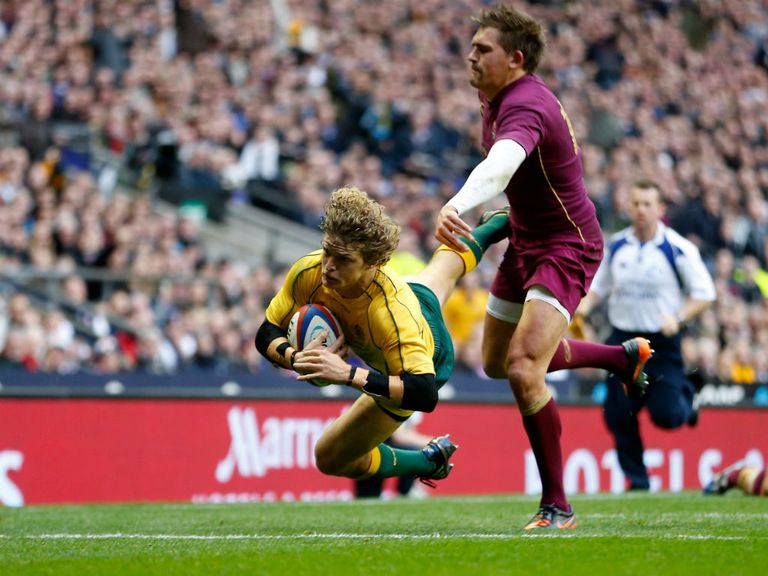 A Manu Tuilagi try and three Toby Flood penalties saw England lead 14-11 at half-time before full-back Berrick Barnes kicked three second-half penalties to wrest back the Cook Cup for the Aussies, who bounced back from their thrashing by France last weekend in some style.
The defeat could have long-term significance as it means England, currently ranked fifth in the world, are now unlikely to earn a top seeding for the World Cup on home soil in 2015.
Lancaster said: "I'm disappointed we lost but I thought Australia played a smart game and bounced back from their defeat against France last week and were competitive in all areas.
"There were lots of positives from our own performance but the reality is we needed to take the opportunities we created, especially in the last 20 minutes when we thought our tempo would pay.
"They are the lessons we have to learn for South Africa next week."
Some of those opportunities were squandered when England twice took decisions in the second half to tap and go or kick for touch with penalties rather than kick for goal.
However, Lancaster backed his players.
He said: "We'll look at every decision but with the momentum at the time I thought it was the right decision. You back your players on the field. The momentum was with us and I thought from there we were going to score a try.
"If we are going to give players the confidence to go out and play then we have to back them.
"We have areas to work on, but there was lots of intent to play. It was just little bits of execution towards the end of each phase that put us under pressure."
Australia scored the game's first try through wing Nick Cummins, who finished off a scything move with aplomb for his first international touchdown.
Barnes added a drop goal and a penalty in the first half and England's fate might have been different if number eight Thomas Waldrom had not spilled the ball in the act of touching down.
Lancaster, however, was upbeat, believing his players can turn things around for their encounter against South Africa next weekend.
"They are all must-win games," he admitted. "We're devastated to have lost this game. We didn't quite take our opportunities and at this level we must take it. They managed the breakdown better."
Asked if seven days was enough time to put things right, Lancaster added: "Of course it is. Every game's a new game. You learn, review and move on.
"We have got to be better. Australia proved in their 18-18 draw with New Zealand they can put out a performance at the top end and they have done that today.
"We'll look at the tape and talk it through, train and learn our lessons."
England defence coach Andy Farrell was also impressed with the Australian performance.
He said: "Australia played a very smart game. Their attack was good and asked a lot of questions. We weathered the storm but theirs was a messy breakdown and penalties and it was stop-start.
"But all round you have to take your hat off to Australia. They didn't look desperate, they looked controlled."
England captain Chris Robshaw defended his second-half decisions to turn down penalty shots at goal but it is something that will be reviewed.
"We thought we had them in the lineout, our drives were going well, but that is a decision for myself and the other game leaders to look back on," Robshaw said.
"Hindsight is a wonderful thing and if we had taken those points it could have been a different result.
"If Tom Waldrom (who dropped the ball over the line) gets that ball down it is a huge momentum shift.
"It is easy to have ifs and buts after the game.
"We will have a sulk after this game but you have to learn quickly.
"A lot of players will want to watch the video tonight. They are so analytical they won't be able to sleep without watching the game.
"We need to do that so when we do come back into camp we are ready to go again and move forward to South Africa next week."
Australia head coach Robbie Deans felt his side had regained their winning mentality following their 33-6 defeat against France last weekend.
He said: "It was much better than last week and obviously it had to be.
"A big part of the adjustment was mental. Paris is a bit alluring but in Tests you have to turn up or you get blown away.
"The lads defended very well because England threw a lot at them. The boys had a lot of faith in the defensive line and I think that showed. I think we went a bit defensive in the last 10 but that was indicative of the confidence they had and their ability to hold their line.
"Any result at Twickenham is significant, it doesn't come easily here. I'm pleased for the lads."
Deans refused to criticise England for squandering their penalty chances.
He said: "They wanted to win the game. We had been competitive in field position. You make those decisions in real time and that was an indication of what they were feeling in the contest.
"It was a remarkable Test when you consider how intense it was. In the 80th minute the intensity was still there around the contact. That is the nature of Test football now, there is no let-up.
"We would rather have scored more tries but when your opponent concedes penalties sometimes you just have to bank it and come back again."
Aussie try scorer Cummins was delighted just to savour his first touchdown for his country,
"It was great to get a bit of meat, especially in front of a crowd like that," said Cummins. "It was great."
---
Click here for completely free £10 bet with Sky Bet & £5 free every week
---